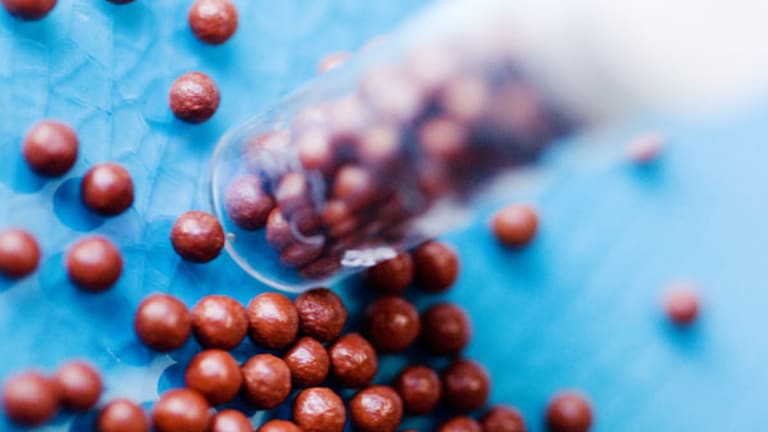 A Rousing Rebuttal of the Sarepta Serial Short
Sarepta critics argue eteplirsen doesn't work -- over and over again.
CAMBRIDGE, Mass. (
) -- Wednesday was apparently "Let's Rehash the Sarepta Therapeutics Bear Thesis" Day at
Seeking Alpha
. Two contributors penned articles for the DIY investment web site raising questions and concerns about
Sarepta's
(SRPT)
Duchenne muscular dystrophy drug eteplirsen.
Neither article said anything new about Sarepta or eteplirsen that hasn't been already debated endlessly by bulls and bears. Sarepta shares fell nonetheless, down 8% to $38.63. A downgrade of Sarepta by analyst Bill Tanner at his new sell-side shop FBR (he left Lazard recently) probably contributed as much or more to Sarepta's fall Wednesday.
It's a waste of time -- and impossible, quite frankly -- to rebut every article regurgitating the eteplirsen bear thesis. The eteplirsen data are what they are. Investors find the data convincing or not. Still, I feel compelled to address some of the poorly reasoned arguments and mis-statements made by yesterday's
Seeking Alpha
contributors. I don't expect to sway many minds.
EnhydrisPECorp, a pseudonym, insists the
phase II study of eteplirsen failed
. He knows this because he's apparently the only person who read the
. Untrue. Moreover, he insists Sarepta knows eteplirsen doesn't work but is covering up the truth with with bio-statistical flimflam and really effective propaganda. EnhydrisPECorp is short Sarepta, according to his disclosure.
But on Sept. 26, EnhydrisPECorp was long Sarepta, according to the disclosure on this
. He wasn't exactly enthusiastic about eteplirsen in this article but enough to own Sarepta, apparently.
EnhydrisPECorp doesn't explain when or why he went from owning Sarepta to shorting the stock. Maybe he's just a daytrader.
What's interesting to me about the latest EnhydrisPECorp article is that it taps into the same conspiratorial thinking I hear from a small group of institutional investors who believe strongly Sarepta CEO Chris Garabedian is a liar. These people insist Garabedian has willfully mis-represented the eteplirsen data, and in doing so, they believe he has purposefully manipulated the emotions of DMD patients and their families. Of course, they're short the stock.
Sarepta bulls are often criticized for allowing emotion to sway their thinking. The "Garabedian is evil" people are the same except in the other direction. It is a trip to talk to them, however.
Next, Steven Breazzano makes two major arguments for why
Sarepta is much more risky than investors realize and therefore the stock is over-valued
. Breazzano has no position in Sarepta, according to his disclosure.
Breazzano's Sarepta bear argument No. 1 (I'm summarizing): Results from the phase II study of
Prosensa's
(RNA)
drisapersen look very similar to the "positive" results of Sarepta's eteplirsen phase II study. The larger drisapersen phase III study failed, therefore, Sarepta's phase III study (not yet started) will inevitably fail, too.
Let's take a look at slides depicting results from the two, phase II studies:
Here is the Prosensa/
GlaxoSmithKline
(GSK)
drisapersen phase II study:
And here is the Sarepta eteplirsen phase II study:
The drisapersen and eteplirsen arms of the studies do look vaguely similar, except we have data on six-minute walk test performance for the eteplirsen patients out to 96 weeks, double the amount of data in the 48-week drisapersen study. That's a significant difference Breazzano fails to note.
He also argues performance on six-minute walk tests can be highly variable and skewed when patients know they're on drug or not. True, but again, the eteplirsen data are so compelling because patients continue to perform well over 96 weeks. That's a long time to fight against the muscle-wasting progression of DMD.
I was one of the first people to point out and argue that the positive results from the drisapersen phase II study could have been a
mirage resulting from a placebo effect
. But the slide above shows pretty clearly the placebo effect starting to wane around week 37. By the time the last six-minute walk test is performed at week 48, both the drisapersen and placebo-treated patients appear to be losing the ability to walk at the same rate.
In contrast, I see nothing similar in the eteplirsen study above. The boys who switched over from placebo to eteplirsen may have received a psychological boost temporarily, but for 60 weeks? Possible, but for me, unlikely.
Contrary to Breazzano's assertions, the respective phase II studies of drisapersen and eteplirsen were quite different. The two drugs are designed to perform the same function -- "skip over" missing exon 51 and produce functional dystrophin -- but the two drugs go about this task using different chemistries and at different doses.
Drawing the conclusion that eteplirsen will fail because drisapersen failed is too simplistic. I certainly can't guarantee eteplirsen's planned phase III study will return positive results, but examining the drisapersen phase II and phase III studies makes me feel more confident in the eteplirsen data, not less.
Breazzano's second Sarepta bear argument: Eteplirsen doesn't produce functional dystrophin as well as drisapersen, therefore, eteplirsen will fail.
Hmmm, this one's a head scratcher because the dystrophin production data presented earlier this month at the World Muscle Society (WMS) meeting paints the exact opposite picture. Breazzano is wrong about dystrophin.
According to data from the phase II study presented at the WMS meeting, only 24% of drisapersen-treated patients showed a measurable increase in dystrophin from baseline based on immunoflourescence. Using western blot analysis, increased dystrophin was produced in 28-29% of patients on drisapersen.
The inability to produce functional dystrophin at the 6 mg dose was most likely the cause of drisapersen's failure.
In contrast, Sarepta presented data at the WMS meeting showing eteplirsen boosting dystrophin production in all of the phase II patients.
Here are Sarepta's dystrophin production data from the phase II study:
We know measuring dystrophin production via muscle biopsies is susceptible to variability. The eteplirsen dystrophin data above aren't perfect, and Breazzano rightfully points out some inconsistencies between the 30 mg and 50 mg dose. But more striking to me is the positive and consistent trend showing more dystrophin production over time. Importantly, this includes the placebo patients who switched over to eteplirsen.
In a follow-up analysis disclosed on Oct. 17, Sarepta said 10 of 12 patients (83%) in its phase II study showed a dystrophin signal intensity of greater than 10% from baseline to 24 or 48 weeks of treatment. For drisapersen in its phase II study, the comparative 10% or greater dystrophin signal intensity was seen in 24% of patients.
We'll probably never have a truly objective, apples-to-apples comparison of dystrophin production between eteplirsen and drisapersen, but based on the data presented to date, I'm comfortable believing eteplirsen's chemistry and dose produces more functional dystrophin than its rival. Breazzano is mis-reading the available data if he believes otherwise.
-- Reported by Adam Feuerstein in Boston.
Follow Adam Feuerstein on
.
Adam Feuerstein writes regularly for TheStreet. In keeping with company editorial policy, he doesn't own or short individual stocks, although he owns stock in TheStreet. He also doesn't invest in hedge funds or other private investment partnerships. Feuerstein appreciates your feedback;
to send him an email.