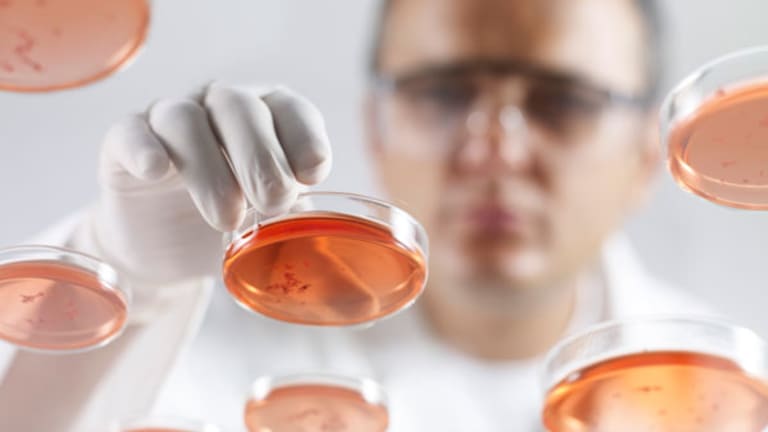 A Post-Mortem on Sarepta's Epic Explosion, Mea Culpa Included
Pondering next steps for Sarepta and its Duchenne muscular dystrophy drug eteplirsen.
Sifting through the detritus of Tuesday's Sarepta Therapeutics (SRPT) - Get Sarepta Therapeutics, Inc. Reportexplosion and thoughts on the future of the company's Duchenne muscular dystrophy drug eteplirsen.
I was wrong to be bullish on Sarepta, even if I had warned recently about greater regulatory risk. I'll have more to say about my mistakes below, but first let's start with some thoughts from a fund manager who has been critical of Sarepta and short the stock.
I can't identify him by name but he made the right call and he does a good job explaining why Sarepta's stock price took such a beating. Below is an email from this investor, reprinted with his permission:
The FDA's issues with trial design are so wide-ranging that it seems like wishful thinking that Sarepta will be able to agree on a study design and start enrolling by the second quarter 2014.

Major questions with dystrophin quantitative assay. Questions with results of anything less than two years. Need for a larger study to power the six-minute walk test (6MWT) data. Possible need to expand study population both high and low and go beyond 6MWT as primary endpoint. The FDA is very deeply skeptical and Sarepta will have a difficult time coming to a study design that the company thinks they can do and that the FDA will be satisfied with.

And any trial seems likely to last 2 years. Seems to me that even if all goes well, approval would get pushed out much more than two years. They're going to spend 9 months arguing over study design and probably won't start enrolling until early 2015. Two-year trial plus filing and approval. Sounds like early 2018 approval at best.

I have to say, this is consistent with worries resulting from the Prosensa trial that the market ignored. But it's actually even more negative that I expected. I thought the FDA would just say, do a larger trial along the same lines. What they're saying is much more confused than that. What is a valid marker and what do you need to get the data to support it?

It makes you wonder whether the FDA really changed their minds lately or if Sarepta misrepresented (through wishful thinking or worse) what the FDA had been telling them all along.
I spoke with a fund manager who has been (and remains) an eteplirsen bull. His fund is long Sarepta. He also can't be identified publicly buy he spoke with Sarepta CEO Chris Garabedian today.
What's your best guess on a timeline for Sarepta to design and run the eteplirsen phase III study now, I asked.
"I have no idea," he said.
A much shorter (and gruffer) answer  than what I got from the Sarepta short above, but illuminating nonetheless. Sarepta bulls and bears I spoke with Tuesday agree the company's path forward is unclear and riskier than ever. 
Why? Because even those who believed before Tuesday that Sarepta would have to conduct a pre-approval phase III study didn't predict FDA would introduce so much ambiguity into design of the study. 
Here's the FDA, offering Sarepta advice on study design:
...it seems worthwhile to consider selection of other endpoints and/or populations for the next trial of eteplirsen. We stress that we would still accept 6MWT in an appropriately powered study; however, because 6MWT excludes both younger boys who cannot perform such a demanding test, and older boys who are no longer ambulatory, we are concerned that seemingly avoidable limitations on enrollment could undermine study feasibility. Many possible combinations of endpoints and subpopulations appear possible. Motor scales that measure a broader range of function and demand less sustained effort than 6MWT could be appropriate for a much wider range of boys, perhaps including non-ambulatory boys. To allow inclusion of a broader range of patients, a study could also be designed that mathematically combined findings from, for example, an ambulation endpoint in less advanced patients with findings from an upper-limb or respiratory endpoint in more advanced patients. We remain open to consideration of endpoints and populations you may suggest.
A lot of these FDA recommendations have never been studied before in DMD studies, which makes incorporating them into a registration study very risky. 
How did I get Sarepta wrong? Without a doubt, I have been a Sarepta supporter and a believer in eteplirsen. My biggest mistake: Having more confidence in the tiny, 12-patient eteplirsen phase II study than I should have. 
In my defense, I was clear about the higher regulatory risk facing Sarepta following the failure of GlaxoSmithKline (GSK) - Get GlaxoSmithKline plc Sponsored ADR Report and Prosensa's (RNA) drisapersen phase III study. What I didn't anticipate was FDA "rejecting" eteplirsen before the drug was even filed. 
My worst-case scenario was Sarepta filing eteplirsen based on the phase II study, FDA reviewing the application but then rejecting the drug with a request for a confirmatory phase III study. I didn't anticipate FDA not allowing the early filing to happen at all. Tuesday's scenario was not something I thought would happen. Big mistake. 
I also allowed emotion and anecdotal evidence of eteplirsen's efficacy to cloud my judgment. I usually admonish investors for investing in a drug stock based on a personal story. I violated my own rule with Sarepta.
I wrote this in July:
Sarepta bulls are accused by the bears of being overly emotional and not looking objectively at the paucity (and problems) with the eteplirsen data. There's some truth to the charge. Emotion and anecdotal evidence have factored into my bullishness, I readily admit. But I've met Max and Austin personally and it's very hard to be an eteplirsen skeptic when you watch Max glide across a room with almost no discernible limp to fetch a plate of food for his brother Austin, confined to a wheelchair. 

Thankfully, I don't have to rely on an up-close encounter with Jenn McNary's sons to convince me that eteplirsen is an effective treatment for DMD. For that, I have Sarepta's clinical trial and the data which get better and better after every update. The bear arguments about "small Ns" and the lack of a proper control arm were debunked a long time ago.
I am heartbroken for Jenn and her sons today. I can't imagine what they're going through right now. They are some of the most courageous people I know, but investing in drug and biotech stocks requires cold-hearted objectivity. A tough lesson learned Tuesday.
A tip of my hat to Aafia Chaudhry, Steven Breazzano, EnhydrisPECorp, Eliot Favus, Dirk Haussecker and other investors/sources who can't be named publicly but who were rightly bearish on Sarepta. Good call. 
Some additional thoughts and observations in random order:
1. It's frustrating and a tad ridiculous to see FDA adopt a cold, hard stance against the near-term approval of eteplirsen for a rare and fatal childhood disease like DMD while taking it easy on Vanda Pharmaceuticals (VNDA) - Get Vanda Pharmaceuticals Inc. Report and its "sleeping pill for the blind" tasimelteon. 
2. I agree with Forbes' Matt Herper when he writes:
...if Sarepta does run a larger study there is a reasonable chance it will turn out positive. So after the stock has gotten beaten up over this, Sarepta could be a buy.
Small consolation to existing Sarepta shareholders who suffered big losses Tuesday, obviously. But if you believed in the drug on Monday, nothing that happened yesterday should change your mind. 
3. Drisapersen is still dead. Sarepta still faces no competition in the DMD treatment market. 
4. Watch for a licensing deal or a partnership between Sarepta and Prosensa and/or GlaxoSmithKline which would give Sarepta freedom to operate in Europe in exchange for cash or a royalty on eteplirsen sales. 
Prosensa's European patents on exon-51 skipping drugs not only prevents Sarepta from selling eteplirsen there but also prohibits the company from running clinical trials. [U.S. patent restrictions don't extend to participation in clinical trials.]
Sarepta could accelerate the timeline for the phase III study if recruiting European DMD patients was permissible. If European patients participate in the eteplirsen study, the drug would also be submitted for approval there. Can a deal be struck that works in the best interests of Sarepta, Prosensa/Glaxo and DMD patients? Let's hope so. 
5. Janet Woodcock, one of the FDA's top regulators, has been very supportive of DMD families and advocates. What is she saying to them now? 
6. Sarepta CEO Chris Garabedian used Tuesday conference call to send the not-so-subtle message that FDA was to blame for eteplirsen regulatory setback. I feel like the agency could have definitely handled the situation better, mainly by shutting down talk of an accelerated approval filing months ago. But I also agree again with Forbes' Herper that Sarepta shares some of the blame:
Still, Sarepta Chief Executive Chris Garabedian should be chastened. He has been overly effusive and optimistic in his public statements about eteplirsen and the odds of an early approval to patient groups and investors. It's time for realism now, and he should make sure he has someone on his team who thinks that the odds of getting eteplirsen to market could be long and hard and full of challenges, so that he can make sure he does the right study. If eterplirsen is less effective than it seems - but still effective - the study designs he was discussing might not show it. A placebo-controlled trial will.
Of course, none of Sarepta bulls (myself included) were criticizing Garabedian for being optimistic prior to Tuesday. 
-- Reported by Adam Feuerstein in Boston.
Adam Feuerstein writes regularly for TheStreet. In keeping with company editorial policy, he doesn't own or short individual stocks, although he owns stock in TheStreet. He also doesn't invest in hedge funds or other private investment partnerships. Feuerstein appreciates your feedback;
to send him an email.