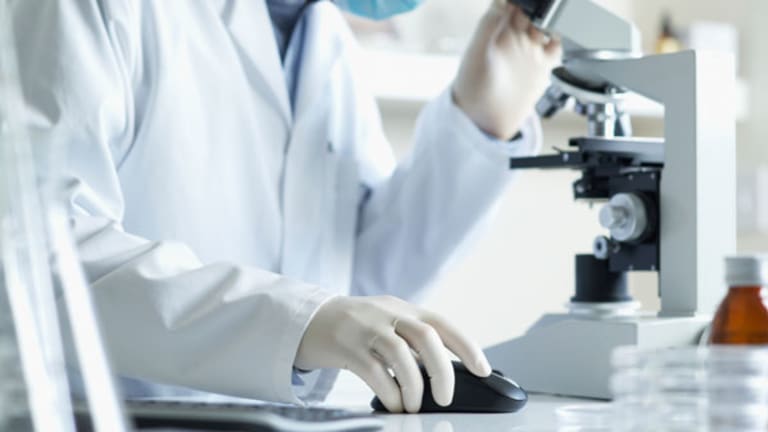 A New Reason to be Bullish About Sarepta Therapeutics
A longer study blind suggests eteplirsen is really helping muscular dystrophy patients.
NEW YORK (
) --I've written about
Sarepta Therapeutics
(SRPT) - Get Sarepta Therapeutics, Inc. Report
twice over the past month, with good reason. Despite a modest $327 million market capitalization, recent clinical data suggest that the company's lead drug candidate eteplirsen may be an effective treatment for Duchenne muscular dystrophy (DMD) -- a progressive disease that leaves patients wheelchair bound by their teens and dead shortly thereafter.
My first article
that I thought my colleague Adam Feuerstein missed in his
. My second addressed
comments I received from institutional investors
who own Sarepta. They thought I was overly critical of eteplirsen even though I had declared Sarepta to be "a reasonable long position for biotech investors with a healthy appetite for risk."
Last week, I learned an important tidbit that I don't think is widely known by the investment community: Sarepta's Phase IIb study of eteplirsen remained effectively blinded for far longer than 24 weeks.
That's important and potentially very good news for Sarepta. Before I explain why, let's recap the eteplirsen study to date:
Eteplirsen induces the body to "skip" a mismatched section of the exon (a sequence of nucleic acids) that codes for dystrophin, a protein critical to muscle repair that is dysfunctional in patients with DMD. By skipping exon 51, the drug enables the creation of a semi-functional dystrophin protein.
After 36 weeks, Sarepta reported that four eteplirsen recipients in the company's phase IIb study walked 69.4 meters further in six minutes (6MWT) than four patients treated with 24 weeks of placebo and 12 weeks of drug. These results reached statistical significance and far exceeded Wall Street expectations, which had dimmed following an essentially equivocal 6MWT assessment at 24 weeks.
If these data hold at 48 weeks and patient dystrophin levels correlate with clinical response, Sarepta will have meaningfully de-risked the program and the stock could easily double. Investigators will present the 48-week data on Oct. 13 at the World Muscle Society conference in Australia, although the company could issue a press release with top-line results any day.
One of my chief complaints with the phase IIb data was that the control group might not accurately reflect the natural progression of DMD. The medical literature shows a highly variable clinical course for DMD, even among patients more than seven years old (experts agree that patients progress more rapidly after age seven.) Given Sarepta's small study size, aberrant control group results could meaningfully skew the drug-placebo differential.
Importantly, patients in Sarepta's control arm were "rolled over" to receive drug after 24 weeks. Most investors assumed the study blind had been broken at that point, meaning that everyone -- from investigators and patients to the physical therapists who administered the 6MWT -- was informed of patients' treatment assignments. I worried about the possible demotivating effect that unblinding might have on subsequent 6MWT scores for those patients previously on placebo.
Late last week, I had a lengthy conference call with Christopher Garabedian, Sarepta's amiable CEO. Our detailed discussion about the phase IIb study and the unblinding process made it clear that the patients, parents, and physical therapists likely didn't know treatment assignments until at least 32 weeks -- and perhaps as long as 36 weeks.
Here's how: Sarepta completed enrollment and dosing of patients within two weeks of the company's mid-August 2011 press release announcing that the trial was underway. Although everyone started active drug after 24 weeks, the company didn't reveal any details about the blinded portion of the study until early April 2012 -- roughly 33 weeks after the first patients were dosed. At that time, management spoke with both the contract research organization conducting the trial and Dr. Jerry Mendell at Nationwide Children's Hospital, the lead investigator.
Upon return for the 36-week visit, patients were first directed -- as usual -- to the physical therapist for the 6MWT. Investigators still hadn't told the physical therapists who had received what, thereby eliminating one possible source of bias. Patients learned treatment assignment details upon meeting with the investigator at end of the day.
Although the company hasn't rigorously audited each case report, it seems plausible that Sarepta's 36-week data were blinded. That would enhance the quality of the results we've already seen and increase my confidence that the upcoming 48-week data will also be positive.
There remain several important risks to the Sarepta story, including the fact that scaling up manufacturing of eteplirsen will delay the start of Phase III studies -- if required by the FDA -- until early 2014. If this happens, FDA approval may not occur until the second half of 2015.
Importantly, bulls expect Sarepta to vie for accelerated approval based on the Phase IIb results. That's possible, but it would require an exceedingly tight correlation between 6MWT and dystrophin levels at 48 weeks.
Even assuming accelerated approval, expanding eteplirsen manufacturing capacity to commercial scale will take time. In an absolute best-case scenario, eteplirsen could be launched in mid-2014. That puts Sarepta's development and regulatory timeline roughly in-line with
Prosensa
and
GlaxoSmithKline
(GSK) - Get GlaxoSmithKline plc Sponsored ADR Report
, which will report Phase III results for GSK-2402968 -- a similar exon 51 skipping drug for the treatment of DMD -- in the second half of 2013.
Sarepta's 48-week data will be a landmark event in the company's long history that will either meaningfully de-risk eteplirsen or debunk the hype. The extended blinding in Sarepta's Phase IIb study increases my confidence that the eteplirsen data are real, although I would still recommend that investors size long positions cautiously.
Disclosure: Sadeghi has no positions in any of the stocks mentioned in this article.
Follow Nathan Sadeghi-Nejad on
.
Nathan Sadeghi-Nejad has 15 years experience as a professional health-care investor, most recently as a sector head for Highside Capital. He has worked on the sell side (with independent research boutiques Sturza's Medical Research and Avalon Research) and the buyside (at Kilkenny Capital prior to Highside). Sadeghi-Nejad is a graduate of Columbia University and lives in New York. You can follow him on Twitter @natesadeghi.