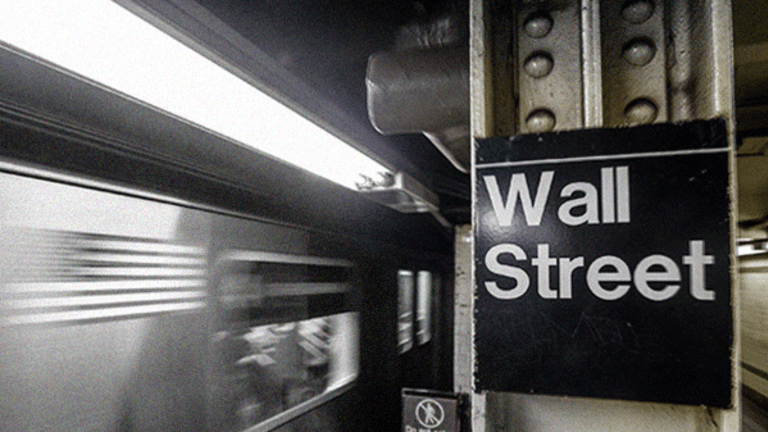 A Look at 5 Big Movers Thursday That Are Stocks to Watch in 2017
Three are mining stocks, one is a financial services giant and the other is a struggling fast-casual restaurant chain.
On Thursday, a mixed bag of economic news pulled the markets in both directions.
The announcement that last week's jobless claims fell gave provided a bit of optimism. However, an increase in the trade deficit was a bitter pill to swallow.
Some of the biggest movers Thursday were stocks that swung in different directions, as well.
The entire gold mining industry performed well on Thursday, following a big daily jump in the price of gold by more than $15, or 1.33%, per ounce. 
Barrick Gold (ABX) and IAMGOLD (IAG)  posted gains of 7.26% and 9.29%, respectively. And Newmont Mining (NEM) led the S&P 500 with a gain of 7.63%, and the stock is up 118% this year.
With interest rates moving higher and uncertainty in the currency markets, gold could make a big move higher next year, helping all three of these gold mining stocks.
Meanwhile, shares of JPMorgan Chase (JPM) slid by about 1% on Thursday, making it one of the Dow Jones Industrial Average's worst-performing stocks. Shares of the bank are still up about 31% this year, however.
There was little news to account for the decline, so it simply could have been caused by large institutional investors selling shares before the end of the year in an attempt to re-balance their portfolios.
However, individual investors who don't necessarily need to re-balance should hang onto this Wall Street bank stock. Rising rates are a positive for a large bank because that can widen the spread between the amount for which a bank spends to borrow money and the amount that it receives from lending that money back out.
Furthermore, from a balance sheet and earnings perspective, JPMorgan Chase is one of the strongest banks. Its stock trades at just 14 times past earnings, meaning that future growth isn't yet baked into the stock.
So when rates continue to rise, JPMorgan Chase should see a solid boost in earnings, and its stock price will likely follow suit.
Finally, shares of Chipotle Mexican Grill (CMG) continued to struggle this year, falling another 2.27% on Thursday. Shares of the beleaguered Tex-Mex chain are down 21.5% in 2016.
Chipotle Mexican Grill's woes began after a number of customers reported incidents of food poisoning starting in July 2015. The company has struggled to attract customers back to its locations as revenue and same-store sales plunged by 18% and nearly 25%, respectively, during the first nine months this year.
The company's issues have been great for its competition because it gave customers a reason to give other fast-casual restaurant chains a chance. Now that customers have experienced what else is out there and have concerns about how healthy Chipotle Mexican Grill's food really is, it may take a while for the trust to be restored.
Chipotle Mexican Grill is a difficult investment at this time. It is anyone's guess as to whether it will rebound in a quarter or two, in a few years, or maybe never get fully past the food safety scare.
Anytime a food and beverage company loses the trust of consumers, it is hard to regain that trust. This means that it is unlikely that Chipotle Mexican Grill's stock will ever experience the kind of rapid and continuous growth it showed in the past.
---
Not willing to stay on the sidelines like me? If you want to put some money to work today, here is a list of seven companies that would be worth owning no matter what kind of investor you are. These are stocks that you will profit from regardless of what the markets do. With many analysts calling for a coming crisis, now is the perfect time to make sure you and your portfolio are protected. Each one of these powerful, yet overlooked companies barely notices when the market tumbles. And they'll skyrocket when it rebounds. Get their names here before it's too late.
The author is an independent contributor who at the time of publication owned shares of CMG and JPM.