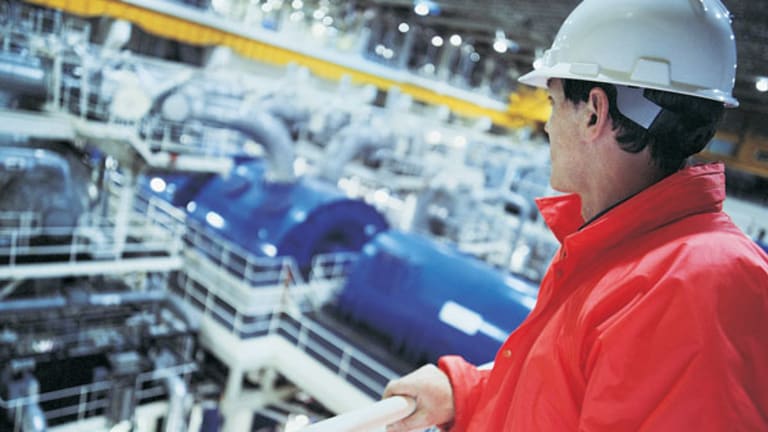 A Good Sign: Housing and Auto Sales Are Both Rising
Are Ford and GM pickups tough enough to withstand the drag of the European economy?
DETROIT (
) -- Not to be overly enthusiastic, but two key sectors of the U.S. economy -- autos and housing -- are showing positive trends, perhaps indicating that the U.S. economy can somehow withstand the impact of slow growth and shrinking economies in the rest of the world.
The housing market appears to be in recovery, as both sales numbers and prices are rising. U.S. light vehicle sales, meanwhile, have been recovering since they hit a 23-year-low of 10.3 million in 2009. Experts expect continued growth in the current month and say that sales this year will be in the high 13 millions or low 14 millions, the best since sales of 16.1 million in 2008.
"It's good to see year-to-year housing and auto sales both moving up at the time," said
Ford
(F) - Get Ford Motor Company Report
analyst Erich Merkle. "They are running in tandem now." That has not happened since the housing slump began in 2006.
If housing does recover, pickup truck sales could be particular beneficiaries.
"Housing recoveries correlate well with pickup sales,' said Jefferies analyst Peter Nesvold, on a conference call with reporters on Thursday. "(Typically), 35% to 40% of pickups are sold to contractor market." he said.
The Detroit Three dominate the pickup truck market. In fact, Nesvold said, trading in their shares has historically reflected pickup truck model renewals, with the stocks rising six months ahead of the introduction of a product upgrade.
A plus here is that
GM
(GM) - Get General Motors Company Report
is expected to introduce the new model Silverado in the second quarter of 2013. The existing Silverado, last remodeled in 2006, is the third best-selling U.S. vehicle this year, with sales up 7% to 160,942 units. Sales rose 22% in May.
So far, investors have not bought into the growth scenario. GM shares are down about 4% this year. "Europe is keeping people out of this stock," Nesvold said. "But the truck refresh intrigues people." Something to remember: The Silverado changeover is still more than six months away.
As for
Ford
(F) - Get Ford Motor Company Report
, "It would (historically) trade around F Series renewals," Nesvold said, but now the company is not renewing product as quickly as it once did. "That's the only thing I sweat about," he said. "It is a little too steady-as-she-goes for equity investors."
Ford shares year to date are down 8%.
Additionally, Ford said Thursday in a regulatory filing that it will lose about $600 million on overseas operations during the second quarter, tripling the first-quarter loss primarily because of Europe's financial crisis, but that it will still report a quarterly profit.
Edmunds economist Lacy Plache said housing may be recovering but that does not justify excessive optimism regarding the impact on auto sales.
"I think it will be awhile before we see any impact of the housing recovery (on auto sales)," she said on the conference call. "We are seeing the beginnings of it: There appears to be some improvement in (home) pricing. But we have so many people underwater (and) massive issues face the housing market. We will not be out from under anytime soon." She said 22% of homeowners live in homes worth less than what they paid for them.
During the housing bubble, people borrowed against inflated home values to buy cars. "I don't think we will see much of that," Plache said. However, rising home values inspire consumer confidence, and "to the extent people feel better when they see improvement in the housing situation, that has to help autos," she said.
With automakers set to report June sales on Tuesday, Edmunds.com experts are looking for a seasonally adjusted annualized sales rate of about 13.8 million, the same as the May rate. The number is "not bad: it's higher than last year," said Edmunds analyst Jessica Caldwell, on the conference call.
"Going into June we were looking at a slightly higher (number)" after a 14.5 million rate in the first four months of the year, including a peak rate of 15 million in February. "That set us up for excitement," Caldwell said. Good weather, deferred demand for Japanese products that were unavailable earlier and high incentives were factors in the high first-quarter sales rates, she said.
Kelley Blue Book projects a SAAR of 13.9 million and sales 16% higher than in June 2011, when inventories were reduced by production shortfalls in Japan following the March 2011 earthquake and tsunami.
"Sales remain strong thanks to a steady flow of demand from consumers in need of a replacement vehicle," Kelley Blue Book said.
-- Written by Ted Reed in Charlotte, N.C.
>To contact the writer of this article, click here:
Ted Reed
>To follow the writer on Twitter, go to
.