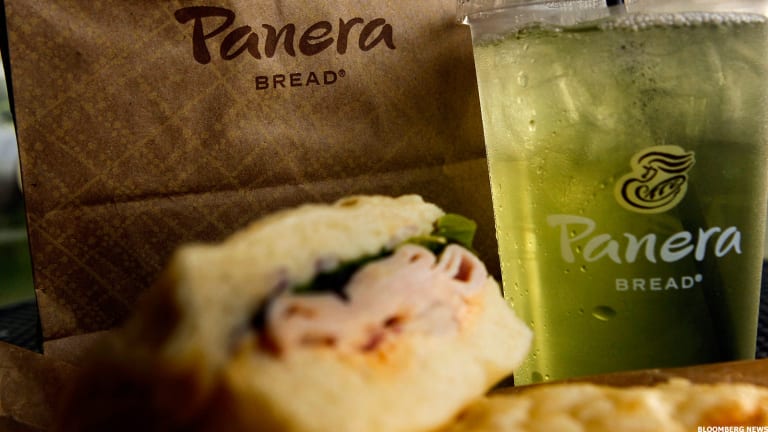 Krispy Kreme's Secretive Owner to Spend Billions to Buy Panera Bread, a True American Success Story
Panera Bread will become a privately owned company.
For $7.5 billion, European food conglomerate JAB Holdings will acquire a great American success story in Panera Bread (PNRA) . 
At age 27 and a only few years removed from Harvard Business School, Panera Bread founder and CEO Ron Shaich (pronounced 'shake') opened a cookie store in Boston called the Cookie Jar in 1980. Ever the people watcher, Shaich began ordering baguettes and croissants for his store from a nearby Au Bon Pain after observing that many folks weren't buying cookies before noon.
Sensing an opportunity to sell more exotic sandwiches than the standard ones on whole wheat or rye, Shaich approached venture capitalist Louis Kane, who was running Au Bon Pain at the time, about joining the bakery chain. The two formed a partnership in 1981.
By 1993, Au Bon Pain, which went public in 1991, had spread across the U.S., and purchased St. Louis Bread, a regional restaurant chain known for its fresh ingredients and inviting environment. Shaich wanted the company to shift its attention toward St. Louis Bread instead of Au Bon Pain and after he prevailed in a board fight, Au Bon Pain was sold to a private-equity firm in 1999.
Shaich then took the helm at St. Louis Bread and changed its name to Panera, which is Latin for "bread basket" or "bread bowl," in order to appeal to a wider audience. From there, Shaich led an aggressive roll-out of Panera Bread restaurants across the country that has driven its stock to return more than 4,200% under his leadership.
In 2010, Shaich chose to step aside as CEO but retain the role of executive chairman so he could pursue philanthropic interests such as driving awareness of hunger in America. At the request of long-time friend and CEO Bill Moreton, however, Shaich returned to Panera as chairman and CEO in 2013.
Today, the 63-year-old Shaich will hand off a restaurant chain to JAB Holdings that now has more than 2,000 restaurants open. In January, Panera led the industry by announcing that it had removed all artificial colors and flavors from its sandwiches, salads and desserts -- it was a goal that took years of meticulous work to achieve. Meanwhile, Panera continues with its roll-out of new mobile ordering platforms, while at the same-time aggressively moving into a food delivery space dominated by Domino's Pizza (DPZ) - Get Domino's Pizza, Inc. Report and Papa John's (PZZA) - Get Papa John's International, Inc. Report .
"We have long admired Ron and the incredible success story he has created at Panera," said JAB Holdings CEO Olivier Goudet in a statement Wednesday announcing the deal. "I have great respect for the strong business that he, together with his management team, its franchisees and its associates, has built." Shares of Panera surged as much as 14% to $311.87 in afternoon trading.
Shaich said he plans to stay on as CEO once the deal closes. JAB Holdings says that following the close of the transaction in the third quarter, Panera will be operated independently by the company's management team.
Related Content:
Panera Bread Will Be Acquired for $7.5 Billion by a European Giant You Probably Have Never Heard Of
Panera Bread Founder: Change Doesn't Come Easy