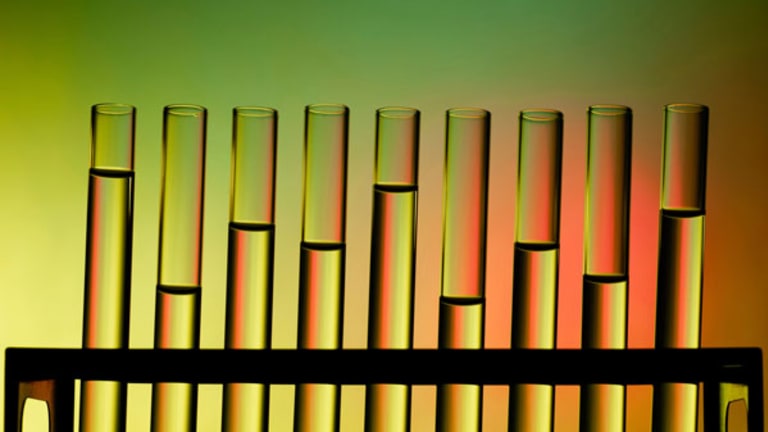 A Chronological History of MannKind's Missed Partnership Promises
Let's wind back the tape more than 9 years to documents the many instances in which MannKind executives made promises about partnering the inhaled insulin Afrezza.
NEW YORK (TheStreet) -- MannKind (MNKD) - Get MannKind Corporation Report acolyte and Seeking Alpha contributor "Think Long Term" operates under the delusion that Al Mann and his minions are in the driver's seat when it comes to securing a marketing partner for the Afrezza inhaled insulin device.
TLT writes:
COO Edstrom made it clear that MannKind is in serious negotiations with multiple potential partners and many of these companies are currently in the diabetic market. Knowing that the diabetic market is controlled by 3 main Big Pharma companies, it could be concluded that Big Pharma is very interested in Afrezza. He also made it clear that the company was NOT in a poor cash-strapped negotiating condition, where it needs to take any deal available. In turn, this means the company has negotiating power when it comes to Afrezza, and it will certainly take its time and get the best deal available.
Reality check. Here's what Edstrom actually said on June 12, at an investor conference sponsored by Goldman Sachs:
Okay. Well, yes, we are certainly involved in discussions with a number of companies. Some of them are involved in insulin and insulin -- or sorry, in diabetes and diabetes management, I should say there, with global reach and also with local reach. We, at this point in time, would expect that probably, I'd say, within, say, 6 to 8 weeks following the PDUFA date, we hopefully will be in a situation where we can finalize a partnership. The structure of the partnership, you could say it could be anything from a traditional kind of royalty base to a profit sharing to that in combination with potentially co-promotion arrangements. Depending on the -- whether it's a North American or a global partnership, those parameters will change a little bit. But our expectation is that we'll hopefully -- we can bring potential partner groups together, and certainly the label will be an important component for them in terms of making the final decision. That's why we believe that a few weeks after the PDUFA date, hopefully, we'll be in a situation to make a final choice and negotiate it. 
Edstrom's comments about the potential and timing of an Afrezza partnership sound so familiar. Let's wind back the tape to find other instances in which MannKind executives made promises about partnerships.
Feb. 3, 2005
Mann: "We continue to evaluate partnership opportunities and we continue in discussions with partnership partners."
Feb. 6, 2006
Mann: "Well, as we have said repeatedly, we don't intend to discuss our partnering discussions until we have something specific to announce. Of course, we have been in conversations with people, and those conversations are continuing, but at this point we have nothing to announce."
Sept. 18, 2006: First Afrezza phase III study results announced.

Nov. 2, 2006
Mann: "I have said and I repeat that we are very serious about a partnership. I believe that with the right company a partnership would bring value by accelerating our penetration in the US and by providing the marketing in large sales force that we would meet outside the US. We are continuing the whole discussions but have not reached that agreement; we anticipate it will take more time to reach agreement with the partner. Accordingly we thought it prudent to file a shelf registration statement while we continue our partnership discussion."
Aug. 9, 2007
Mann: "We are very definitely continuing to pursue a partnership. We said in our call on Friday that it is taking longer than we had expected perhaps partly because of concerns with Exubera's performance to date."
Mann (on same call):"Please understand that our potential partners have recognized the unique characteristics and value of Technosphere Insulin... while Exubera brings no incremental clinical benefits compared to commercial rapid-acting analogs other than the lack of prandial injections. The partners seem convinced that Technosphere Insulin [Afrezza] is a truly differentiated product with very significant benefits in safety and efficacy. Our potential partners have had access to all of our data and are scientifically and medically astute so they, indeed, recognize these benefits."
Oct. 18, 2007: Pfizer (PFE) - Get Pfizer Inc. Report pulls Exubera from the market.
Nov. 7, 2007
Edstrom: "I would like to end with a short commentary on our partnership effort. With regard to our partnership activities, we are continuing discussions with potential partners with a goal certainly of reaching a collaboration agreement for TI [Afrezza.] And the decision by Pfizer to remove Exubera from the market has not seemed to impact ongoing discussions we have with our serious potential partners."
Mann (on same call): "So, I would not exclude that there are other strong potential partnership arrangements that could be realized as we move forward."
Mar. 7, 2008: Eli Lilly (LLY) - Get Eli Lilly and Company (LLY) Report terminates AIR Insulin clinical development program.
Aug. 11, 2008
Mann: "And as to specific launch plans, we will resume partnership discussions once we have evaluated the data from the pivotal trial."
Feb. 17, 2009
Mann: "As Hakan noted, we are in serious discussions with several companies and there are others in line. Last spring, we said we were recessing partnership discussions and resume expirations such opportunities once we have filed the NDA. And that is imminent. What I can say now is that while there is no certainty, we do expect to reach agreement with a partner and to complete this process during 2009."
Mar. 16, 2009: Afrezza New Drug Application submitted to FDA.
June 10, 2009
Mann: "We are in very serious discussions as we speak. And we set as a goal for partnership this year, but internally we have set it for the third quarter. We've made that statement. It could happen even sooner than that."
Aug. 3, 2009
Mann: "Potential partners are really very involved in that discussion and no final decision has been made yet."
Mann (on same call): "Well, we've said that our goal is the end of this year and internally we've set our top plans on the expectation that we would secure an agreement by the end of this quarter. As Hakan mentioned, we are moving very quickly towards an advanced stage in our partnership efforts. As he and I have repeatedly said, we want a partnership in place before year end with our internal goal of this quarter. I hope that we will be able to make an announcement by the end of this current quarter."
Nov. 2, 2009
Edstrom: "As we reported last month, we've updated our guidance regarding the timing of a partnership deal. Previously, we had guided that we were aiming for a deal by year end, with a Q3 as a stretch goal. However, as discussions progressed, it became clear the uncertainty about the final label for AFRESA was creating a challenge to the deal structure and valuation, not just for the potential partner with whom we have made the most progress, but for others as well. "
Mann (on same call): "We are continuing to have discussions with that partner that we were so heavily involved with."
Mar. 12, 2010: FDA rejects Afrezza.
April 30, 2010
Mann: "Second, we are continuing - continuing to engage in partnership discussions with several pharma companies, and remain open to strategic option for AFREZZA that can extend our cash position further into next year."
June 29, 2010: MannKind resubmits Afrezza to FDA.
Aug. 2, 2010

Edstrom: "And while I, obviously, will be cautious regarding comments on our partnership discussions, I can say that the discussions have already commenced following the acceptance of the amended NDA, and that several new entrants including both global and regional players have also emerged. And while we still favor a global agreement, a number of regional players are demonstrating significant interests. I believe that the CRL and the acceptance of the amended NDA were helpful in promoting resumption of partnership discussions since the issues are now well defined. Whether it will be enough to consummate the deal prior to approval with accepted economics remains to be seen. However, the interest is certainly there."
Mann (on same call): "Early last year, I, we, were told by our partner that they wanted to close the deal in July, so I made a prediction. I am not going to do that again."
Oct. 29, 2010
Edstrom: "We are, therefore, continuing our interactions with potential strategic marketing partners with the aim of aligning deal negotiations with the PDUFA date. And as you can appreciate, we are rapidly approaching our PDUFA date, so it would, in any case, be difficult to file another transaction before PDUFA."
Mann (on same call): "Our goal is to secure the global partnership with a major company, and such discussions with a number of potential partners are moving forward. However, as Hakan noted, we do not expect to reach closure until after the label is finalized. That said, we cannot comment further on the partnership until it's appropriate to announce the definitive agreement."
Jan. 19, 2011: FDA rejects Afrezza for second time.
Feb. 10, 2011
Analyst asks: "There's still a lot of continued talk about potential partners, which is frankly, rather unusual to hear to such an extent, and so frequently from a public company. Can you comment? Have any talks actually advanced or occurred since the setback last month?"
Edstrom responds: "Depends how you define -- Yes, we have certainly been in contact and we are in contact with those many companies that we've been talking to kind of over, some of them, a significant amount of time. Have we entered into negotiations? No, we have not. We think that would not be appropriate until both parties have a full understanding of the outcome of our discussions with the FDA."
Aug. 4, 2011
Mann: "After the meeting on August 10, we will finalize our decision to start the process in earnest for both partnerships and alternative financing."
May 9, 2012
Mann: "Well, we've already started the process. We're in discussions with several at this time, although we can't make any announcements yet."
Feb. 11, 2013
Edstrom: "Yes, this is Hakan. And which we have indicated before is that we are in discussions and also in diligent sessions with a number of interested parties. Again, since we've indicated earlier, with the addition of the type 2 market and the significantly increased opportunity, that attracted additional potential partnerships. So those, say, discussions and due diligence sessions are underway as we speak."
May 9, 2013
Mann: "The availability of this Affinity data will be a pivotal event for partnership activities. Discussions and some diligent efforts are under way with a number of prospective partners. Several others have indicated they will require and resume their diligent activities upon the availabilities of the AFREZZA data in August. Having multiple potential partners engaged in lockstep will keep us fairly busy this fall. At the same time, our potential partners will themselves have to be quite focused. The company's acting quickly translated diligent findings into a decision to move forward will have a distinct advantage over periods in the partnering process that we are creating."
Oct. 13, 2013: MannKind resubmits Afrezza to FDA.
May 12, 2014
Mann: "Another major activity during this past period has included rather intensive discussions and negotiations with a number of potential partners interested in commercializing AFREZZA. We have said that we will only make an announcement on these matters upon finalizing of an agreement. So in today's call, we cannot discuss any such progress."
Mann (on same call): "Well, there are discussions going forward. Of course, the FDA has approximately, what, maybe 8 or 9 weeks to make their decision. They don't need to take 8 or 9 weeks. They could do it much sooner than that. Obviously, it would be nice to do it sooner so that we could have a more open session at the American Diabetes Association meeting in another month. But the other -- whether it takes 4 weeks or 8 or 9 weeks, I can't answer. As to partnership discussions, there are conversations going on now, and those don't necessarily have to wait for the NDA to be finalized. I believe that the -- there's enough expectation of approval now. It's just really a question of the detail of the label and the REMS program that are the only issues really outstanding at this point, but one never knows what's going to happen."
Mann (on same call): "... we are so confident of the significance of this product. And there are partners out there that recognize that this is going to be a very, very significant product. So we're not really worried. It's just a question of how we're going to launch it. There are several opportunities that we're considering."
June 12, 2014
Analyst asks, "Would you prefer partnering with somebody with existing insulin capacities and infrastructure? Or would you prefer partnering with somebody who's a diabetes player but not in insulin?"
Edstrom: "Well, there's 2 components. Certainly, if they are involved in insulin and insulin business, they know the marketplace. They may have a franchise already, so there may be a way to access that market very quickly. On the other hand, they may also have then a product that's coming out of, say, their own R&D and their own manufacturing. So they -- there may be a margin difference that we would be concerned about in regards to where do they put their emphasis in terms of marketing the product. So we are looking at both situations, but we are carefully evaluating what we believe would be the best opportunity for AFREZZA."
July 15, 2014
FDA approval decision date for Afrezza. Partner deal?????
Adam Feuerstein writes regularly for TheStreet. In keeping with company editorial policy, he doesn't own or short individual stocks, although he owns stock in TheStreet. He also doesn't invest in hedge funds or other private investment partnerships. Feuerstein appreciates your feedback;
to send him an email.