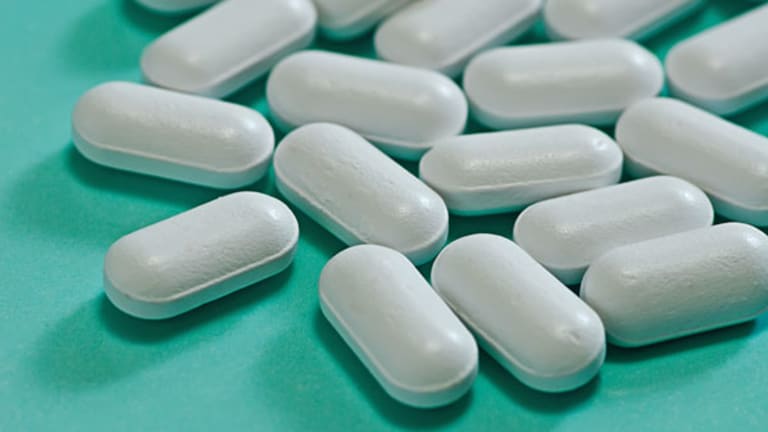 NEW YORK (
) -- Over the past few weeks, I've reviewed my
best and worst stock calls of 2012
and discussed what the
healthcare sector may deliver in 2013
. This week, let's quickly preview the upcoming J.P. Morgan Healthcare Conference, which will be held in San Francisco next week. After that, I have a surprise announcement to make.
I've been attending the J.P. Morgan conference more or less annually for well over a decade -- long enough to remember when the boutique investment bank Hambrecht & Quist (H&Q) ran the show before being gobbled up by JPM in 1999. Although unquestionably chaotic, the J.P. Morgan confab offers a great opportunity to survey the healthcare landscape at the start of a fresh year and learn about new companies that could become great investments.
Celgene
(CELG) - Get Celgene Corporation Report
is the obvious place to start on the morning of Monday, Jan. 7. Last year, management issued financial guidance at the conference and will likely do so again. I will also be watching the company's body language on Abraxane closely for any hints about detailed results from a phase III trial in pancreatic cancer to be presented at a medical meeting later in January.
I wrote a previous
.
Other upcoming events for Celgene include the mid-February FDA drug approval decision date for pomalidomide in late-stage multiple myeloma (I expect approval); and top-line results from the so-called "MM-020" study in first-line multiple myeloma comparing Revlimid and low-dose dexamethasone against the combination of Thalomid, melphalan, and prednisone. The control arm regimen makes this study a tough challenge.
Also on Monday, I'm curious to see
Kythera Biopharmaceuticals
(KYTH)
, a recent IPO that promises to deliver us all from unsightly underchin fat; and
Vivus
(VVUS) - Get VIVUS, Inc. Report
, which seems to be steadily increasing the availability of the weight loss pill Qsymia but is still dogged with concerns about a slow launch.
Biogen Idec
(BIIB) - Get Biogen Inc. Report
might uses its presentation slot on Monday to announce top-line results from a pivotal study of dexpramipexole in the muscle-wasting disease amyotrophic lateral sclerosis (ALS.). I have no view on the likelihood of success, although I would caution that ALS is an extremely difficult disease.
Gilead Sciences
(GILD) - Get Gilead Sciences, Inc. (GILD) Report
presents Monday afternoon but probably won't say much because management usually reserves financial guidance for quarterly conference calls.
Edwards Lifesciences
(EW) - Get Edwards Lifesciences Corporation Report
is worth a look too, even though it's not biotech. The company's transcatheter valve replacement technology faces a host of challenges over the next few years and the outcome remains uncertain. Those dynamics usually make for good investment opportunities.
On Tuesday, Jan. 8, I will likely see
AbbVie
(ABBV-WI)
, which is presenting for the first time since the separation from Abbott. At
United Therapeutics
(UTHR) - Get United Therapeutics Corporation Report
and
Eli Lilly
(LLY) - Get Eli Lilly and Company (LLY) Report
, investors should focus on R&D plans for the future, following major clinical failures for oral Remodulin (pulmonary arterial hypertension) and solanezumab (Alzheimer's disease), respectively. In both cases, I would be inclined to view management recalcitrance as a negative.
By Wednesday, Jan. 9, exhaustion sets in and elbowing through crowded hallways to reach even more crowded breakout rooms becomes a chore. Nonetheless, there are a host of interesting presentations. I'll likely listen in on
Nektar Therapeutics
(NKTR) - Get Nektar Therapeutics Report
,
Pharmacyclics
(PCYC)
,
Idenix Pharmaceuticals
(IDIX)
,
Amicus Therapeutics
(FOLD) - Get Amicus Therapeutics, Inc. Report
, and
Sarepta Therapeutics
(SRPT) - Get Sarepta Therapeutics, Inc. Report
. I know Idenix and Sarepta well, so my attendance will be more to check in on each company's progress. I doubt either company will say anything dramatically new or different from what investors have heard already.
I don't know Nektar or Amicus well, but both stocks performed miserably in late 2012. Good, long investment ideas often emerge from the ashes of defeat. Finally, I want to learn more about Pharmacyclics. It's sustained stock outperformance and mind-boggling $4 billion market capitalization has caught my skeptical eye. (Of course, I also missed the company's multi-year gains. D'oh!)
Those interested in weight-loss drugs should also definitely pay attention to
Arena Pharmaceuticals'
(ARNA) - Get Arena Pharmaceuticals, Inc. Report
presentation on Wednesday. The company has finally received DEA scheduling and is gearing up for the launch of Belviq. I'm excited the
commercial game is finally afoot
.
Thursday, Jan. 10 -- the closing day of the JPM conference -- will probably remain mostly unscheduled so I can see companies that strike my fancy at the last minute. I do want to sit in on the
Auxillium Pharmaceuticals
(AUXL)
breakout. The company sells Testim, a testosterone replacement gel, and Xiaflex, a collagenase enzyme for a rare disease known as Dupuytren's contracture. Auxilium also recently filed a supplemental Biologics License Application (sBLA) for Xiaflex as a treatment for Peyronie's disease. With a FDA approval decision date in early September, it's never too early to get up to speed.
Now, for my big news: Although I have thoroughly enjoyed my year-long sabbatical as a journalist, this will be my last column for
TheStreet
. Effective today, I return to the buyside as a partner in a new healthcare hedge fund.
Before we part ways, I want to thank everyone who took the time to read my columns over the past year. Even when we disagreed, your insights were frequently thought provoking and your insults uproariously entertaining. Most of all, I want to thank my editor and friend Adam Feuerstein, who encouraged me to start writing as a way to share my views on this complex and ever-changing sector while deciding on the next steps in my career.
One more point on Feuerstein. Both personally and professionally, I assure you that his detractors couldn't be more wrong. We don't always share the same view and he definitely thinks I'm an overly finicky wordsmith, but never have I met a more passionate and principled advocate for the biotech sector.
TheStreet
and biotech investors are extremely lucky to have his thoughtful viewpoint, whether right or wrong. I'm fortunate to call him a friend.
Let me leave you with a favorite quote of mine from Winston Churchill that I often think about when stressed about inexplicable stock movements, investors who smugly act as though they "know something," or fears of waning interest in the biotech sector. Churchill's statement has both nothing and everything to do with life as a fundamentals-oriented healthcare investor, and is a perfect reminder of what long-term investors should focus on.
"The truth is incontrovertible, malice may attack it, ignorance may deride it, but in the end; there it is."
Sadeghi has no positions in stocks mentioned.
Nathan Sadeghi-Nejad has 15 years experience as a professional health-care investor, most recently as a sector head for Highside Capital. He has worked on the sell side (with independent research boutiques Sturza's Medical Research and Avalon Research) and the buyside (at Kilkenny Capital prior to Highside). Sadeghi-Nejad is a graduate of Columbia University and lives in New York. You can follow him on Twitter @natesadeghi.