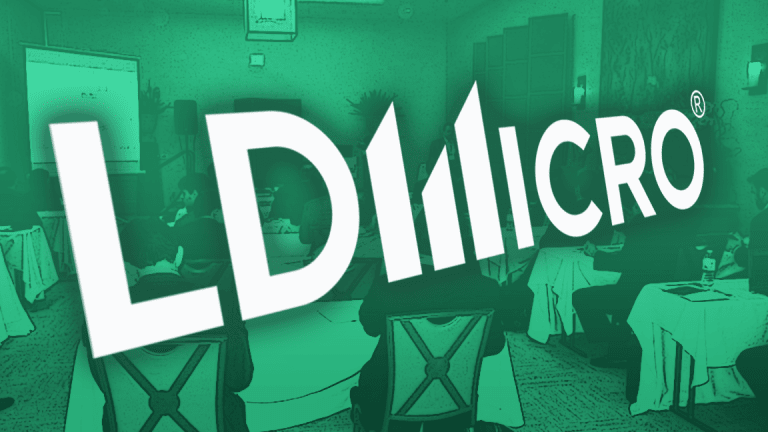 What I Learned About Tiny Stocks Before Being Evacuated From California Fires
After spending several days with some of the brightest in micro cap at the LD Micro conference, it's clear tiny companies are aiming high, but obstacles remain.
After spending several days with some of the brightest in micro cap at the LD Micro conference, it's clear tiny companies are aiming high, but obstacles remain.
There's no question that small cap companies have their fair share of challenges.
But make no mistake about it: They're aimed at growth and are very determined.
As TheStreet reporter on the ground at the LD Micro conference in Los Angeles earlier this week, I was privy to the triumphs, trials and tribulations of operating as a small cap company in this age. The experience shined a brighter light on the firms that might not always make headlines, but are nonetheless important pieces of the market puzzle.
With over 250 companies slated to pitch their business to investors over the three-day conference, LD Micro was a hive of excited business owners and investors.
Unfortunately it didn't end as planned thanks to the devastating L.A. wildfires that roared too close to the conference. Out of concern for the safety of those in attendance, LD Micro cut the conference short, scrapping two days of the event.
TheStreet's representatives at the conference jumped on a plane out of Los Angeles as soon as seats were available. The terminal with flights back to New York was teeming with disappointed business people whose plan to gain exposure and funding were tossed, at the fault of no one.
It just goes to show how dearly micro cap companies rely on meet-ups such as LD Micro to find funding and make important connections. Bereft of the brand recognition many medium- and large-cap companies bear, small-cap operations have to make the most of all opportunities that come their way.
On LD Micro's Index of 943 micro cap stocks, the total market cap for all constituents is $137.46 billion. All 943 stocks have just 18% the market cap of Alphabet Inc. (GOOGL) - Get Report . The average LD Micro Index company market cap is $147 million.
Companies that small appeared to be intently focused on a narrow set of issues.
Perhaps it was the invite list, but it seemed that most had a laser focus on hot topics including cannabis, blockchain technology and healthcare. Those three themes dominated conversation.
Honing in on the hot topics in the broader market is good in that it ties small cap names to the trends driving larger plays. But for small cap stocks that can't always afford to go all-in on the topic du jour, focusing too hard on a trend that could be gone tomorrow prevents that company from seeing broader themes.
I got a sense of a large portion of the companies looking so hard at the trees that they run the risk of missing the forest. I applaud authenticity and dedication, but can the companies not recognize that the market isn't looking for more messaging apps, even if they do leverage blockchain?
A great deal of the firms attending relied heavily -- and in some cases, entirely -- on investors believing in their message.
Think about a biotech company whose landmark product is still going through clinical trials. The CEO has no revenue and no timeline on when that revenue might start streaming. Lacking a source of income, the CEO has to stoke investor optimism through the message or mission his brand conveys. Either that or restructure the balance sheet.
When I asked the company executives I interviewed what they did to combat that very problem, nearly all answered that they have to become a company an investor can believe in. To many small cap leaders, believing in a company is more important at the outset than cashing in on one.
But it's a dangerous pillar to lean on. What if there's a scandal, or the message changes? It's a legitimate challenge for small caps.
Regardless of the challenges of small cap business, there was a tangible sense of opportunistic capitalism and unfiltered ambition at the conference. Everyone presenting was enamored with their own idea, strong of conviction and heavy on enthusiasm.
It was a refreshing break from Wall Street for this reporter. While the hum of the finance capital of the world is exciting, there's just something about a small company, a leader with a dream and the sunny west coast.
Alphabet is a holding in Jim Cramer'sAction Alerts PLUS Charitable Trust Portfolio. Want to be alerted before Cramer buys or sells GOOGL? Learn more now.
More of What's Trending on TheStreet: