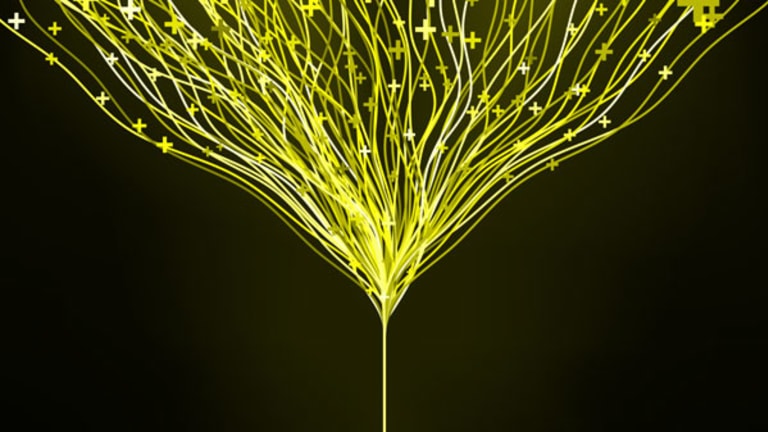 Publish date:
A Bottom in Solar Stocks? Maybe, Says Deutsche Bank (Update 1)
Deutsche Bank says the solar trade is back on in a report outlining a bullish demand view of a recovering sector.
Deutsche Bank says the solar trade is back on in a report outlining a bullish demand view of a recovering sector.
Updated with Mizuho analyst comments, an more on LDK Solar and Suntech Power)
NEW YORK (
) -- Solar stocks, as big a market dog as there was in 2011, are suddenly back in favor. The broad market rally to start 2012 had led to some gains in solar from the lows at which the stocks ended trading last year, but Wednesday morning was a monster solar rally on big volume.
First Solar
(FSLR) - Get Report
touched $42 a share for the first time in a month, while
Trina Solar
(TSL)
was up 24% and tore past its average daily volume within a half hour of the market open.
The likely catalyst was a report from Deutsche Bank saying that solar stocks may have fallen too low given a reasonable demand forecast and a lessening inventory overhang. Any one positive trend plays out against bearish expectations, and solar stocks have been overly discounted, Deutsche Bank said in the report.
Deutsche Bank analyst Vishal Shah wrote, "Recent conversations indicate investor sentiment is still very low and short interest near record levels. Given the rising 1H12 demand prospects in Europe/US, we now believe the recent trend of encouraging poly pricing data points could likely continue for the next month and as such, likely drive solar stocks higher. Although we expect solar companies to report losses during the upcoming Q4 earnings reports, we note that street estimates are already low and confirmation of the above trends could likely drive upside sentiment surprise."
He added, "Our checks indicate that inventory levels across the supply chain are now at record low levels and we believe record December month shipments is likely to create a sense of rush among installers in 1H12 before another anticipated 15% subsidy cut from July."
If you don't trust Deutsche Bank, you may want to take note of the fact that the biggest solar bear on Wall Street, Axiom Capital's Gordon Johnson,
removed sell ratings on five solar stocks on Wednesday, saying that a German demand surge might lead to stabilization in the short-term -- though he remains a bear on solar in the longer-term, predicting that all of these stocks will reach new all-time lows by year-end.
Last Friday, the German solar trade lobby announced that installations in Germany reached 7.5 gigawatts in 2011. It was a shocking number for a market expected to trail off from previous year levels, though it wasn't all rosy. For one, spot market pricing in solar showed no improvement in December even as Germany likely had a huge final month of the year. Also, the German method of "slowing" solar growth by setting annual digressions in feed-in tariff levels hasn't worked -- as evidenced by the rush in December leading to a 7.5 GW market -- and that has already led this week to chatter from German politicians about taking more severe steps to limit solar.
To show the type of tortured logic that is inherent in betting on demand caused by looming subsidy revisions in Germany, Mizuho Securities analyst Paul Clegg noted, "Sure, Germany can be strong but you are talking about the fear of a hard cap on solar leading the German market to suck up modules in the first half of the year. That's a bad reason for getting strength in the first half of the year."
Shah, the Deutsche Bank analyst, cited Trina,
Yingli Green Energy
(YGE)
and
Jinko Solar
(JKS) - Get Report
-- all Chinese solar module makers -- as the solar stocks likely to benefit from an improving scenario.
Trina Solar and Yingli Solar are two of the largest Chinese module makers. During solar boom times, these companies were generating gross margins above 30%. However, those gross margins fell to the break-even point in 2011 as excessive capacity in solar and lessening demand in Europe caused the profitability of the sector to be wiped out.
Trina Solar and Yingli are expected to be
long-term survivors on the Chinese solar landscape, the critical question being at what level of profitability and in what corporate structure. Yingli, for example, has its own polysilicon plant, unlike Trina, and that's a link in the solar supply that could makes a strong case for it as a survivor. Trina has a strong balance sheet relative to Chinese solar peers, which makes its own case for the company as a long-term winner. Jinko Solar buys all of its polysilicon at spot prices, and while that helped it during the past year as polysilicon prices crashed, it's less clear as a long-term survival strategy.
Clegg said that he views Yingli's polysilicon plant and its perennial hiccups in getting to a low-cost level as an albatross rather than advantage. The larger issue for solar, and for the Chinese solar sector, is that the emerging giant and solar capacity global leader refuses to deal with the required consolidation, and this keeps Clegg from being more positive on solar.
"There are still too many players and China is not making tough choices about culling capacity. I don't see lots of good catalysts in the short-term. Low pricing drives demand and puts solar one step closer to sustainable demand, but I'm not enthusiastic about the structure of the market with the number of players still in China," Clegg said.
The poster-children for the needed consolidation in Chinese solar are the most heavily indebted players in the market:
Suntech Power
(STP)
and
LDK Solar
(LDK)
. While Suntech Power is the Chinese module production leader and the No. 1 solar brand in China, it has a weak balance sheet and weaker cost model than either Trina or Yingli.
LDK Solar, with the scale of its polysilicon plant operations, may ultimately have as low a cost model as any vertically integrated Chinese solar company -- and it intends to pass Suntech as the biggest module maker in the world -- but it is unclear in what form this company will survive. LDK shares are currently 50% short interest.
Clegg and other analysts maintain that LDK has to survive because of its relationships with Chinese banks and the jobs it is creating in outlier areas of China like inner Mongolia, far from tier 1 cities, but this doesn't mean that its equity shareholders are safe. A scenario in which LDK's current management is forced out and the company taken over by a state-owned enterprise in China, or restructured in some other fashion with current equity shareholders wiped out, is more than a remote possibility, analysts contend.
For
TheStreet Ratings
take on LDK Solar,
click here.
Suntech shares were up 26% on Wednesday, while LDK shares were up 10% and 20% already year to date. With stocks as beaten down as solar stocks -- and as heavily shorted -- it's always wise to take any major rally with a grain of salt, though the trading volumes on Wednesday were significant.
For
TheStreet Ratings
take on Suntech Power,
click here.
Jinko shares were up 26% on Wednesday, and like Trina surpassed average daily volume quickly. Yingli shares were up 21% on high volume.
For
TheStreet Ratings
take on Trina Solar,
click here.
Earlier this week, First Solar scored a 115-megawatt deal with
EDF
in France for a major solar project. While the sale of its modules for the 115-MW project may not have been profitable given current solar oversupply, it does underscore the fact that First Solar can still compete with the Chinese module makers, said Aaron Chew, analyst at Maxim Group. First Solar has been beaten down as low as $29 on fears that given the cratering of prices in solar it is no longer a viable competitor to the Chinese module makers outside of the pipeline of projects that it owns.
Last week, noted First Solar bear Gordon Johnson of Axiom Capital said the
First Solar short had "almost run its course" though some took that as a sign that a bottom was being called, even as Johnson set a $26 price target on the stock.
"The case for First Solar modules not being competitive is overstated," said Clegg. "Depending on the situation and what it's bringing to the table, you can't say it's the unparalleled cost leader anymore, but it's cost competitive with peers," the analyst said.
For
TheStreet Ratings
take on First Solar,
click here.
Deutsche Bank has a positive view of demand globally, outside of Germany. "Recent media reports indicate China could likely turn out to be a 5GW market in 2012 (vs our current estimate of 3.5GW), India could similarly surprise to the upside (vs our current 1.6GW estimate). We also expect positive demand momentum from several non-European solar markets (including US/Canada) in 2H12. Sustainable demand trends from some of these new markets and above industry average market share of Chinese solar companies in some of these new markets could bode well for 2H12 supply demand fundamentals, in our view."
Demand elasticity is the swing factor in solar, but demand can improve without a commensurate improvement in pricing or profitability of companies, if overcapacity in the sector remains a serious issue. Some analysts continue to bet that demand comes back ahead of profitability and all the pain in solar stocks is not sorted out until near the end of 2012. Indeed, the massive action in solar on Wednesday could be short covering more than any buy side bullish bet on the sector.
Solar has always been a trading sector, and within the booms and busts trading solar stocks in reaction to excessive optimism or excessive pessimism has always been a successful short-term strategy. This isn't the best case to make for
why an investor should own shares, but for fast money traders, it's been a fact of solar's existence as a market sector. It's also often found a way of surprising in terms of the "best demand forecasts" turning out to be off the mark, as in the case of Germany this past week.
The Deutsche Bank analyst conceded that volatility isn't going away, but is calling a sort of bottom in solar stocks into 2012 earnings -- losses for the 2011 fourth quarter are already a given.
"On the policy front, we expect increased discussions in Germany about a hard cap or additional subsidy cuts, beyond the currently stipulated 15% subsidy cut from July. In Italy, we similarly expect a reduced incentive framework once the €6 billion threshold for annual subsidies is reached (currently at €5.7 billion). In the US, we see a high probability of likely government action against Chinese imports. Moreover, Q1 seasonality (weather) and increased supply could also play a big role in overall pricing. That said, given current investor expectations of weak volume/weak pricing trends in 1H12, positive development on one (volume)/both of these fronts could likely act as a positive catalyst for solar stocks," Shah wrote in the report.
Axiom Capital's Johnson removed his sell rating on Suntech Power, Yingli, Trina, First Solar and solar inverter company
Power-One
on Wednesday morning, moving to neutral, and the rational provided by the analyst was good evidence of the prevailing solar bearishness swinging back to a more optimistic view, at least as a near-term trade. Johnson has been among the most consistently bearish analysts on solar.
"Our checks this morning w/ a large German distributor suggest the German residential market has continued to exhibit strength in Jan. '12, despite the massive demand pull-in experienced in Dec. '11 prior to the 15% FiT cut 1/1/12: While our long-term thesis on STP, & the solar industry in general, remains unchanged, & our analysis implying structural overcapacity remains...the massive level of installations in C4Q11 in Germany has nearly depleted the entirety of inventory in the channel...in fact, one large German distribution vendor informed us that the residential market is now supply constrained (yes, you heard that right)."
Johnson added, "When considering (a.) German officials will likely begin discussing policy changes in the coming weeks (to include a possible cap), & (b.)solar stocks have historically rallied between the period when government officials begin official discussions around FiT cuts & when the official decision on FiT changes was announced, we see a relatively high likelihood that solar stocks stabilize or move higher in the near term as German regulators begin to discuss FiT policy changes, thus causing a pull-in effect on demand...we now expect a stabilization for the majority of 'Tier 1' solar vendors, as positive data points likely rear their head."
-- Written by Eric Rosenbaum from New York.
RELATED STORIES:
>>Pay Attention When Wall Street's Biggest Solar Bear Gets Nervous
>>8 Bold Questions for Solar in 2012
>>First Solar Short Almost Over
>To contact the writer of this article, click here:
Eric Rosenbaum
.
>To follow the writer on Twitter, go to
.