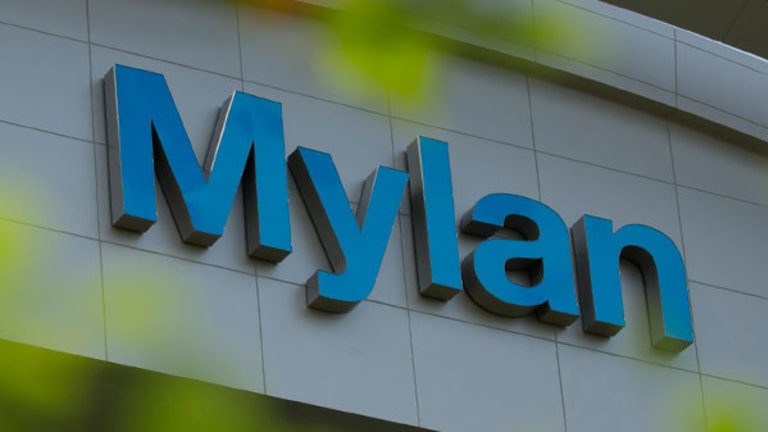 Publish date:
A Backlash Materializes Against Soaring EpiPen Prices
Senators Grassley, Blumenthal and Klobuchar demand Mylan reduce the price of its dominant treatment for life-threatening allergies.
Senators Grassley, Blumenthal and Klobuchar demand Mylan reduce the price of its dominant treatment for life-threatening allergies.
Senators from both sides of the aisle are pressing Mylan (MYL) - Get Report about the steadily rising costs of its lead drug, EpiPen, an emergency medication for those with anaphylaxis, or life-threatening allergies.
Sen. Chuck Grassley (R-Iowa) and Sen. Richard Blumenthal (D-Conn.) wrote letters to the pharmaceutical company, questioning drug price increases while Sen. Amy Klobuchar (D-Minn.) called for a judiciary hearing and an FTC investigation into Mylan Aug. 22.
"In the case of EpiPens, I am concerned that the substantial price increase could limit access to a much-needed medication," Grassley wrote in his letter. "In addition, it could create an unsafe situation for patients as people, untrained in medical procedures, are incentivized to make their own kits from raw materials."
Since the three issued statements, Mylan's share price has taken a hit, falling 4.6% after market's close Monday, to approximately $45.80 per share. The company is now trading at approximately $46 per share.
Mylan's shares have fallen about 40% from a spike they saw in April 2015.
New scrutiny will likely drag the Pittsburgh-based company's shares down even further, as investors fear that public pressure will force the price of the life-saving drug to be cut.
Patients have reported prices as high as $600 for a standard set of two EpiPens. Changes brought on by the passage of the Affordable Care Act have pushed much of the cost burden onto patients, rather than insurance companies. Patients with high-deductible plans created by the ACA find that the medication isn't generally covered. 
Most Expensive Anaphylaxis Agent Medications | HealthGrove
As with other drugs, Mylan does not set the final price for EpiPens. Much of the cost to patients reflects how much insurance companies and pharmacies add to what Mylan charges them for the drug.
Still, Mylan increased prices for EpiPen 15% in the fourth quarter of 2015, and had done the same during the second quarter of 2016, according to analyst Ronny Gal of Bernstein.
Mylan has pioneered programs to defray at least some of the cost, but for most, it's not enough. One woman with children who have food allergies wrote that her family has relied on credit cards for years to pay for the drug, while another noted that she used the discount card Mylan offers, but that she's looking at other options.
It's important to factor in that EpiPens lose effectiveness after one year, or on exposure to extreme temperatures. Even if the EpiPens go unused, patients must replace the emergency medication at least once a year, and sometimes even more often than that.
"We are proud of the programs which we have implemented over the past several years to help support access to treatment, including our My EpiPen Savings Card, a patient assistance program, and the EpiPen4Schools program which provides free EpiPen (epinephrine injection, USP) Auto-Injectors to U.S. schools," the company wrote in a statement released Aug. 22 in response to the senators' questioning.
Part of the reason Mylan has been able to keep boosting prices is a lack of competition in the marketplace.
Sanofi (SFY) - Get Report manufactured an EpiPen alternative, called Auvi-Q, that was flatter and more portable than Mylan's product, which took between 10% and 15% of the market for the drug, forcing Mylan to hold prices down.
In late 2015, however, Sanofi recalled all Auvi-Q injectors following information that they released too much epinephrine. Gal said the company has not indicated that it will try to revamp the Auvi-Q.
Twinject, another viable Epipen competitor, was discontinued by its manufacturer, Shionogi Pharma, in 2012.
A private company, Amedra, still manufactures a generic called Adrenaclick, though patients say it isn't much cheaper, and doctors don't often prescribe it because of its lack of name recognition.
Teva Pharmaceuticals (TEVA) - Get Report and Adamis Pharmaceuticals (ADMP) - Get Report are both developing generic alternatives to the drug, but neither have received approval from the FDA to begin selling.
Mylan could not be reached for further comment on its pricing. The company has a market cap of $24.63 billion as of Aug. 23.