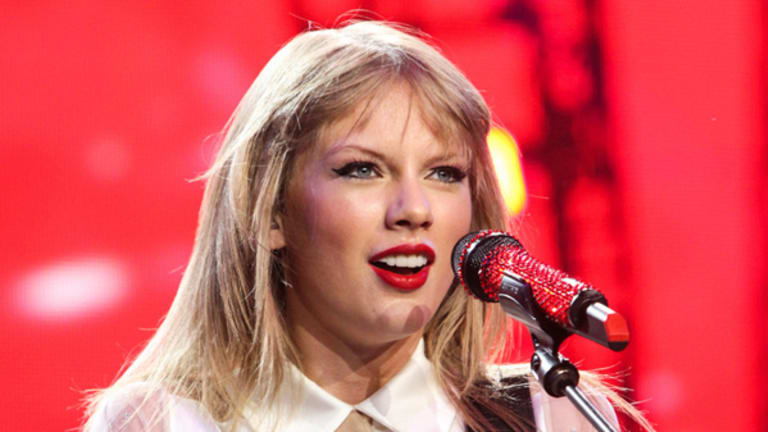 [video] Taylor Swift Loves Bruce Springsteen, but Millennials Hate Him?
It's a lack of appreciation for and promotion of rock music that severs The Boss's connection with Generation Y.
NEW YORK (TheStreet) -- A trio of articles got me thinking about music more than I normally do. And my baseline is quite high.
I Have Seen The Next Bruce Springsteen and Her Name is Taylor Swift
(Me,
TheStreet
, Aug. 21, 2013)
The Incredible and Sad Tale of the VMAs
(Carlton Wilkinson,
TheStreet
, Aug. 30, 2013)
Millennials Hate Bruce Springsteen
(EJ Dickson,
Salon
, Aug. 30, 2013)
EJ Dickson's article addresses a question that has tormented me for the last 10 years and likely always will:
Why Do Millennials Hate Bruce Springsteen?
While I partially agree with Dickson's assessment of why (see her story at the link), she doesn't address, or even ask, an interesting, related question. This question ultimately butts up against the first two articles published at
TheStreet
.
Why do millennials hate Bruce Springsteen when so many millennial musicians -- from singer/songwriters to straight ahead rockers -- not only idolize, adore and look to The Boss for inspiration, but appear on stage with him and cover his songs? Seems to me that if the millennials making today's most popular and/or critically acclaimed music consider Bruce relevant and credible, the masses would naturally follow.
Because, make no mistake, it's a badass list of artists -- and older or younger acts who considerable numbers of millennials might like -- that express extreme affection for Springsteen.
Tegan and Sara, Dancing in the Dark
Vampire Weekend, I'm Going Down
Sara Bareilles, I'm on Fire
Gaslight Anthem w/ Bruce
Of course, Taylor Swift tells a great story about meeting Bruce at one of her shows. She has also covered
Dancing in the Dark
. (See both
YouTubes
in the first piece I link to in this article). These examples make up merely a fraction of a partial list.
I didn't even bring up Arcade Fire, Mumford and Sons, Lady Antebellum, Chris Cornell, Eddie Vedder, Keane and Rage Against the Machine's Tom Morello, who is now basically an unofficial member of The E Street Band. Don't forget, Rage covered Springsteen's
The Ghost of Tom Joad
in 1997. So modern-day, mainstream affinity for Bruce is hardly a new phenomenon.
Just last month, I regret missing a show at one of LA's best venues,
The Satellite
, where a whole slew of indie bands spent a night covering Springsteen songs. I could go on all day with additional examples of Bruce's here-and-now relevance.
So what gives? It just doesn't make sense that the aforementioned names, not to mention dozens of others, can love Bruce yet their around-the-same-age counterparts "hate" him.
I don't buy the arguments that millennials dislike Bruce because he's old, their parents like him and they identify more with names such as Neil Young, Michael Jackson and the Rolling Stones. I would need quite a bit more anecdotal data to believe that millennials dig Young, MJ and the Stones -- all acts their parents could possibly like as much, if not more, than Springsteen -- but, for some strange reason, not Bruce. Because, objectively speaking, Bruce is the one who has remained, far and away, most relevant with some of the best musicians who populate Generation Y.
And, beyond that, Bruce is the one who continues to come out with the most new material and, as illustrated, collaborate with and inspire countless millennial performers. He is also the one who makes fellow 60-something rockers look old and out of style with his sweat-soaked, three-to-four shows that draw lame (though almost always sell-out) North American crowds, relative to younger European audiences.
In America, at least, it comes down to a curious lack of appreciation for and promotion of rock music.
TheStreet's
Carlton Wilkinson had a problem with just about everything that took place at
MTV's
Video Music Awards. From Lady Gaga's failed attempt at trying to be Madonna to Miley Cyrus's display of teenage sexual angst gone horribly wrong. But Carlton did not mention -- and I did not know about this until I saw it in
over the weekend -- that the VMA's gave
Thirty Seconds to Mars
its award for best rock video during the pre-show, not as part of the live broadcast. That's worse than fellow Democrats casting Dennis Kucinich out of nationally televised debates during the last presidential election.
A
Sony
(SNE) - Get Report
executive signed Springsteen to a huge contract about a decade ago. The company let him go shortly thereafter, in part because of the deal with Bruce. Ill-advised or not back then, that deal absolutely would not have happened in today's anti-rock climate, even if Bruce were ten years younger. We're just too far removed from the grunge era and subsequent mass popularity of bands such as Pearl Jam.
The millennials who listen to rock music, particularly from Springsteen through Pearl Jam to today's biggest names, just don't run around broadcasting it. Their fandom exists in a vacuum. If you share the affinity, you know that Tegan and Sara (indie) and Taylor Swift (top 40) populate quite a few millennial playlists alongside Bruce (rock). And, for whatever reason, they don't have outlets such as MTV and the VMAs doing anything to expose their eclectic tastes to the spoon-fed masses.
After seeing Swift play Los Angeles twice in August, I argued that she could -- and eventually will -- put on what amount to straightforward, hard-driving Springsteen-esque marathon shows in front of a band every bit as talented as any iteration of E Street. She has that ability now (she just needs a few dozen more anthemic songs). And she already has the band. Her incredible talent will allow her to reinvent herself several times throughout her career, just as Springsteen has.
But why would she make that shift now? It would amount to career suicide. And, by the same token, why would the music industrial complex take a risk trying to promote rock music to a generation that's more than willing to uncritically accept what it gives them? If there was ever an industry content with grabbing low-hanging fruit, it's this one.
Major music executives have hitched their wagons to
Apple
(AAPL) - Get Report
and that company's belief (or hope) that
downloads will remain the standard means of music consumption
even as consumers tell them they prefer streaming, particularly through access models such as
Spotify
and
Rdio
as well as radio redefined by
Pandora
(P)
.
For better or worse, Apple runs the music business. This is not a space where the major labels will do anything other than what they know works. If that means shoving Miley Cyrus down our throats and leaving the Gaslight Anthems of the world to wallow in relative obscurity, so be it.
These guys aren't on a mission to do what's pure or right or good for their business. They exist to survive, not innovate or expand their footprint beyond a relative handful of can't miss, even if sub-par, marginally talented acts.
It's only in the fragmented indie world, through the rare pop sensation such as Swift and via legends like Springsteen who call their own shots where we witness music that will stand the test of time. Outside of Swift, these categories do not achieve mass popularity because the mechanism in place to promote them isn't working.
--
Written by Rocco Pendola in Santa Monica, Calif.
Rocco Pendola is a columnist and
TheStreet's
Director of Social Media. Pendola makes frequent appearances on national television networks such as
CNN
and
CNBC
as well as
TheStreet TV
. Whenever possible, Pendola uses hockey, Springsteen or Southern California references in his work. He lives in Santa Monica.