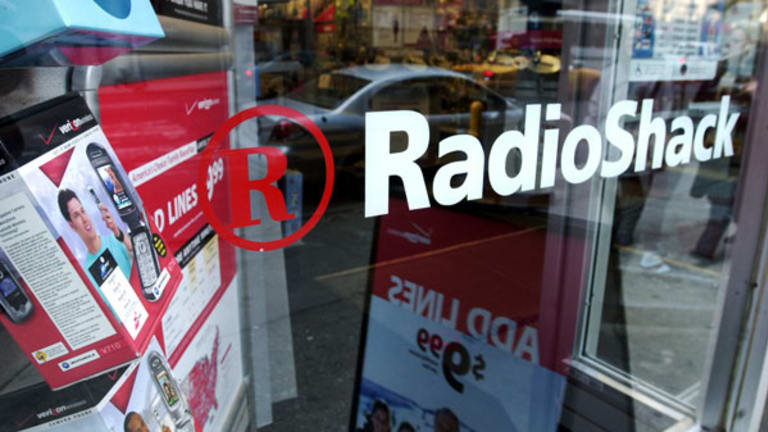 [video] Sozzi: 30 Seconds on Why NEW RadioShack is Like OLD RadioShack
Oink! The apparently new RadioShack RSH is comparable to putting red lipstick on a giant dirty pig.
NEW YORK (TheStreet) -- Oink! The apparently new RadioShack (RSH) is comparable to putting red lipstick on a giant dirty pig. Let's brush aside the fact that the sleek new design of assorted RadioShack stores that were hyped by Hulk Hogan and other '80s superstars during the Super Bowl will never go nationwide given a tattered balance sheet, the redesigned layout oddly resemble the tired nature of "The Shack" consumers have loved to forget. Pretty disturbing in that RadioShack will be forced to close north of a 1,000 stores to remain in business beyond 2016 (credit facility expires in 2016) as a result of a niche business model in a cutthroat, and evolving, consumer electronics business.
The two Vines I shot of a newly remodeled RadioShack (took them because you have never seen them before) tell the story of a company continuing to lack strong exposure to where electronics are headed, which is offering robust social and on demand experiences on large and small screen sizes. Sadly, the scenario I envision for RadioShack is the announcement of more store closures to prolong the inevitable, driven by pressured same store sales and margins from competitors Amazon (AMZN) - Get Amazon.com, Inc. Report, Best Buy (BBY) - Get Best Buy Co., Inc. Report, Wal-Mart (WMT) - Get Walmart Inc. Report, Target (TGT) - Get Target Corporation Report, Apple (AAPL) - Get Apple Inc. (AAPL) Report, Google (GOOG) - Get Alphabet Inc. Class C Report, and Samsung seeking to bring goods to consumers darn near instantly and at the sharpest possible price.
Here are the four major things wrong with the NEW RadioShack store layout:
The stores are stocked with low margin products that could be had cheaper from online rivals, and aren't must-haves right this very second. RadioShack can't stay in business solely selling portable speakers and mobile device cases.
Small tables in the middle of the store are an impediment to attracting new business from major tech vendors who yearn to share a full expression of top products.
The overall stores are still too tiny to showcase three key areas of tech moving forward: the home and in-car dashboard as the hubs of everything, and wearables.
The displays running alongside the exterior of the stores are not deep enough, causing potential out of stocks. For a company trying to become a neighborhood tech gear seller, out of stocks on already scant traffic is unacceptable (you could see some out of stocks/lean inventory in the Vines below.)
-- By Brian Sozzi CEO of Belus Capital Advisors, analyst to TheStreet
At the time of publication, Sozzi held no position in the stocks mentioned.