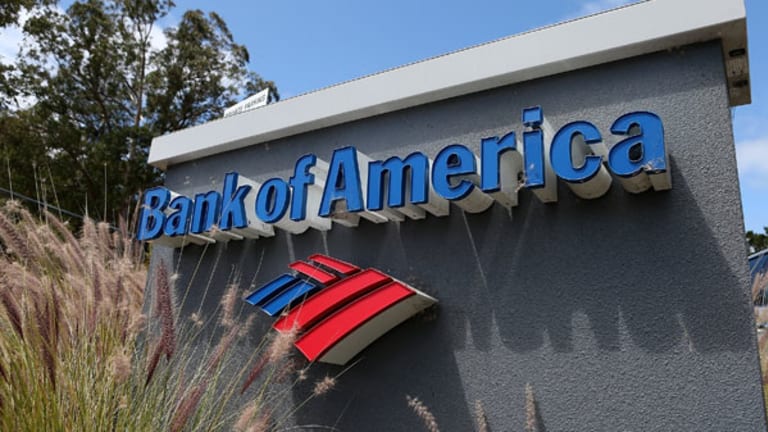 AIG Attorneys Question Key Player in $8.5B Bank of America Settlement (Update 1)
Day 23 in court battle over two-year-old proposed settlement.
Updated from 5:53 p.m. ET 9/12/2013 to include additional details from BTIG analyst Mark Palmer in sixth paragraph.
NEW YORK (
) --
Bank of America's
(BAC) - Get Report
attempts to win approval for a controversial $8.5 billion mortgage settlement faced a stiff challenge Thursday as attorneys for
AIG
(AIG) - Get Report
and other objectors questioned one of the key outside experts used to assess the reasonableness of that figure, in day 23 of hearings before New York State Supreme Court Judge Barbara Kapnick.
The proposed $8.5 billion settlement between Bank of America and 22 big investors including
Goldman Sachs
(GS) - Get Report
,
BlackRock
(BLK) - Get Report
,
PIMCO
and the
Federal Reserve Bank of New York's
Maiden Lane entities covers $108 billion in losses on mortgage-backed securities. It was agreed upon in June 2011 but has yet to be approved. Hearings resumed this week following a 45-day hiatus.
Objectors to the proposed settlement, of which bondholder AIG is by far the most prominent, contend the $8.5 billion figure was too low and that
BNY Mellon
(BK) - Get Report
, the trustee assigned to look out for the interest of bondholders, was conflicted due to extensive business ties with Bank of America. As a consequence, BNY Mellon didn't push to come up with the best deal for bondholders, AIG's attorneys argue. Despite those objections, the settlement has been called the largest tied to the financial crisis ignited when Lehman Brothers filed for bankruptcy five years ago.
One of the key experts responsible for assessing the reasonableness of the $8.5 billion figure was Brian Lin, a principal at RRMS Advisors, an obscure three-person office in Manhattan's diamond district. I visited RRMS's offices earlier this year
AIG's attorneys attempted to show that Lin was essentially there to rubber stamp a pennies-on-the-dollar settlement and that neither he nor BNY Mellon were as aggressive as they should have been in trying to extract a larger number.
During more than an hour of questioning Thursday morning, Larry Pozner, a partner at law firm Reilly Pozner representing AIG, established that Lin made no effort to recover money from Bank of America for poor mortgage servicing, even though the Federal Trade Commission
fined the bank $108 million for lapses in that area.
Mortgage servicing involves the collecting of mortgage payments from home owners, among other duties.
What's more, Lin did acknowledge "that he had heard that Countrywide had created subsidiaries that had overcharged trust investors for services," BTIG analyst Mark Palmer pointed out in a research note Friday.
Lin also conceded that though the settlement required Bank of America to improve its mortgage servicing, BNY Mellon never asked him to examine how the bank was servicing mortgages in the first place. Further, Pozner argued Bank of America was already required to improve its mortgage servicing as part of a
with the Office of the Comptroller of the Currency signed by Bank of America management March 29, 2011. As a result, achieving the same results when the $8.5 billion settlement was agreed upon three months later was meaningless, Pozner contended.
Pozner colleague Michael Rollin followed up Thursday morning's proceedings by accusing Lin of contradicting a statement he made in his pre-trial deposition. While Lin said in pre-hearing testimony he was told to assume a certain body of loan data was correct, he said Thursday he was told to assume only the verifiable information within that body was correct.
Rollin aggressively accused Lin of contradicting his pre-trial testimony at which point Judge Kapnick cut him off.
That exchange impressed CLSA analyst Mike Mayo as the most explosive of the hearings, which he has attended sporadically.
"That's the most hostile I've seen," Mayo said in an interview during a break from the proceedings.
Mayo says the proposed settlement "looks like a bit of a rubber stamp, but in the grand scheme of things, how much and does it matter?"
Mayo has a "sell" rating on Bank of America chiefly because of the risks he believes it faces if the settlement is thrown out. Relying on a pair of outside experts, Mayo believes Bank of America could face an additional $16 billion to $22 billion in legal damages if the settlement is thrown out by Judge Kapnick.
"I think most investors see this as roughly 1-in-20 chance
the settlement is thrown out." Mayo says. "I'm not saying it's going to happen, but I think the chance is greater."
Mayo also argues the case is "a microcosm of the financial crisis," since it already represents the largest payout by the bank with the most exposure to mortgage-related liability stemming from the crisis.
--
Written by Dan Freed in New York
.
Disclosure: TheStreet's editorial policy prohibits staff editors, reporters and analysts from holding positions in any individual stocks.