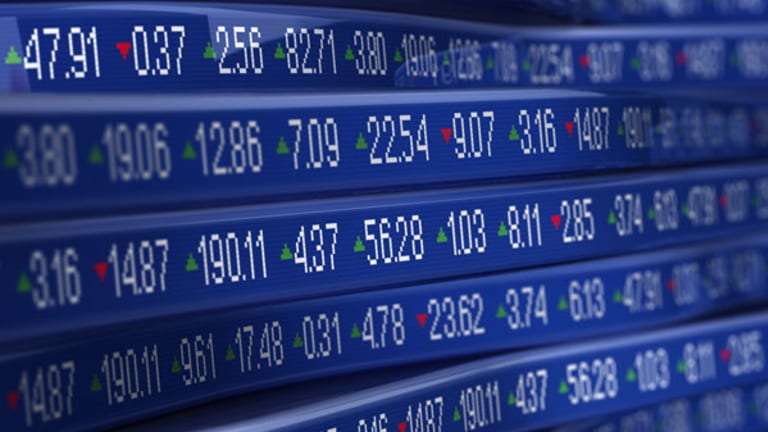 9 Insider Sales That Are Raising Eyebrows
Anxiety returns to the markets, and recent insider sales activity may be the signal that executives think their own stocks are getting frothy.
NEW YORK (
) -- The market swooned on Thursday, with the return of the type of anxiety investors may have thought was a thing of the past after the recent months-long rally.
Eurozone debt anxiety and double-dip fears were all of a sudden back in the headlines this week. Add to those the weak outlook from
Cisco Systems
(CSCO)
and the bearish comments from institutional money management legend Jeremy Grantham of
GMO
-- who has a history of Babe Ruth-esque market shots -- and so much for the bull market.
Insider selling is also on the rise, and it leads some to believe a sell signal has been triggered by those who best know what's going in inside corporate America. Too much can be made of insider sales data, but combined with the prevailing market sentiment on Thursday, the highest level of insider selling since 2007 can't be discounted. The first week of November saw the highest level of insider selling in four years, according to insider sales watchdog
InsiderScore.com
.
Both the Dow Jones Industrial Average and S&P 500 Index are up significantly in the past three months -- the S&P has risen 11% and the DJIA is up 8.6%. So is it a top, and is insider selling the canary in the coal mine?
According to recent surveys, S&P 500 company executives say they remain optimistic about profit forecasts. Likewise, consideration of stock price is not equivalent to business outlook, and the insider sales rise also has to take into account stock appreciation.
Even so, the increase in selling, well above the levels of the past two years, is dramatic, says Ben Silverman, v.p. of research for
InsiderScore.com
. Through the first ten months of 2010, insider sales within the S&P 500 universe reached near $23 billion. With an average rate of $2.3 billion per month -- and according to Insiderscore.com insider sales trends are not seasonal -- 2010 is on pace for roughly $28 billion in insider sales from S&P 500 companies.
In the bear years of 2008 and 2009, there were insider sales levels within the S&P 500 universe of $18.3 billion and $15 billion respectively. By contrast, in the bull run up to the crash, there were insider sales of $29.7 billion in 2006 and $31.5 billion in 2007, according to
Insiderscore.com
.
Insiderscore's Silverman says "We're getting back to the levels we saw in the last bull market."
Year-end tax and financial planning is always a part of the insider sales activity for insiders with high exposure to one stock. November 2004 and November 2006 were both big months for insider selling. Among the largest sellers within the S&P 500 universe, there are plenty of reasons for big insider sales numbers that shouldn't set off alarm bells.
Ultimately, Silverman says that insider transaction activity is more predictive when it is buying, as opposed to selling, activity. The inside-sales research guru notes that high insider buying levels in March of 2009 called the market bottom: "The day the market dropped to a multi-year low we saw the highest level of insider buying."
Nevertheless, there are some more interesting insider signals inside the generally heavy selling activity from corporate insiders this year. What follows are some examples of companies where selling activity has been on the rise -- and has been spread out across key executives or executive teams -- cases in which the
Insiderscore.com
alarm bells rang.
"There are a number of examples where insiders are making strong and obvious valuation calls," says
Insiderscore.com's
Silverman.
Walt Disney
(DIS)
, which reported earnings on Thursday that missed the Street expectations, is one example. Disney shares have recently been trading at a 52-week high, and there was some notable insider activity.
From Oct. 26 through Nov. 4, four Disney insiders sold shares at a total value of $19.2 million, and at an average price of $36.14.
New Disney CFO James Rasulo sold $5.3 million, or 70% of his stake in Disney. Insiderscore.com noted that, "he sold the shares at $35.90 and $36.90, respectively, on the first days since May 2010 that DIS reached that level, suggesting possible trigger prices."
Disney CEO Robert Iger sold shares valued at $9.9 million at $36.
Disney had recently been trading between $36 and $37. Its 52-week high is $37.98, reached in May, and it was nearing that level again on Friday morning, up 5%, even though the printed earnings numbers were short of the Street mark.
"It's always a point of interest when multiple executive 10b5-1 plans trigger, and in the current market environment we're continually on the lookout for valuation inflection points. To this end, Rasulo's large 10b5-1 sale -- triggered at obvious prices -- brings up some near-term valuation concerns," Insiderscore.com wrote in an insider alert.
Aflac
(AFL)
insider selling has also attracted the attention of the insider sales watchdog Insiderscore.com.
Eight Aflac insiders sold $6.2 million worth of shares at $57.11 in the trading sessions between October 28 and November 5.
Aflac shares reached a 52-week high of $58.31 on Nov. 5.
The Aflac insider activity represented the highest level of insider sales at the company in three years, according to
Insiderscore.com
.
Aflac President and CFO Kriss Cloninger sold $475,000 in shares, and while it didn't reduce his exposure meaningfully, it was his first sale of any kind in just over two years, the insider sales data tracking firm said.
Chief investment officer Jeremy Jeffery exercised his right to sell $759,000 in options for a 21% gain, options with 5.8 years remaining until expiration. His sale was the earliest options exercise by any Aflac officer or director since November 2007, Insiderscore.com noted.
The Aflac selling action triggered multiple valuation alarm bells: executives sold in a cluster, the CFO was among the sellers, one executive exercised an option to sell at an early date, and shares were near a two-year high.
The technology sector is always going to top the sector rankings for insider selling with its compensation packages tied heavily to options grants, but the recent insider activity at
Qualcomm
(QCOM)
still caught the attention of Insiderscore.com.
The insider sales watchdog noted that Qualcomm CEO Paul Jacobs went "off plan," meaning that he decided to sell separate from his pre-planned transactions under the SEC Rule 10b5-1.
The SEC Rule 10b5-1 allows a corporate executive to set up a written plan for trading of insider stock. Yet insiders are still free to buy or sell when the trading window opens, and the Qualcomm CEO took advantage.
Jacobs disposed of $7.7 million, $4.8 million under a 10b5-1 plan, generating gains of between 57% and 67% on options with just over a year until expiration. Jacobs also sold an additional $2.8 million out-of-pocket. While Jacobs' overall exposure to Qualcomm stock hasn't changed significantly, "The out-of-pocket sale is his first since 2007, and his first transaction outside of a selling plan since 2004," Insiderscore.com noted.
In all, eight Qualcomm insiders disposed of $64.6 million at an average price of $48.24 from November 1 to November 8, the largest Qualcomm single-month increase in insider selling since July 2008.
On Nov. 4, Qualcomm shares reached $49.45, their highest price since last January.
Qualcomm CDMA Technologies general manager James Lederer sold options at a value of $10.5 million for a gain of 25%, options with another 5.6 years until expiration, "a significant uptick in selling by Lederer," according to Insiderscore.com.
Insider selling is nothing new at Qualcomm -- or any tech company for that matter. However, the insider sales watchdog noted that there have only been three previous occasions since January 1, 2004 -- November 2009, March 2007 and September 2004 -- when Insiderscore.com's "sell inflection" was triggered.
After almost every one of those three events, the 3-month, 6-month, and 12-month Qualcomm returns were weak (the 12-month return on the November 2009 Sell Inflection is slightly positive at the moment).
Alluding to Lederer's early exercise of options, there were two prior early exercise red flags at Qualcomm, in May 2009 and November 2009, and both preceded periods of weak returns for the stock.
"Paul Jacobs' first non-10b5-1 sales in more than six years adds some urgency to the company-wide selling," Insiderscore.com noted.
Qualcomm isn't alone among technology companies regarding recent insider activity that has attracted attention.
Juniper Networks
(JNPR)
insider activity has also increased, with shares reaching a 34-month high on Nov. 9.
Between Nov. 1 and Nov. 8, six Juniper insiders disposed of $5.3 million in shares at an average price of $33.42. The insider selling included several executives significantly taking down their holdings.
Juniper shares are currently trading above their 200-day moving average of $28.15. Juniper shares were at a 52-week high of $34.94 on Nov. 9.
CEO Kevin Johnson lowered his Juniper stake by 19%. It was Johnson's first insider sale since he took his role at Juniper in September 2008. Johnson previously purchased $961,000 worth of shares at $15.01 per share in November 2008.
Juniper founder and CTO Pradeep Sindhu sold $1.6 million worth of shares under a 10b5-1 plan, which by itself wasn't noteworthy as it didn't change his overall stake in the company by a significant percentage. However, Sindhu went "off plan" and sold $5.2 million at $32.02 late last month outside of the 10b5-1 plan.
Insiderscore.com noted the Juniper activity because it combined the top executive making his first sale since taking the helm of the company, and the founder accelerating his out-of-pocket selling.
The technology sector and the S&P 500 Index get a lot of attention for insider selling activity, but recent heavy selling has also been going on in some less-obvious sectors. One example is basic materials.
Steel Dynamics (STLD) is an example of where Insiderscore.com thinks a CEO has shown his cards.
Steel Dynamics CEO Keith Busse sold $1.8 million worth of at $16.03 on November 5th, reducing his ownership stake by 7% to 1.4 million shares.
It was Busse's first sale in nearly a year, and he's proven to be a cagey seller in the past, based on a transaction in December 2009, when he exercised options worth $9.3 million at $18.19. "About two and a half weeks after Busse made his December sales 2009, STLD hit a multi-year high and has yet to reach that point again," Insiderscore.com noted.
On Nov. 5, when Busse sold Steel Dynamics, shares closed at $15.93. It was the highest share price for the materials company since May.
Steel Dynamics is currently trading up 24% from an 18-month low in July, but down 22% from its January 2010, 25-month high.
The inside sales watchdog noted that Busse has shown his prowess for buying and selling at the right time on the bullish side of transactions also. The Steel Dynamics CEO bought on weakness in October 2008, when Steel Dynamics shares were near a five-year low.
The latest bullish insider transactions in Steel Dynamics shares occurred in May, when a director made his first purchase of Steel Dynamics shares in seven years, increasing his exposure by a whopping 837%. The purchase price was $14.01. It was near a one-year low, though the low wouldn't actually be hit until July at $13. Shares have since moved up above the $16 mark, the short-term mark at which CEO Busse decided to take some steel chips off the table.
Insiderscore.com
referenced Busse's commentary on the recent third quarter conference call, during which he described the "fits and starts" that typified the economy. Timing the short-term fits and starts for insider buying and selling at Steel Dynamics seems to be a key.
Insiderscore.com
thinks that in the materials sector,
Scotts Miracle-Gro
(SMG)
recently told investors that shares had to go down, and shares have already trended down since some heavy insider selling in October.
Between Oct. 13 and Oct. Oct. 22, four senior executives at Scotts Miracle-Gro disposed of $3.6 million in shares at the average price of $54.23.Scotts Miracle-Gro hit a record high on October 25. Scotts Miracle-Gro shares had been at a 15-month low in February 2010.
What is most striking about the insider selling at Scotts Miracle-Gro is that it occurred in successive stages as the stock moved up towards the $54 mark, and options were exercised five and six years ahead of time.
Scotts Miracle-Gro shares have since dipped below the $50 mark, a decline of near-$5.
Other materials companies seeing elevated insider selling include
Eastman Chemical
(EMN)
and
Freeport McMoRan
(FCX)
, both of which rate a "very negative" on
Insiderscore.com's
scale.
Four Eastman Chemical insiders disposed of $16.7 million at a share price of $79.94 on Nov. 2 and Nov. 3, with the Eastman Chemical insiders transacting early exercise and sales of options well ahead of schedule.
Chief administrative officer Norris Sneed sold $325,000 of Eastman Chemical shares, lowering his stake by 28%, and exercised on options not due to expire for another six years. It was Sneed's largest stock sales since at least 2004,
Insiderscore.com
noted.
Eastman Chemical shares are up more than 40% year over year.
The exercise and sale of long-term options as shares ease off an all-time high, at a time when the company CEO comments during earnings that raw materials prices are rising, should at least raise an eyebrow,
Insiderscore.com
noted.
In the case of Freeport McMoRan, Chairman James Moffett made his first insider sale in three years. The Freeport McMoRan chairman sold $18.7 million worth of shares at $97.61 on November 2, decreasing his stake by 11%. It was the largest insider sale by a Freeport McMoran officer or director since 2003.
The company soared past earnings expectations in the third quarter, riding the coattails of high metals prices and hit a 27-month high at $101.58 on Nov. 4.
Both the size of Moffett's sale and selling on strength caught the attention of the insider sales watchdog.
The industrial sector is another area that doesn't get much attention regarding options and insider selling, but where recent soaring stock prices have been accompanies by heavier-than-usual insider selling. Among a host of industrials where insider sales have picked up,
Insiderscore.com
pointed to
Parker-Hannifin
(PH)
and
MSC Industrial Direct
(MSM)
.
The insider sales watchdog is always on the watch for big moves out of stock by company chief financial officers. Parker-Hannifin CFO Timothy Pistell sold 41% of his holdings in the company, the largest insider sale by any Parker-Hannifin executive in at least seven years, according to
Insiderscore.com
.
The Parker-Hannifin CFO wasn't alone in his insider selling. Four company executives sold $5.6 million worth of Parker-Hannifin shares at an average price of $79.81 in the first week of November. Parker-Hannfin shares hit a two-year high on Nov. 5 at $81.81.
In each case of insider selling, overall stakes were being reduced.
Insiderscore.com
noted that the last time its Parker-Hannifin sell inflection point trigger was reached in April 2010, the stock was trading at what was then a two-year high, and shares didn't hit that high again until September.
The reduction of the Parker-Hannifin CFO stake by 41% intensifies the valuation trigger.
At MSC Industrial, the CFO has also been busy. MSC Industrial CFO Charles Boehlke reduced his stake by 35% in two transactions in the first week of November.
The MSC Industrial CFO selling was preceded by several executives significantly reducing their insider holdings.
MSC Industrial shares are down almost $1 from their all-time high at $59.12, when the most recent selling activity began, culminated in the CFO sales in November.
MSC Industrial shares are up 37% from a 52-week low in November of 2009. The insider sales watchdog noted that company insiders were heavy sellers in April when shares ran into resistance at $58. MSC shares fell as low as $44 in August, and are now back at the $58 resistance point, which should in the least give pause for valuation concerns.
-- Written by Eric Rosenbaum from New York.
RELATED STORIES:
>>Top 10 S&P 500 Stock Buybacks in 2010
Copyright 2009 TheStreet.com Inc. All rights reserved. This material may not be published, broadcast, rewritten, or redistributed.