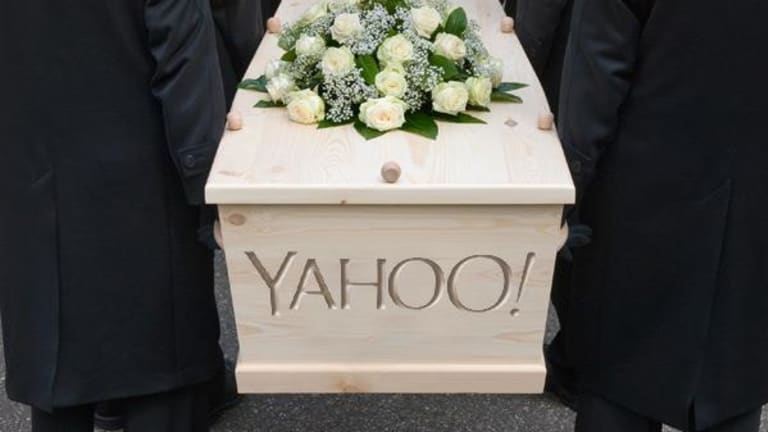 9 Iconic Internet Brands That Have Disappeared
Remember GeoCities, Friendster and Ask Jeeves? So do we.
When it was revealed earlier this month that AOL and Yahoo! (YHOO) would soon be known as Oath, the internet was equal parts confused and angered by the announcement. 
Many wondered what the meaning was behind Verizon's (VZ) corporate rebranding following its $4.48 billion acquisition of Yahoo's core digital business. Others, meanwhile, began questioning if two of the most iconic and long-lived web brands would continue to survive. 
Luckily for those clinging to their cherished internet brands, AOL has confirmed that it and Yahoo will live on even after Verizon decides to #TaketheOath, presumably in the next few months. In an interview with CNBC, AOL CEO Tim Armstrong emphasized that the two brands (and their popular properties) will continue to exist on their own, but that the name Oath would be a way to house the more than 25 brands that will be combined once the deal closes.
READ MORE:Yahoo! CEO Mayer Not Joining New Leadership Team Under Verizon
"It actually clears the lane for us to really promote Yahoo and AOL and TechCrunch and Huffington Post and Moviefone," Armstrong explained. "Some of the reaction you see to the brand, I think, is short-term thinking."
While it seems clear the Yahoo! brand will continue to exist, the company's near-death experience was enough to conjure memories of some of the ghosts of the internet's past. Here's a collection of some of the internet's most memorable brands that are now defunct or have since been rebranded: 
1. Netscape 

Netscape was the company behind the first widely-used internet browser of the nascent world wide web way back in 1994. The browser, called Netscape Navigator, was the catalyst for the browser wars that proceeded throughout the late 1990s and early 2000s between Netscape,  Microsoft's (MSFT) Internet Explorer and, later, Mozilla Firefox, Apple's (AAPL) Safari and  Alphabet's (GOOGL) Google Chrome. Netscape was a publicly traded stock under the ticker NSCP, until 1998, when it was purchased by AOL for $4.2 billion. The NetScape home page from the 90s, complete with descriptions of what a hyperlink is, can still be visited here, however.
Editors' pick: Originally published April 5.
Read More of TheStreet's Top Stories:
Why Tesla's Explosive Stock Price Deserves to Keep Plummeting
Verizon's NFL Streaming Deal May be Sign of Things to Come From Carrier, Tech Rivals
You Must Start Investing Now Because the Dow May Hit 100,000 By 2030