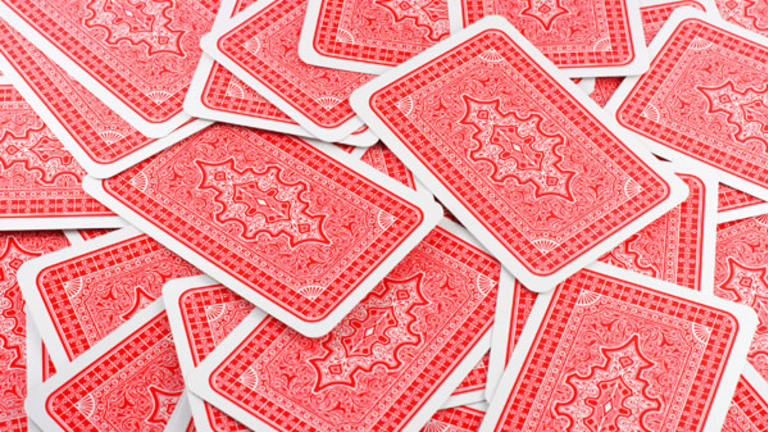 9 Casino Stock Winners & Losers of 2010
Here's a look at how casino stocks fared in 2010 -- and what that might portend for 2011.
NEW YORK (TheStreet) -- The biggest casino stock winners in 2010 rode a surprising winning streak during the past year -- but can they continue to pull aces in 2011?
Overall, analysts are calling the bottom for the casino sector, and while it is unlikely the market will return to the good times of pre-2007, stabilization could be enough for Wall Street to experience a renewed sense of interest in these names.
>>Online Gaming Bill: Who Will Win?
TheStreet
used I-Metrix to rank casino companies based upon their stock gains in 2010 to predict which stocks investors should place bets on next year.
Ultimately the recovery of casinos is heavily dependent on which markets they are located in, which is why stock gains this year ranged from a modest 8% uptick to a greater-than-150% surge.
There have been some noteworthy positive trends in Las Vegas in recent months, as visitation rates increase and room rates grow slightly. Most domestic markets remain stagnant with few near-term headwinds on the horizon.
Then there are the outliers: Atlantic City continues in its downward spiral, Macau is on track to report gaming revenue growth of more than 50% for the year, and Singapore is slated to outpace Las Vegas by the end of 2011.
Given this, it shouldn't come as a surprise that the lackluster stocks of 2010 have a dominant presence in Atlantic City and other mediocre markets like Las Vegas locals, while the three top casino stocks are all
plays on China
.
>>3 Reasons Not To Bet on Casino Stocks in 2011
In light of all this, here's a look at which companies were the biggest winners of the year and how they are expected to fair in 2011....
9. Ameristar Casino
Ameristar Casino
(ASCA)
is ending the year on a sour note.
After putting the company up for sale in August, sending shares rallying, management announced this week that it is taking the company off the market. Ameristar's board decided that a potential sale would not be in the best interest in the company or its stockholders.
In reality, chopping down the "FOR SALE" sign suggests a lack of interest from private equity. As a result, the news smothered Ameristar's gains for the year, with the stock now up just 8.5% for the year-to-date period.
While Ameristar will no longer consider a sale, the committee will continue to look at other potential strategic alternatives.
"The issue for a potential buyer is that Ameristar already has among the highest property-level EBITDA margins in the industry and runs a tight ship, which therefore could make it difficult to generate much operating upside other than removing duplicate costs in the corporate expense line," J.P. Morgan analyst, Joseph Greff, wrote in a note.
Ameristar will now most likely sit on its excess cash, rather than return it to shareholders, and Greff expects the company will likely revisit a potential sale of assets rather than the whole portfolio.
Last month Ameristar reported that its third-quarter net income fell 18% due to higher expenses and promotional allowances.
The shutdown of a bridge near Ameristar's Chicago casino last year continues to impact results by making the property harder to reach, while Pinnacle Entertainment's newest casino in St. Louis is putting pressure on Ameristar's most lucrative property in St. Charles.
8. Boyd Gaming
The Las Vegas locals and Atlantic City markets have the longest road to recovery, making
Boyd Gaming
(BYD) - Get Report
one of the most challenged stocks in the sector long-term.
It's not a surprise then that Boyd saw some of the most muted gains in 2010, with shares rising just 13.8% since the beginning of the year.
In Atlantic City, where Boyd owns a 50% stake in the Borgata, gambling revenue plunged 13% in November. The New Jersey Boardwalk has been under pressure even before the recession began, as nearby regions expand their gaming presence.
Both West Virginia and Pennsylvania added table games to casinos in the second half of the year and new properties opened in Philadelphia and Maryland. In 2011, Atlantic City will also have to contend with additional growth in Pennsylvania and the pending opening of the Aqueduct in New York City.
Given this, Boyd decided not to exercise its right to match a $250 million offer
MGM Resorts
(MGM) - Get Report
received for its 50% stake in the Borgata. MGM decided to divest its joint venture with Boyd after the Atlantic City Gaming Commission criticized its relationship with Pansy Ho in Macau, whose family has allegedly been tied to organized crime in China.
In the Las Vegas locals market, where Boyd generates about 44% of its EBITDA, trends are improving, but not as quickly as analysts would have hoped. In October, gaming revenue in the market grew 6.2% to $169.4 million.
In its third quarter, Boyd disappointed Wall Street, with adjusted earnings coming in at 2 cents a share, shy of consensus estimates of 5 cents. Revenue dropped 4% to $595.4 million.
Boyd also announced plans to sell $500 million of eight-year notes. Proceeds will be used to buy back senior subordinated notes due 2012 and to repay bank loans.
7. Penn National Gaming
Penn National Gaming
(PENN) - Get Report
is poised to be the winner among the regional gaming stocks in 2011, according to analysts.
So far in 2010, Penn's stock has risen about 22%, less than most other regional operators. But its expansion pipeline should buoy the stock in the New Year.
In the third quarter, the company rolled out table games at its West Virginia and Pennsylvania facilities, which led Penn to see profit more than double during the quarter. Penn also opened its Maryland slot casino at the end of the year, which should drive positive EBITDA growth past the second quarter of 2011.
Heading into 2012, Penn also has one development in Kansas and two in Ohio in the pipeline.
In November, Penn announced it is making its first foray into Las Vegas with the purchase of M Resort for $230.5 million. The high-end casino cost $1 billion to build, and Anthony Marnell III spent an additional $240 million for the land. Penn now gets a relatively brand new casino for a fraction of the total cost of the project, and less than even the price of the land itself.
"Penn's strong development pipeline remains on track and we continue to believe current share price levels do not fully account for a pipeline that we believe is worth roughly $10 per share in present equity value," wrote Wells Fargo analyst Carlo Santarelli in a note. "We believe Penn is a proven developer,
and despite the numerous projects, has not bitten off more than it can chew. In fact, we believe Penn will likely benefit greatly from its first-mover advantage in Kansas, as well as what we think will be limited competition in the early days of its two Ohio projects."
Looking ahead, Penn now expects 2010 full-year earnings of $1.15 a share from prior guidance of 98 cents, and is calling for revenue of $2.46 billion from $2.44 billion.
And even if domestic consumer spending remains soft, Sterne Agee analyst David Bain expects Penn will outperform other regional gaming operators.
6. Isle of Capri Casinos
Isle of Capri's
(ISLE)
stock has advanced more than 30% this year, but analysts are skeptical that shares will climb much higher in the New Year.
Sure, Isle of Capri has several potential near-term catalysts and some optimistic macro-economic trends in its favor, but analysts say these positives are already factored into the share price.
Earlier this month, the casino operator was awarded the 13th and final license in Missouri. Isle plans to spend about $125 million on a property in Cape Girardeau that will house about 1,000 slot machines and 28 table games. While the project is estimated to be worth about 75 cents a share in present equity value, Santarelli says much of that has already been captured in to the recent run of the stock.
Isle is also one of the four groups vying for the final Category III resort license in Southwestern Pennsylvania that would allow for 600 slots and 50 table games to be added to an existing hotel property.
On the macro front, as of September the average unemployment rate for Isle of Capri's markets was about 8.1%, Santarelli said, which is about 180 basis points below the national average. He says this will "at the very least, make revenue declines in the near-term less bad."
In its second quarter, Isle lost $1 million, or 3 cents a share, due to higher interest expenses. That compares with a profit of $1.6 million, or 5 cents, a year earlier. Revenue edged up slightly to $246.7 million from $246.1 million.
Interest expense climbed to $23.4 million from $17.9 million due mostly to higher borrowing costs and increased borrowings related to its acquisition of the Rainbow Casino in Vicksburg, Miss.
St. Louis-based Isle of Capri owns 15 casinos in states including Mississippi, Louisiana, Iowa, Missouri, Colorado and Florida.
5. MGM Resorts
It was another rocky year for MGM Resorts, but sentiment could turn slightly more bullish heading into 2011.
For the year, shares of the Las Vegas-based casino operator grew 33%, as trends improved on the Strip in the second-half of the year.
In October, Las Vegas reported a 16.1% jump in gaming revenue to $494.8 million. MGM generates about 80% of its EBITDA on the Strip.
While gaming revenue in Nevada is still expected to decline 2.9% in 2010, according to PricewaterhouseCoopers, the market could return to pre-recession levels by 2010. The first predicts Nevada could book mid-single-digit gains between 2012 and 2014 and grow at an annual compound rate of 4.1%.
Macau will also be in focus as MGM readies itself for a potential initial public offering on the Hong Kong stock exchange. The company filed an application for the IPO on Sept. 1, and analysts expect, if approved, the deal could be completed by the end of the first quarter of 2011.
The potential
could be a tailwind for MGM in 2011. If a bill is passed, MGM will be able to tap into its database of about 60 million customers and capitalize on its well recognized and trusted brand name, Bain says.
"We do not think investors are giving MGM any credit for the potential opportunity, and believe it provides only upside at this point," Greff wrote in a note.
MGM is also in the process of divesting its 50% stake in the Borgata in Atlantic City, which it co-owns with Boyd Gaming. The company said it received a $250 million offer for the casino, but declined to reveal the identity of the bidder. MGM agreed to sell its half after Atlantic City regulators expressed concern over MGM's partnership in Macau with Pansy Ho, whose family was allegedly linked to organized crime in China.
Despite these catalysts, there are still long-term issues facing MGM, most notably increasing competition in Las Vegas.
The Cosmopolitan, which opened this week, is one of CityCenter's biggest threats in the New Year. The resort-casino, which is owned by Deutsche Bank, includes about 3,000 rooms, a 10,000-square-foot casino, 1,500 slot machines and 83 table games.
The old school of thought is that the opening of Cosmopolitan could help bolster the Las Vegas Strip, generating traffic at other destination properties. But while the theory that when a new casino property opens it grows the market may have been true in the heyday of Vegas, it is no longer valid in today's economy, says Alex Calderone. "Cosmopolitan opening is not good for anyone. There's a good chance it will cannibalize
MGM's Bellagio and CityCenter," he predicts.
There are also rumblings that CityCenter may have to take drastic measures in 2011 and that MGM could be considering some sort of restructuring for the property, according to several sources.
But upcoming potential momentum could push these concerns out of investors' minds, at least in the early months of the New Year.
4. Pinnacle Entertainment
Pinnacle Entertainment
(PNK) - Get Report
was the great transition story of 2010, with shares spiking about 45% this year.
The regional casino operator's most impressive story has been in its gross margins, as management, under the leadership of new CEO Anthony Sanfilippo, is in the process of increasing the company's operating efficiencies and prudently allocating capital. Analysts believe Pinnacle is in the early stages of this process, and will continue to drive revenue growth.
In its third quarter, Pinnacle reported a surprise profit of 10 cents a share on an adjusted basis, better than consensus estimates of a loss of 7 cents. Revenue grew 15% to $287.8 million, while property-level margins reached 23.4%, also ahead of forecasts.
Last month, Pinnacle purchased Cincinnati's River Downs Racetrack for $45 million. The deal includes 155 acres, 35 of which are still undeveloped. The transaction is expected to close by the end of the first quarter of 2011.
This deal could generate significant returns in the event that Ohio decides to legalize video lottery terminals at racetracks, Santarelli said.
Pinnacle is also in the process of looking for a buyer of its oceanfront land in Atlantic City, where it originally intended to build a $1.5 billion casino, before squelching plans. The casino operator bought the land in 2006 for $270 million from groups affiliated with
and later added another piece of land for $70 million.
While the land's currently value is $38 million, Pinnacle insists it will not sell it on the cheap, holding out for the best deal.
Pinnacle currently has $228 million in cash and $375 million of availability under its revolver.
3. Wynn Resorts
Wynn Resorts'
(WYNN) - Get Report
run up of more than 55% this year has caused Wall Street to question its valuation.
Currently, eight analysts have a buy rating on Wynn, 16 say hold, two rate it underperform rating and one says to sell the stock.
"With little on the growth horizon in the intermediate term, new competition from Cotai coming in 2011 and 2012 ... and the unclear timing of a true recovery in Las Vegas, we see few catalysts not yet priced-in to pull valuation higher than current levels," Bain wrote in a note following its third-quarter earnings report.
During the quarter, Wynn lost $33.5 million, or 27 cents a share, compared with a profit of $34.2 million, or 28 cents, in the year-ago period. The loss was attributed to charges related to servicing its debt. On an adjusted basis, Wynn actually earned 39 cents, matching Wall Street's outlook.
Total Revenue grew to $1 billion from $773.1 million, better than the $990.8 million analysts predicted.
In Macau, Wynn reported a 50% surge in revenue to $671.4 million, while EBITDA was $198 million, up 54.5% from $128.2 million in the third quarter of 2009. Earlier in the year the company opened its $600 million Wynn Encore Macau, which added 414 rooms to the market.
Looking ahead, Wynn expects to break ground on its Cotai development in early 2011. The $2 billion to $3 billion project is slated to open in 2015, and management said it would provide additional details following its fourth-quarter earnings report.
In Las Vegas, CEO Steve Wynn says the Strip is on the road to recovery. "I believe we have seen the bottom in Las Vegas," he said during the company's third-quarter conference call. "I don't know how fast it is going to get better but it isn't going to get any worse."
Las Vegas revenue inched up 3.1% to $334.5 million during the three-month period, and EBITDA grew 9.3% to $76.5 million.
Wynn also issued a cash dividend of $8 a share payable on Dec. 7 to shareholders of record on Nov. 23.
2. Melco Crown Entertainment
Melco Crown Entertainment
(MPEL)
benefited in 2010 from being the only pure-play on Macau gaming, with shares rising about 56% for the year.
But Bain says that the valuation disconnect between Melco and other U.S. gaming operators with exposure to Macau is still too great, and investors are overlooking near-term catalysts.
One of these potential tailwinds is Melco's plans to open about three VIP facilities by the end of the year. The VIP arena is expected to be the biggest area of growth in Macau in 2011, which bodes well for Melco. The casino operator is also opening a new café and poker room at its flagship City of Dreams property in the first quarter next year.
As a result, Melco is one of Bain's top picks for 2011.
In its third quarter, Melco reported a surprise profit of 3 cents a share, as revenue ballooned 75% to $504 million. City of Dreams generated a profit of $114.9 million, compared with $46.6 million in the year prior.
At the end of the third quarter, Melco had $660 million in cash and about $2 billion in debt.
1. Las Vegas Sands
It's no surprise
Las Vegas Sands
(LVS) - Get Report
was the biggest winner of 2010, with shares surging 162% for the year.
Macau and Singapore have become Sands' trump cards, as Macau is on track to report 50% plus growth in gaming revenue in 2010, and analysts expect Singapore to outpace Las Vegas by the end of next year.
But Las Vegas Sands stock received a dose of reality earlier in the month when Macau leaders failed to approve the company's land concession for what has been known as Sites 7 and 8 on the Cotai Strip. Shares of Sands have fallen 15% since the announcement, as investors fear the
Macau government is looking to restrict gaming growth
.
Casino Plays for 2011: China Watch
var config = new Array(); config<BRACKET>"videoId"</BRACKET> = 705248526001; config<BRACKET>"playerTag"</BRACKET> = "TSCM Embedded Video Player"; config<BRACKET>"autoStart"</BRACKET> = false; config<BRACKET>"preloadBackColor"</BRACKET> = "#FFFFFF"; config<BRACKET>"useOverlayMenu"</BRACKET> = "false"; config<BRACKET>"width"</BRACKET> = 265; config<BRACKET>"height"</BRACKET> = 255; config<BRACKET>"playerId"</BRACKET> = 1243645856; createExperience(config, 8);
"
This decision serves as yet another reminder of the unpredictable nature of policy decisions in Macau, something we believe will be a recurring theme in 2011," Santarelli wrote in a note at the time of the announcement.
Macau government has also taken steps to tighten lending, which could impact credit to VIP players, and back in March announced a ceiling for the number of gaming tables.
But these potential restrictions should not be overblown. The company still has sites 3, 5 and 6 on the Cotai Strip, which will surely be a source of growth for at least the next several years.
The Chinese government limiting supply could even turn out to be a positive, preventing lower-tiered properties from swarming the market and igniting a price war.
But an even bigger focus for Las Vegas Sands' investors is Singapore, after the company opened its first casino in the market last spring. Currently, Marina Bay Sands represents more than 35% of the casino operators EBITDA and is generating about $100 million of EBITDA per month.
Japan could also be the next source of growth for Sands is gaming is legalized over the next 18 months.
--Written by Jeanine Poggi in New York. To contact the writer of this article, click here:
Jeanine Poggi
. To follow the writer on Twitter, go to
.
>To submit a news tip, send an email to:
.
RELATED STORIES:
>>Online Gaming Bill: Who Will Win?