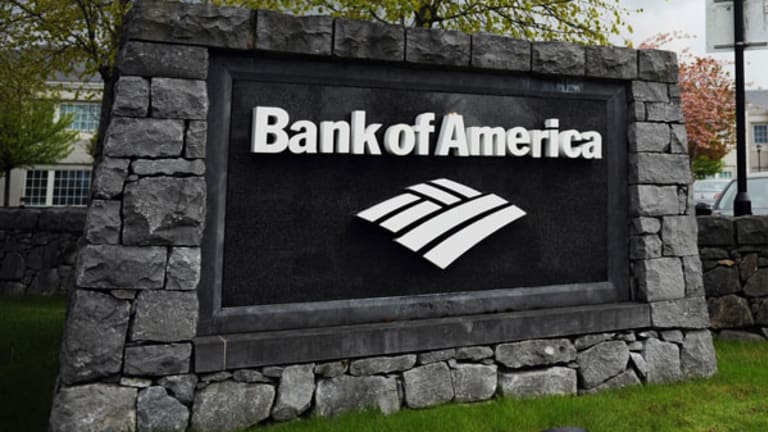 $8.5B Bank of America Mortgage Settlement Approved, With Asterisks (Update 4)
AIG, one of the main objectors, says case is 'far from over,' but Bank of America bear Mike Mayo makes a concession.
Updated from 3:42 pm to include comment from Fitch Ratings and closing share prices.
NEW YORK (TheStreet) -- Bank of America (BAC) - Get Bank of America Corp Report won approval of most of a highly controversial $8.5 billion mortgage backed securities (MBS) settlement that had been viewed as the major legal hurdle for the bank as it looks to put the subprime housing crisis behind it, but AIG (AIG) - Get American International Group, Inc. Report, one of the principal objectors to the deal, said the case was "far from over."
New York State Supreme Court Justice Barbara Kapnick approved the bulk of the June 29, 2011 settlement between Bank of America and several of the world's largest financial institutions, an investor group that included Pimco, Blackrock (BLK) - Get BlackRock, Inc. Report, Goldman Sachs (GS) - Get Goldman Sachs Group, Inc. Report and the Federal Reserve Bank of New York, for pennies on the dollar over objections of AIG and other mortgage backed securities holders. However, while Kapnick found BNY Mellon (BK) - Get Bank of New York Mellon Corporation Report, the trustee representing the investor group, "did not abuse its discretion in entering into the Settlement Agreement and did not act in bad faith or outside the bounds of reasonable judgment," she found it "acted unreasonably or beyond the bounds of reasonable judgment" in settling certain loan modification claims, according to her order released Friday.
A statement from an AIG spokesman said the insurer was "pleased that the Court refused to approve the proposed settlement in its entirety and found that the trustee acted unreasonably in agreeing to compromise billions of dollars of investor claims." It added: "we respectfully disagree with the other aspects of the Court's ruling, which are not supported by the record and which set a dangerous precedent that could eliminate important protections for investors. This case is very far from over because the settlement will not take effect until a variety of potential post trial motions and appeals are resolved."
A Bank of America spokesman wrote via email, "we are pleased that the court approved the settlement. We believe any outstanding issues raised in the opinion can be addressed without undue delay."
A BNY Mellon spokesman said the bank is "extremely pleased the court has vindicated trustees actions by overwhelmingly approving the settlement."
The settlement was over shoddy mortgages sold to the MBS investors in 530 mortgage-backed securities trusts. While the parties agreeing to the settlement were satisfied with the $8.5 billion price tag, the objectors led by AIG argued it was insufficient to cover losses estimated at $108 billion at the time the settlement was proposed.
CLSA analyst Mike Mayo has long had a sell rating on Bank of America chiefly because he believed Bank of America could face an additional $16 billion to $22 billion in legal damages if the settlement were rejected. 
"I've been on the wrong side with concerns about the legal risk, among other factors, " Mayo conceded in a telephone interview Friday following the ruling. He added, "it looks like my high-end tail risk estimates were wrong."
Fitch Ratings called the Judge's decision a "credit positive" for Bank of America
"The settlement removes a substantial source of uncertainty from BAC's remaining contingent liabilities, though future appeals are possible," Fitch stated.
Bank of America shares were lower all day ahead of the ruling, after which point they moved briefly into positive territory. Eventually, however, they got caught up in a broad-based bank sector sell-off and closed down 1.06% at $16.75. AIG shares fell 1.88% to close at $47.96.
Disclosure: TheStreet's editorial policy prohibits staff editors, reporters and analysts from holding positions in any individual stocks.