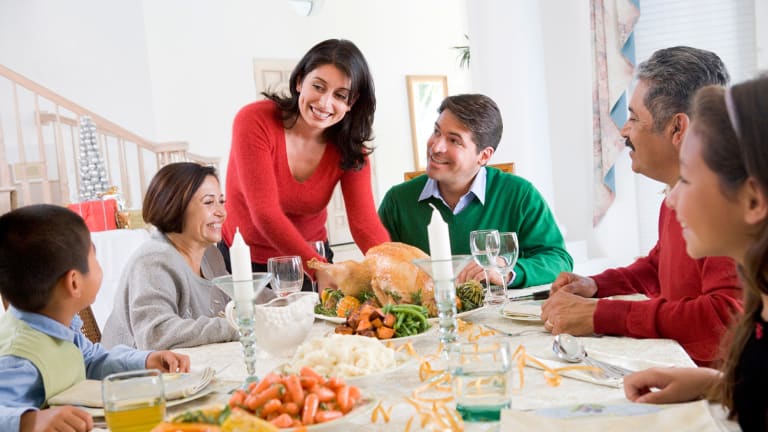 Publish date:
8 Unique Gift Ideas for Your Holiday Host
Food and wine are good, but gifts that have bit of a kick are always a hit.
Food and wine are good, but gifts that have bit of a kick are always a hit.
Editors' pick: Originally published Oct. 26.
From casual and fun tacky sweater parties to elegant holiday galas, there is no end to the merriment and revelry around the holidays. Beyond selecting the right outfit and clearing your schedule, partygoers should not forget to thank the host with a thoughtful gift. A candle or small trinket are often given, but why not stand out beyond the fray and select a gift that will be remembered for years to come?
Before you buy, think about your host's style, preferences and your budget. For instance, if they just moved into a new home, something for the house, such as kitchenware or something decorative would be an ideal gift. Food and wine are good, but gifts that have bit of a kick are always a hit.
For the party-throwing chef
If your host is doing most of the cooking for the party or just has a love for the culinary arts, finding that perfect kitchen gadget or tool will bring a smile to his or her face. Before you buy, determine what the host might still need in the kitchen -- and if there is a brand preference.
One widely embraced brand for many cooks is T-Fal. The PerformaPro Cookware with Techno Release is ideal for christening a new home or updating your host's cookware. Open stock items include a 10.5-inch and 12-inch fry pans, and a 3-quart covered saucepan. Durability and longevity is a leading feature of this cookware which is both dishwasher and oven safe to 400 degrees. Cleaning these pans is a snap -- each piece features the Techno Release raised pattern on the pan's interior which makes food release and cleanup a breeze.
Does your host love to bring Pan Asian flavors into the kitchen? Consider the beloved wok, an essential centerpiece of the Asian kitchen. This 7-piece Wok Set from Imusa is the perfect starter kit for someone who wants to try a versatile range of dishes -- from stir-fried meats to deep-fried seafood. In addition to the nonstick wok, the set includes a half-moon metal tempura rack, cooking chopsticks, bamboo food tongs, spoon/paddle, solid turner and a spatula.
If your host already has a set of pots and pans, consider an all-purpose toaster oven, designed to handle nearly any job. Perfect for someone starting out or just needing an additional cooking apparatus, the Krups Metal 6-Slice Digital Convection Toaster Oven does it all--baking, broiling, defrosting and of course, toasting. The clear glass window lets you view your food as it cooks and the convection setting allows for quicker and more evenly cooked food. The adjustable height rack oven accommodates a baking and removable crumb tray and is large enough to hold a 12" pizza.
Try Amazon Prime today and get unlimited fast, FREE shipping
For the food and wine aficionado
Here's an elegant gift for your holiday host -- a Gaea black and white gift set that consists of high-end olive oil and rare aged vinegar. Imported directly from Crete and Santorini, these products aren't easily found at the standard retail store. Made from the highest quality olives and grapes from Greece, the set is presented in smartly hand painted bottles and nestled inside a designer gift box. Ideal for the foodie who has it all.
A gift tower or gift basket of goodies is a tried and tested delight. The line of Edible Arrangements won't disappoint and the Perfect Taste of Edible Gift Basket is a definite crowd pleaser. There's something for everyone such as apples dipped in caramel with a smattering of nut coverings, cantaloupe balls, grapes, apples, oranges and pineapple, as well as chocolate dipped bananas and strawberries. Delivered in a fashionable, crisp white basket with all the trimmings, an Edible Arrangement gift makes quite the statement. Just keep in mind that everything in the basket must be consumed within 24-hours, so it might be a good idea to bring this gift yourself -- could make for a unique potluck dessert.
If you are still in doubt, you can never go wrong with a good bottle of wine. Nothing pairs better with gourmet food than a bottle of wine that can stand on its own. Santa Margherita is best known for their famous Pinot Grigio, but the brand also offers a fantastic Prosecco and Chianti, which are perfect to cover everyone's wine preferences this holiday season. In addition to the three varietals, Santa Margherita can be used in unique holiday-themed wine cocktails. You could include a stylishly printed recipe for a strawberry white wine Bellini along with your wine or you could partner an Edible Arrangement with a bottle of Santa Margherita Pinot Grigio wine to make pineapple sangria.
Try Amazon Prime today and get unlimited fast, FREE shipping
For the homebody host
Is your holiday host a neat freak? Consider the DNA Miracles Home Solutions Bundle with Bottles. It delivers a nontoxic cleaning solution with a punch to everyday household cleaning. The bundle includes four kid-friendly cleaning packs that transform into a nursery and playroom cleaner, fruit and veggie wash, spot and stain remover, and bottle and dish soap. The cleaning packs can be dropped into one of the included reusable bottles -- just add water, wait one minute and you are set to clean. No matter which cleaning solution you choose, each cleaner approaches everyday living with eco-friendly, biodegradable, nontoxic appeal. Although soft on feel and toxicity, these cleaners do the job of any commercial cleaner on the market.
For nearly any occasion, a nice set of sheets or a comforter set is always a welcome gift. A great way to say "thank you" to someone who is hosting you at their home overnight or a for a few days, a cool comforter set or sheet set will hit all the right notes. The Northwest offers a bevy of styles, colors and designs developed to accommodate any taste. The sky is the limit with this brand--the Northwest makes sport team-based and quirky sheets, along with comforters like the Coca-Cola comforter set. The brand also offers fun theme gifts like lunch coolers, beach towels, accessories and throws or blankets.
Try Amazon Prime today and get unlimited fast, FREE shipping
Disclosure: TheStreet has advertisers and partnerships; we may get a share of the revenue from your purchase.