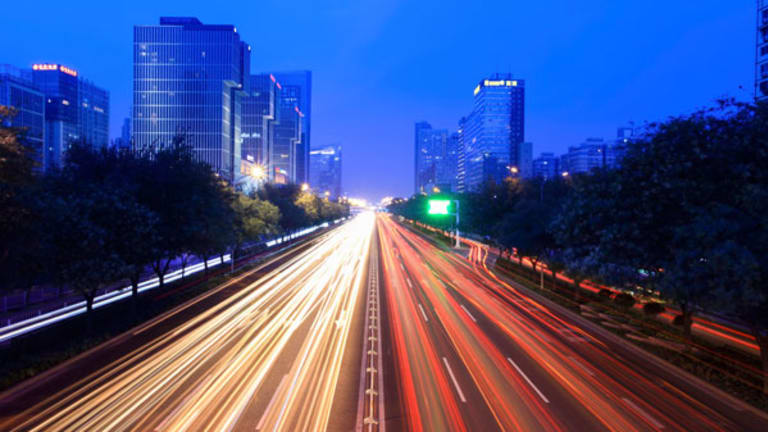 8 Reasons Why First Solar Is Getting Whacked
First Solar shares plummet, even as its beats Wall Street and reaffirms guidance.
First Solar shares plummet, even as its beats Wall Street and reaffirms guidance.
NEW YORK (
) --
First Solar
(FSLR) - Get Report
shares declined by as much as 9% after it reported a beat on both the top and bottom line in the first quarter on Tuesday after the close. How can a stock that
decline so much?
There are plenty of reasons why, starting with the fact that throughout 2010, First Solar declined significantly after reporting successive beat and raise quarters -- so if it isn't beating and raising, First Solar is even more handicapped than it usually is when reporting.
First Solar beat EPS easily in the first quarter, yet kept its full year guidance flat.
With its first quarter results, First Solar merely reiterated guidance given in February. While this shouldn't come as a surprise to solar investors -- given the uncertain outlook in Europe and pricing pressure -- the euro has been so strong in 2011 that some investors may have been expecting FX to provide a full-year earnings boost. Early in the year, First Solar only expected a euro rate of $1.30 to $1.35. The euro has soared to the $1.48 level this week, but analysts have noted that the FX gains are likely to be more than offset by pricing declines.
CNBC
wasn't giving First Solar any help on Tuesday either. Jim Chanos, who recently appeared on
CNBC
to talk about
First Solar, was appearing on
CNBC
again as First Solar reported on Tuesday afternoon and was asked by Maria Bartiromo to reiterate his views on the solar company.
Baritromo referred to the First Solar earnings as "weaker" than expected in posing the question to Chanos, which was at odds with the top- and bottom-line beat. It wasn't at odds with the stock performance after-hours, but since
CNBC
usually evaluates the headline numbers, describing the First Solar results as "weak" was at best, questionable.
Not that there weren't plenty of weak points in the First Solar earnings report and guidance. Here are eight of the most prominent ones:
1. Accounts receivable and inventory were higher, while cash balance declined.
2. Free cash flow and operating cash flow were both at historical low points for First Solar in the first quarter. Operating cash flow was negative in the first quarter, for the first time since 2006.
3. Total cash was at its lowest level since 2008.
4. Operating income and operating cash flow guidance were guided down, even as earning guidance was maintained.
5. Second quarter sales guidance was guided to be flat versus the $567 million in the first quarter. While the standstill in Italy and the outlook from other solar companies should have telegraphed a weaker second quarter, First Solar also said the loan guarantee for its Agua Caliente project could be pushed back to the end of the second quarter or third quarter. This sets up the year to be back-end loaded in terms of hitting the guidance numbers.
6. Solar panel efficiency only improved by 0.1% in the quarter and cost was flat over the previous quarter, at 75 cents per watt. As there is more pressure on ASPs, and as more of the market migrates to the rooftop in Europe, and as crystalline silicon module costs come down in a world of lower polysilicon costs, there is more pressure on First Solar to increase efficiency and cost/watt.
7. First Solar return on net assets of 17% to 18% declined in the year-over-year (-6%) and quarter-over-quarter (-2%) comparison.
8. Late on Tuesday, Reuters reported that the latest draft of the Italian solar policy review would be an incremental negative for solar -- a week after several reports that the final draft has taken a turn for the positive. Granted, it was only a draft and Italy has not made a formal decision and there were reports last year provided to the press anonymously when German was contemplating changes to its solar incentives that turned out to miss the mark when Germany made its changes official.
-- Written by Eric Rosenbaum from New York.
RELATED STORIES:
>>5 SunPower-Total Deal Trading Themes
>>How Tin Film Plans to Beat Chinese Solar
>>Total Takes Majority Stake in SunPower
>To contact the writer of this article, click here:
Eric Rosenbaum
.