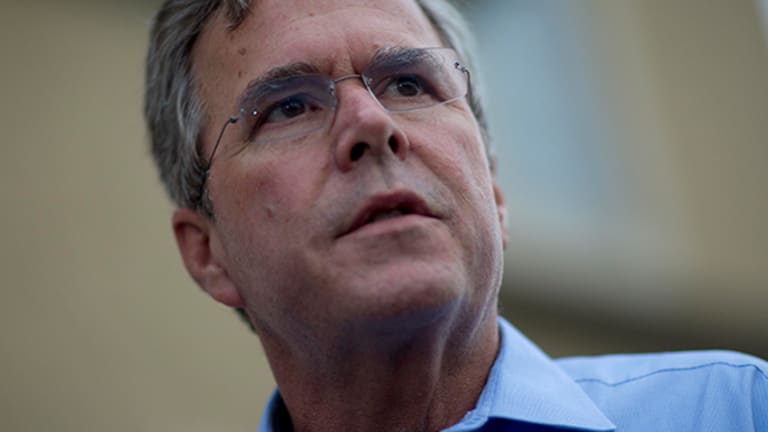 8 Presidential Candidates Who Have Smoked Weed -- and Their Positions on Pot Today
Presidents Nos. 42, 43 and 44 have smoked marijuana, and come 2016, the same may hold true for No. 45 -- depending on who wins the election.
NEW YORK (TheStreet) -- Presidents Nos. 42 (Bill Clinton), 43 (George W. Bush) and 44 (Barack Obama) have smoked pot, and come 2016, the same may hold true for No. 45 -- depending who wins the election.
While on the campaign trail in 1992, then-Arkansas Governor Bill Clinton admitted he'd had a brush with marijuana, though he insisted he "didn't inhale."
George W. Bush worried about his marijuana use leading up to his presidential run and in phone conversations published by The New York Times discussed his decision to refuse to answer questions about his past behavior. "I wouldn't answer the marijuana questions. You know why? Because I don't want some little kid doing what I tried," he said.
Nowadays, he's not so concerned about it. "I didn't behave that well when I was younger, like I might have smoked some, for example," he said in a 2013 appearance on the Tonight Show with Jay Leno.
President Barack Obama has been open about his past marijuana use from the get-go. "When I was a kid, I inhaled," he said while on the campaign trail in 2006. "That was the point."
Clinton, Bush and Obama are among the 50 people named on the list of the most influential marijuana consumers released by the Marijuana Policy Project (MPP) this week. A sort of who's who in toking up, the list includes pop stars, actors, comedians, writers and even billionaires.
MPP also names a fair share of other politicians, including a handful of 2016 presidential hopefuls who have smoked pot.
Not among them is Democratic contender Hillary Clinton, who apparently hasn't mirrored her husband's experimentation. "I didn't do it when I was young, I'm not going to start now," she said in a 2014 interview with CNN.
Republican front-runner Donald Trump, a known teetotaler -- says he hasn't tried the stuff, either, or much of anything else. "I've never taken drugs of any kind, never had a glass of alcohol. Never had a cigarette, never had a cup of coffee," he wrote in his 2000 book The America We Deserve.
Hillary and Donald may have avoided marijuana, but not everyone in the running to become the next president of the United States has such a chaste past. Here are eight presidential contenders who have smoked pot.
1. Jeb Bush
Jeb may not have been as much of a troublemaker as his brother, but he wasn't completely innocent. 
In an interview with the Boston Globe, Bush admitted that he had a tumultuous four years at private school Phillips Academy in Andover, Massachusetts and could have been expelled. "I drank alcohol and I smoked marijuana when I was at Andover," he said. "It was pretty common."
As far as his stance on pot today, Bush doesn't exactly love the substance. He opposed Florida's 2014 initiative to legalize medical marijuana but has said he thinks states "ought to have the right" to decide on the issue.
2. Lincoln Chafee
Former Rhode Island Senator and Governor Lincoln Chafee has been candid about his past drug use while a student at Brown University. A 2011 New Republic article quotes him as calling his college years "experimental" and points out that he has admitted to using both marijuana and cocaine "several times."
The Democratic candidate explained the decision to be open about the issue in 1999. "I had three choices: Lie, which is not an option, or evade it and receive the consequences of that, or be honest. And I chose to be honest," he said.
He signed legislation in 2012 rolling back criminal penalties for the possession of small amounts of marijuana. He said in an interview earlier this year that the issue of marijuana "will evolve during the campaign."
3. Ted Cruz
Like many others, Texas Senator Ted Cruz blames his marijuana use on the naiveté of youth.
"Teenagers are often known for their lack of judgment, and Sen. Cruz was no exception. When he was a teenager, he foolishly experimented with marijuana. It was a mistake, and he's never tried it since," said a spokesperson to the Daily Mail Online in early 2015. A campaign spokesperson referred TheStreet to the comments.
Cruz talked about marijuana at the Conservative Political Action Conference (CPAC) in February and said he supports states' rights to decide on legalization when asked about Colorado. "If the citizens of Colorado decide they want to go down that road, that's their prerogative. I personally don't agree with it, but that's their right," he said.
4. George Pataki
According to The New York Times, former New York Governor George Pataki has admitted to the use of marijuana in his youth.
Whatever his past use is, Pataki isn't a fan of marijuana today. In an interview with Bloomberg, he said he is "not in favor of legalized marijuana." He did add, however, that "the states are the laboratory of democracy."
5. Rand Paul
The Kentucky Senator hasn't owned up to smoking pot in the past, but he hasn't denied it, either.
He gave a roundabout answer when a Louisville television station asked whether he had used marijuana in late 2014. "Let's just say I wasn't a choir boy when I was in college and that I can recognize that kids make mistakes, and I can say that I made mistakes when I was a kid," he said.
One of his college friends, William John Green, was a little more blunt on Paul's pot smoking in an interview with Politico in 2010. "Randy smoked pot," he said.
Paul is currently perhaps the most pot-friendly candidate in the presidential race.
He slammed Jeb Bush over the "hypocrisy" of his stance against medical marijuana earlier this year and is one of three senators to introduce the CARERS Act, touted as the most comprehensive medical marijuana bill ever sent to Congress.
Paul is also looking to the pot industry for campaign funding and in July held a private fundraiser at the Cannabis Business Summit in Denver.
6. Marco Rubio
Florida Senator Marco Rubio gave a long-winded answer when asked whether he's smoked pot by Fusion in February 2015.
"You know why I never answer that question? I'll tell you why I never answer that question. If I tell you that I haven't, you won't believe me. And if I tell you that I did, then kids will look up to me and say, 'Well, I can smoke marijuana, 'cause look how he made it. He did all right, so I guess I can do it, too,'" he said.
Rubio has taken a tough position on marijuana today. "I'm not in favor of legalizing marijuana, I'm not, I never have been," he said in a "Meet the Press" interview in August 2015.
7. Bernie Sanders
Democratic presidential candidate and Vermont Senator Bernie Sanders says marijuana isn't really his cup of tea. "It's not my thing, but it is the thing of a lot of people," he said in an interview with Yahoo News.
He still gave it a try but didn't like it. "Because I coughed a lot, I don't know," he said. "I smoked marijuana twice -- didn't quite work for me."
His stance on the substance today is tied into his overall thought process on criminal justice. "It is an obscenity that we stigmatize so many young Americans with a criminal record for smoking marijuana, but not one major Wall Street executive has been prosecuted for causing the near collapse of our entire economy. This must change," his campaign Web site reads.
8. Rick Santorum
"Well, yeah, I admitted you know, back when I was running for the Senate, that when I was in college that I smoked pot and that was something that I did when I was in college," Pennsylvania Senator Rick Santorum said in a 2011 appearance on "Piers Morgan Tonight" on CNN. "It was something that I'm not proud of, but I did. And said it was something that I wish I hadn't done. But I did and I admitted it. I would encourage people not to do so. It was not all it's made up to be."
Santorum does not support marijuana legalization or the states that have gone that route. "I think federal laws should be enforced, and I think Colorado is violating the federal law," he said in an April 2015 interview with Hugh Hewitt.
This article is commentary by an independent contributor. At the time of publication, the author held TK positions in the stocks mentioned.