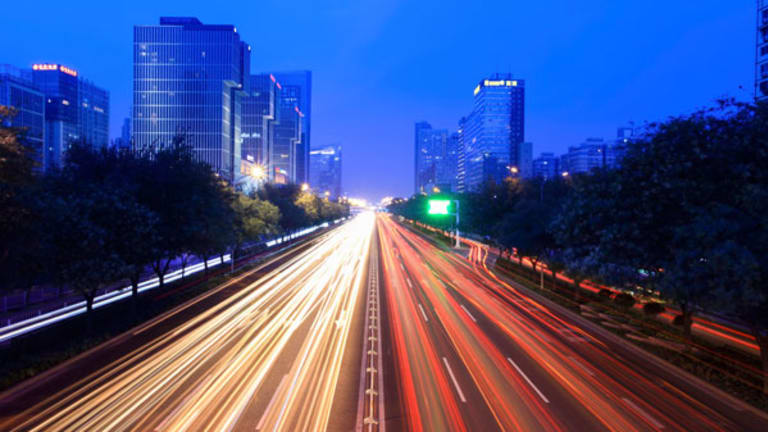 8 Bold Questions for Solar Stocks in 2012
The solar sector exited 2011 with plenty of unanswered questions. Here are the eight most important ones.
NEW YORK (
) -- Solar investors, welcome to another year of agony mixed with ecstasy (with the former looking to trump the latter again in 2012).
There wasn't much fun in 2011, but the year did provide us with many thought-provoking issues to which investors hadn't previously given enough attention.
To get the solar panel rolling, here are eight bold, possibly reckless -- if not at least provocative -- questions that will define the fortunes of solar companies this year, and maybe for several years to come. From the future of U.S. solar manufacturing to consolidation and bankruptcy in the Chinese solar sector, the looming global trade war in the sector, and even to the sad topic of
Solyndra
, there is plenty to discuss.
In fact, while 2012 may be the last year in which Solyndra gets headline play, it's a good place to begin our questioning since it may be one of the early headlines for solar in 2012, a New Year's hangover for the sector.
1.
How much will the federal government recoup from its $528 million Solyndra investment?
Those who followed the Solyndra story closely will
remember the rationale provided by the Department of Energy for why it allowed the Solyndra loan to be extended to a total of $528 million before pulling the company off life support.
The DOE argued this is standard venture capital practice: You build out a manufacturing plant to its full capacity even if it might go bankrupt because that build-out will allow you to get more money back in the event of a bankruptcy. It's some tortured logic, and though it may be the truth in the venture capital world, there are still plenty of people who doubt that this logic will be proven true in the case of the Solyndra auction. The
auctioneers are hopeful, some skeptical solar analysts much less so.
From class A corporate office square footage to helium leak detectors and robots, we will know soon enough, with an auction of some more Solyndra assets scheduled for February 22 (subject to bankruptcy court approval). You can see what's left to buy of the former solar Camelot
here.
Solyndra, of course, is at the heart of the debate over whether the U.S. should even be in the game of solar-panel manufacturing. It's a good place to segue into our next questions:
Remember when
BP
(BP) - Get BP Plc Report
used to be a major U.S. solar manufacturer? It's exit from the business and the shuttering of its Maryland solar cell plant in 2010 should have told us something more than just that a Big Oil company didn't have its heart in alternative energy. Now we have to ask in the age of solar existential crisis:
2.
Should U.S. solar manufacturers like First Solar (FSLR) - Get First Solar, Inc. Report, SunPower (SPWR) - Get SunPower Corporation Report, and MEMC Electronic Materials (WFR) stay in the manufacturing space? Or should they focus exclusively on the construction of large-scale solar projects, becoming Bechtels of renewable energy?
They are headed down this road already, as 2011 events indicated. First Solar's earnings forecast implies all its earnings will come from large-scale projects.
MEMC announced near year-end that it was laying off 20% of its work force with the job cuts predominantly in its wafer and semi manufacturing units, as opposed to its SunEdison solar project arm.
SunPower was acquired by
Total
, which is interested in using its massive balance sheet to fund the construction of solar projects around the globe. As far as manufacturing its high-efficiency, high cost panels, earlier in 2011 SunPower entered into a joint venture with Asian semi giant
AU Optronics
, pointing back to the idea that a U.S. manufacturer of "innovation" is no match for a low-cost Asian manufacturer of a commodity tech product.
>>6 Tired Arguments the Energy Sector Needs to 'Get Over' in 2012
SunPower
(SPWR) - Get SunPower Corporation Report
also has had manufacturing relationships with contract manufacturers
Jabil Circuit
in Mexico and
Flextronics
in California.
So
if you can't beat 'em, join 'em, as SunPower has already, sort of.
Of course, the rub in all of this is that when the enterprise value of these U.S. solar companies is considered, it's still based predominantly on the value of the manufacturing assets. In tech, today's manufacturing plant can be an outdated plant sold for scrap in a matter of a few years (or maybe in February in the case of Solyndra), but these companies are caught in a netherworld of value right now, based on manufacturing while earnings increasingly are derived from project development.
Speaking of valuing U.S. solar companies:
3.
Where will First Solar trade by the end of 2012?
With shares currently bouncing between $32 and $36 and the recent earnings forecast from the company for 2012 less than half the level of the Wall Street consensus, is First Solar stuck in its $30 rut for the foreseeable future? Interim CEO and First Solar founder Michael Ahearn has
outlined a turnaround plan that will put the company back on the right path by 2014, but that's not going to get investors excited today or tomorrow.
It used to be that an investor could rely on First Solar to trade up and down in a comfortable range -- between $100 and $160 or so -- and it was a trade that also overlapped the crude oil chart. But those days are over. So what gets this stock to budge -- if its earnings forecast can be trusted?
It's clear what gets shares of First Solar to budge: a white knight that acquires the company at a premium (or an earnings forecast so conservative that the company flies right past it in the coming quarters.)
Is any conglomerate going to pay a premium for a company with an uncertain future, an arguably outdated technology, and a pipeline of projects that can only last so long before its attractive economics are exhausted?
There's no end to the rumors about
GE's
(GE) - Get General Electric Company Report
inevitable acquisition of First Solar, as part of the inevitable gobbling up of the pure-plays in alternative energy by industrial conglomerates like GE and its German rival
Siemens
(SI) - Get Silvergate Capital Corp. Class A Report
.
It seems like the shorts are more worried about this risk than any outperformance from First Solar, but one long-time First Solar short told us it was hard to imagine why any company would rush to acquire the company if it meant paying a premium right now.
On the subject of the inevitable domination of the solar sector by Siemens and GE:
4.
Will it be the industrials, or will it be the oil companies like Total (TOT) - Get Total SA Report, or the Asian semiconductor giants like AU Optronics, or even a Hyundai or China's BYD, that ultimately consolidate this industry and bury solar manufacturing operations within much larger scale low-cost manufacturing?
Now that we have discussed bankrupt Solyndra and low-cost Asian manufacturing, and even alluded to Warren Buffett-backed Chinese electric car maker BYD and its solar ambitions, it's time to ask the loaded questions about the 800-pound gorilla in the solar sector: China.
Let's start with the issue of bankruptcy. It's fair to say that Solyndra would probably not be in bankruptcy if it had been the Chinese government backing it as opposed to the Obama administration. Our government shows some sense in knowing when to fold, while China's government and banks never saw a cheap solar loan or land package they didn't like as long as it's creating a job somewhere in a former rural wasteland of China. Bankruptcy isn't in the Chinese dictionary when it comes to solar.
The
poster-child for welfare children of Chinese solar is
LDK Solar
(LDK)
. Investors who watched LDK shares run up as high as $15 early this year -- they are currently below $5 -- amid Wall Street price targets of $28 that were premised on LDK's plans to spin off its polysilicon plant operations in a $1 billion offering, may realize as the new year begins that LDK failed to deliver on its promise to complete the IPO before year-end 2011.
This might make LDK investors unhappy, and it's likely that one investor in particular, the China Development Bank, is running out of patience. The CDB took an equity stake in the polysilicon operations with a clause in the contract that its investment could be rescinded if LDK failed to complete an offering in 2011.
>>6 Tired Arguments the Energy Sector Needs to 'Get Over' in 2012
Given what we all know -- which isn't much -- about the Chinese banking philosophy, the CDB will likely given LDK some sort of leash to run on into 2012 with its polysilicon plant capitalization plan. This is all a long way of asking:
5.
Given that polysilicon prices have crashed and the solar sector is glutted with capacity, will LDK be able to IPO its polysilicon operations in 2012, and if not, what happens to that lifeline provided by the CDB?
On Wednesday, the CDB announced a new set of loans for LDK to construct 20 megawatts of solar projects in the U.S. Even though these are very small deals relative to the polysilicon plant investment, not surprisingly, the CDB hasn't stopped doing business with its favorite indebted Chinese solar company.
And while on the subject of Chinese solar's Solyndra:
6.
Which company goes bankrupt first, LDK Solar or Suntech Power?
Or are all the Chinese solar companies, too big too fail?
You can make the case that LDK Solar is the survivor if one is forced to choose between these two companies. Why? Location, location, location. LDK's balance sheet is worse than Suntech Power's, but it is arguably better positioned politically in China by location of its operations and the jobs it is creating far from the already established urban centers of China. As one solar analyst said to me last year when I asked if there was
any chance of LDK going out of business:
Are you crazy. Have you been to their plant. It's a city.
A city of jobs in a developing area of China, that is.
Of course, the right answer to this question is neither: the chances of the Chinese government actually calling either of these companies on all of their debt seems hard to imagine, and the real question, the most interesting one without prognosticating doom is how Chinese banks and the Chinese government does deal with the issue of way too much solar balance sheet debt across way to many companies. Consolidation must come, so in what form does it?
This is another way of asking:
7.
Who is left standing in China?
Bloomberg
recently wrote a piece on
Apple
(AAPL) - Get Apple Inc. Report
contract manufacturer FoxConn's plans to enter the solar marketplace as a manufacturer of panels. As the efficiency of Asian-made panels has increased and the cost of manufacturing in Asia has plummeted, one has to wonder whether pure-play solar companies like
Trina Solar
(TSL)
or Suntech Power or
Yingli Green Energy
(YGE)
are the future of that industry, or if a low-cost commoditized product like the solar module should be work left to the contract manufacturers of the world. It's probably fair to say that manufacturing an iPad or iPhone requires more precision than a solar module.
In a sense, it's interesting to note that Foxconn is getting into the solar manufacturing game now, after gross margins have plummeted from the 30% range to less than 10%, and even into negative territory for some companies right now. This is the world which Foxconn knows, a low margin game that it does better than anyone else, not a high margin unsustainable game played by companies running from European market to European market chasing short-term solar subsidies. So will the Chinese, and possibly the global solar manufacturing space, look very different five years from now, with the pure-play a thing of the past and the Foxconns of the world adding the solar panel to the list of "innovative" products that they churn out for the world?
This also circles back around to the earlier question on the future of U.S. solar manufacturing. With First Solar interim CEO Ahearn scaling back manufacturing expansion and talking a more sober game of developing solar projects in key emerging markets like China, India and Africa, should these U.S. solar innovators become the "Bechtels" of solar, setting the standard in global construction of alternative energy infrastructure and leaving the panel manufacturing to Foxconn?
8.
Does the escalating solar trade war eat the hand that feeds solar?
If you think back over the past few years for this sector all of the market moving headlines -- before the crash of 2011 -- had been about the risk to European subsidies. Would Germany install a cap on solar installations? Would Italy curtail the level of subsidies paid for solar projects?
Nothing moved the solar market like some anonymous comment from a European politician about potential changes to solar subsidies.
Those days may be over, but the political game in solar is just getting started with the trade war launched by
SolarWorld
against Chinese solar manufacturers, alleging dumping of solar modules and unfair subsidies. Two can play at that game. In fact, more than two can play. China is planning to launch its own counter-offensive against U.S. solar subsidies -- and we have plenty of them -- and India is now making noise about getting into the solar trade war, a market when First Solar has benefited greatly from the financing largess of the U.S. bank focused on export, the Ex-Im Bank. The U.S. steel industry launched a trade war in the 1970s. It's still fighting that war today.
My bet is that the solar trade war becomes the most difficult issue to navigate for solar investors, much like trying to handicap the next move by Italy or Germany relative to solar subsidies once was. We may soon wish for the return of those easy-to-understand solar subsidy war days.
RELATED STORIES:
>>Don't Be Fooled: Warren Buffett Doesn't Like Solar
>>The Solar CEO of the Year Is...
>>6 Tired Arguments the Energy Sector Needs to 'Get Over' in 2012
>To contact the writer of this article, click here:
Eric Rosenbaum
.
>To follow the writer on Twitter, go to
.
Follow
TheStreet
on
and become a fan on