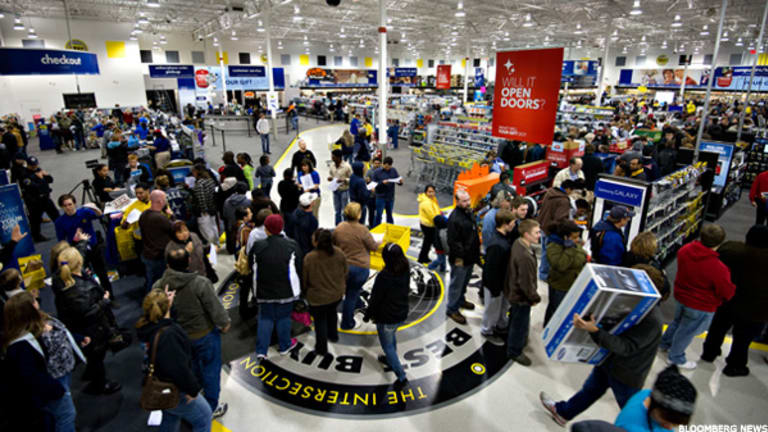 8 Black Friday Deals I Would Totally Buy
Now that most retailers have their Black Friday circulars out, where can consumers get the best deals?
NEW YORK (
) - Now that most retailers have their Black Friday circulars out, where can consumers get the best deals?
According to a preliminary Thanksgiving weekend shopping survey by the National Retail Federation (NRF), up to 140 million people plan to or will shop over the Thanksgiving weekend from Thursday through Sunday.
With many retailers opening their doors on Thanksgiving this year, about 23.5% (33 million) plan to shop on Thanksgiving day. The biggest shopping day of the weekend is still Black Friday, with 69.1% (97 million) of respondents planning to hit the stores then.
As
TheStreet
's retail reporter, I decided to take a look at some of the more popular retailers with Black Friday circulars.
After poring over their contents, it occurred to me that there were more than a few awesome deals that I may have to participate in during Black Friday. Here are some of my favorites:
Best Buy
If you were eyeing that new
Apple
(AAPL) - Get Report
Air, Black Friday may be the time to pull the trigger.
Best Buy
(BBY) - Get Report
is offering the new 16 GB iPad with Wi-Fi availability for $449.99, a savings of $50, which is valid Thanksgiving through Saturday, Nov. 30.
announced last week that it would also join the growing list of retailers to open on Thanksgiving.
The electronics and appliance retailer plans to open its doors at 6 p.m. on Thanksgiving, Nov. 28 and remain open until 10 p.m. on Black Friday, Nov. 29.
Not gonna lie. This reporter may be heading over to her local Best Buy -- after turkey -- to make a purchase.
Kohl's
Looking to refresh your housewares and small appliances but don't want to spend the money?
Kohl's
(KSS) - Get Report
definitely has some good deals going on for
.
Get rid of the old coffee maker and purchase a
Keurig
Elite Brewer machine for $99, regularly $149.99. Or try out
Cuisinart's
11-piece stainless steel or 14-piece ceramic cookware sets for $99.99, regularly $179.99.
Kohl's opens on Thanksgiving at 8 p.m.
As a newly engaged woman, I'm going to need some new housewares to serve my future hubby delectable dinners. I could wait for my bridal shower, but I'm not one to pass up a deal like this.
Target
Target
(TGT) - Get Report
is selling the SodaStream Jet Soda Maker for $79.99 by
SodaStream International
(SODA) - Get Report
. The device comes with four syrup mixes to start and if I buy it at Target, I get a $25 store gift card.
Considering the gargantuan amounts of seltzer my fiance and I drink at home (which means I, being the ever-conscious recycler, have to lug dozens of seltzer cans to my local grocery stores' recycling machines to gather up my $3 from recycled cans), buying the SodaStream would probably save me from hours of standing in line waiting to recycle my cans. (It's the principle, I say!)
Target is opening at 8 p.m. on Thanksgiving and will stay open until 11 p.m. on Black Friday.
Full disclosure: For Target, I typed in my home zip code to see my local circular. Be sure to type in yours as well.
Macy's
Cold weather is upon us and that means bundling up for warmth while still trying to look fashionable for work and a night on the town.
Macy's
(M) - Get Report
is one of my go-to spots for both fashionable winter coats and boots and this year's Black Friday deals makes me definitely want to go check out the selection for both.
According to the Macy's circular, I have my fair share of below-the-knee leather fashion boots from Calvin Klein, Nine West, Bandolino, Guess and others for $99.99, that are normally $129-$198. That's appealing in my eyes. After 1 p.m. though, the prices go up somewhat, so I'm going to have to get there early.
Macy's is also promoting a "doorbuster" sale of 60% designer winter jackets, wool or down, sending the prices down to roughly $110-$130 from regular prices between $275-$325.
Macy's is also opening at 8 p.m. on Thursday, Nov. 28.
Wal-Mart
It should be no surprise that
Wal-Mart
(WMT) - Get Report
, the world's largest retailer, has a lot going on for
, including "seven times the number of one-hour guaranteed items compared to last year, 'Manager Specials' and even more hot deals on the season's top gifts," the company said earlier this week.
After perusing its circular, there are a couple of items that I may just have to brave the wilds of Wal-Mart to get a deal on.
First, I see all the cool kids wearing them and I want them too. Wal-Mart is selling
Beats by Dr. Dre
Solo HD headphones for $114.95. That's the cheapest I've seen them of the few circulars I have checked and normal prices. Wal-Mart says this price reflects $85 dollars in savings .
The second one is an Apple iPhone 5C.
Shockingly, my fiance does not own a smartphone, preferring to still use his old Nokia phone where texting consists of pressing the number keypad to get out letters. He claims he doesn't want to pay the money for the phone nor the ongoing data plan, but I've seen him eyeing my iPhone lately, especially when I get him real-time scores for his beloved Buffalo Bills (granted half the time he doesn't want to hear the scores). This holiday season, along with our Best Buy iPad purchase, I'm going to surprise him with an iPhone and Wal-Mart's got a deal I want.
If I head there on Friday at 8 a.m., I can get him an iPhone 5C for just $45 (normally $79) and I receive a $75 Wal-Mart gift card. Of course, that means he will need to sign up for a new two-year contract with
Verizon
(VZ) - Get Report
or
AT&T
(T) - Get Report
.
Wal-Mart kicks off its "Events" on Thanksgiving at 6 p.m.
Petco
Besides spending on myself and my fiance, I have a cat and a decent portion of my monthly budget goes to buying food, litter and the occasional toy. I fully admit that I shop all over for pet supplies from my local grocer to
Petco
(PETC)
. But the weekend after Thanksgiving, if I make an in-store purchase with my Petco Pals Rewards card, I'll receive free antler ears to make my cat wear throughout the holiday season.
Now that sounds like a deal.
Written by Laurie Kulikowski in New York.
Disclosure: TheStreet's editorial policy prohibits staff editors, reporters and analysts from holding positions in any individual stocks.