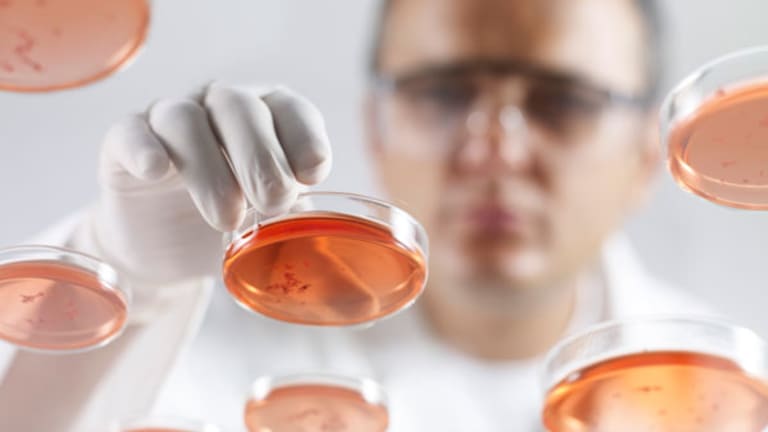 8 Biotech Stock Controversies Emerging From 'JPM15' Conference
The J.P. Morgan Healthcare Conference is in the rear-view mirror, but issues, controversies and questions raised during the annual gathering of the biotech sector tribe will linger through the year.
BOSTON (TheStreet) -- The biotech sector typically outperforms the broader market during the week of the much-heralded J.P. Morgan Healthcare Conference. This year was no exception. Last week, the Nasdaq Biotechnology Index rose 1.4% compared with a 1.2% loss for the S&P 500.
The J.P. Morgan conference is now in the rear-view mirror. But issues, controversies and questions raised during the annual gathering of the biotech sector tribe will linger through the year. Here's a look at eight story lines investors will be thinking about during 2015:
1. Valuation: Optimism is everywhere. Science is winning, solving problems once thought unsolvable. Disease is being cured. Biotech stock prices march inexorably higher. The industry is awash in cash. Deals and initial public offerings set records. The biotech party rages and no one's ready to go home.
We may be experiencing a "new dawn for biotech," but will the sun set and when? To participate in the biotech thrill-a-thon, investors are paying ever-rising prices for relatively unproven, earlier stage assets. Agios Pharma (AGIO) - Get Agios Pharmaceuticals, Inc. Report . Bluebird Bio (BLUE) - Get bluebird bio, Inc. Report . Kite Pharma (KITE) . Juno Therapeutics (JUNO) . These are all exciting and innovative companies all, but their stock prices and valuations are pricing in greatness and then some. "Risk" is no longer a four-letter word, it appears to be forgotten altogether. Science is improving, but what happens if (when) something goes wrong?
2. Drug pricing: For his next act beyond hepatitis C, Express Scripts (ESRX) CEO George Paz says the nation's largest pharmacy benefit manager intends to use negotiated discounts and formulary exclusions to wring cost savings from companies developing new "checkpoint inhibitor" cancer drugs (Bristol-Myers Squibb (BMY) - Get Bristol-Myers Squibb Company Report , Merck (MRK) - Get Merck & Co., Inc. (MRK) Report , Roche (RHHBY) and AstraZeneca (AZN) - Get Astrazeneca PLC Sponsored ADR Report ) and injectable, cholesterol lowering therapies (Amgen (AMGN) - Get Amgen Inc. Report , Regeneron Pharmaceuticals (REGN) - Get Regeneron Pharmaceuticals, Inc. Report and Pfizer (PFE) - Get Pfizer Inc. Report .) Will Paz succeed? Will other PBMs follow?
Kite Pharma (KITE) hasn't begun pivotal human clinical trials of its CAR-T cancer therapies but still used the J.P. Morgan Healthcare Conference to discuss "base case" pricing of about $150,000 -- roughly half the cost investors expect for these new, exciting cancer immunotherapies. Was this an unintentional slip destined to be walked back, or a calculated effort to cause trouble for more advanced CAR-T competitors?
3. CAR-T profits before patients?: MD Anderson licensed its CAR-T technology to Ziopharm (ZIOP) - Get ZIOPHARM Oncology, Inc. Report and Intrexon (XON) - Get Intrexon Corporation Report in exchange for more than $100 million in stock of both companies plus promises of additional investment and royalties on sales if the cancer immunotherapy is approved. Memorial Sloan-Kettering and Fred Hutchinson Cancer Center are partners and big investors in Juno Therapeutics. Novartis (NVS) - Get Novartis AG Sponsored ADR Report is a CAR-T player thanks to a partnership with the University of Pennsylvania.
What are the ethical implications of leading academic cancer centers holding significant equity stakes in CAR-T companies? How does a doctor at MD Anderson, for example, participate in a Ziopharm-Intrexon CAR-T clinical trial and remain objective when he or she knows that to report something negative (a dangerous side effect, a patient not responding well) might cost his employer tens or hundreds of millions of dollars?
Will administrators and doctors at the Hutch or Sloan-Kettering agree to enroll patients in a Novartis-sponsored CAR-T study when doing so might hurt Juno's chances of success? And if multiple CAR-Ts are eventually approved, will patient care be based on the best therapy available or the one which profits his doctor and hospital most?
4. Biotech overdue for its next Sam Waksal moment: Some people are taking the "biotech sector party" metaphor a bit too literally. First, Jefferies' top health care investment banker resigns after allegations of rampant drug abuse and sexual dalliances with the girlfriend of a biotech CEO client surface in a divorce lawsuit. Now, health care investor relations firm LifeSci Advisors flies hired models into San Francisco to serve as hostesses and conversation buddies to clients and invited male guests at its J.P. Morgan Healthcare Conference party.
When confidence becomes hubris, swagger can turn criminal.
5. Gilead Sciences is buying whom? It would have been so much easier if Gilead (GILD) - Get Gilead Sciences, Inc. (GILD) Report President John Milligan had simply used his J.P. Morgan presentation slot to lay out the details of the multibillion-dollar, transformative acquisition we all know (hope) the company will complete later this year. He didn't do it. Even worse, Gilead offered contradictory answers to questions about its mergers & acquisitions strategy posed by two leading biotech analysts.
According to Deutsche Bank's Robyn Karnauskas, Gilead believes companies "should always be prepared" for "something big and transformative."
But to Evercore ISIS's Mark Schoenebaum, Gilead says, "2015 is a year we could do more deals ... not at all saying we will do more deals ... Not ready for transformative deal quite yet ... need a bit more time perhaps."
6. Power to the people: Responding to not-so-subtle pressure, a respectable number of biotech and drug companies elected to webcast their Q&A breakout sessions at the J.P. Morgan conference. That's a win for investor transparency and a positive trend that should become more pervasive.
7. Duchenne muscular dystrophy rivalry turns nasty:BioMarin Pharmaceuticals (BMRN) - Get BioMarin Pharmaceutical Inc. Report and Sarepta Therapeutics (SRPT) - Get Sarepta Therapeutics, Inc. Report showed no love for each other during the J.P. Morgan conference. BioMarin gets the first shot at FDA approval later this year. Will Sarepta sit by silently or work actively to dissuade regulators from approving BioMarin's drug? And what will parents of DMD patients do? Many are outspoken Sarepta supporters who rushed to the company's defense last week. Will they work for or against BioMarin at an FDA advisory panel expected this spring?
8. The banality of immuno-oncology partnership announcements:We're at the stage of cancer immunotherapy hype hysteria where just the mention of plans to start combination clinical trials is enough to get stock prices moving higher. Let's stop wasting everyone's time by stipulating now that all cancer immunotherapy drugs will be tested in combination with each other. Don't bug us until you have actual clinical data to report.
Adam Feuerstein writes regularly for TheStreet. In keeping with company editorial policy, he doesn't own or short individual stocks, although he owns stock in TheStreet. He also doesn't invest in hedge funds or other private investment partnerships. Feuerstein appreciates your feedback;
to send him an email.