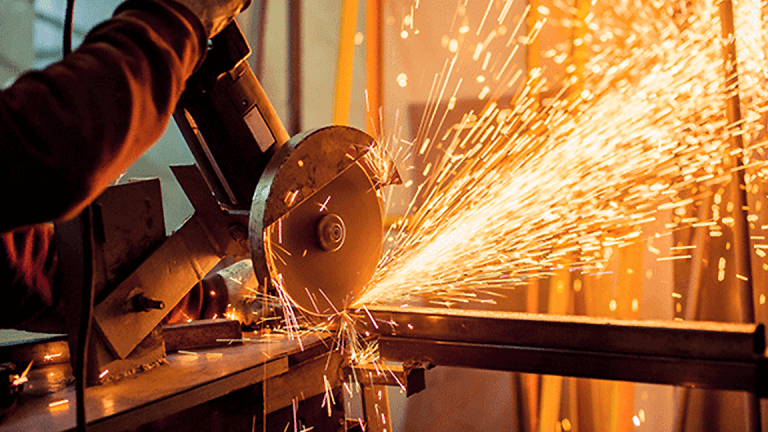 7 Stocks to Play for Trump's $1.5 Trillion Infrastructure Plan
President Donald Trump is expected to discuss a $1.5 trillion infrastructure improvement plan during his State of the Union address.
President Donald Trump is expected to discuss a $1.5 trillion infrastructure plan during his State of the Union speech on Tuesday, Jan. 30, and there are at least five publicly-traded industrial companies that could benefit from revamping U.S. infrastructure.
Infrastructure is "the next leg of the stool in our economic agenda," Gary Cohn, the director of the National Economic Council, said Tuesday on CNBC. In the address, the president will discuss efforts to streamline the approval process, which currently takes seven to 10 years, Cohn said.
The CEOs of two prominent U.S. financial institutions, Goldman Sachs Group Inc. (GS) and Action Alerts Plus holding J.P. Morgan Chase & Co. (JPM) , have stressed the need to invest in infrastructure in order to keep up with other nations, particularly China.
"You might be shocked to find out, we haven't built a major airport for 20 years," J.P Morgan CEO Jamie Dimon told Business Insider in May 2017. "China built 75 in the past 10 years. It takes 10 years to get all the permits to build a bridge today.
Echoing those sentiments, Goldman's Lloyd Blankfein tweeted in June after arriving in China that the U.S. "needs to invest in infrastructure to keep up!"
Engineering and construction firms that often work on government contracts include Jacobs Engineering Group Inc. (JEC) , AECOM (ACM) , KBR Inc. (KBR) and McDermott International Inc. (MDR) , which just last month acquired competitor Chicago Bridge & Iron Co. NV (CBI) for $6 billion.
Some of these firms, including Jacobs and AECOM, have already seen shares boosted over the past few days as interest in Trump's $1.5 trillion infrastructure plan has heightened ahead of Tuesday's State of the Union address.
Investors should also keep an eye on U.S. Concrete Inc. (USCR) given that CEO William Sandbrook told TheStreet in November 2016 that the company is well positioned to bid on any border wall opportunities.
Mexican cement company Cemex SAB (CX) could also enter the mix. Cemex's U.S. network includes 11 cement plants, with more than 50 distribution terminals and nearly 270 ready-mix concrete plants.
U.S. Steel Corp. (X) could profit from the infrastructure plan as a materials provider, but any benefit could be offset by tariffs Trump is considering on steel.
When President George W. Bush imposed steel import tariffs in 2002, ranging from 8% to 30%, the result was the loss of about 200,000 jobs for the 21 months the tariff was in effect, Matthew West, Baker Botts' global projects chair and trade partner, told TheStreet in a recent interview. It was repealed after an adverse decision by the World Trade Organization.
Furthermore, President Barack Obama passed a $300 billion Highway Infrastructure Bill in 2015, and even today, it "has done very little to spark a resurgence in steel demand," said Gordan Johnson, a managing director at Vertical Group.
Trump has yet to define any infrastructure plans or impose a steel tariff, and either measure could face pushback from Congress and the WTO, respectively.
"We see a very low probability, at present, that the Trump administration wins the support necessary in Congress to pass comprehensive infrastructure legislation," said Johnson, as Democrats and conservative Republicans will likely object to any new spending to fund the infrastructure overhaul.
"Even if Trump's plan passes Congress, its impact on the economy will likely disappoint (similar to Obama's plan)," Johnson said.
More of What's Trending on TheStreet: