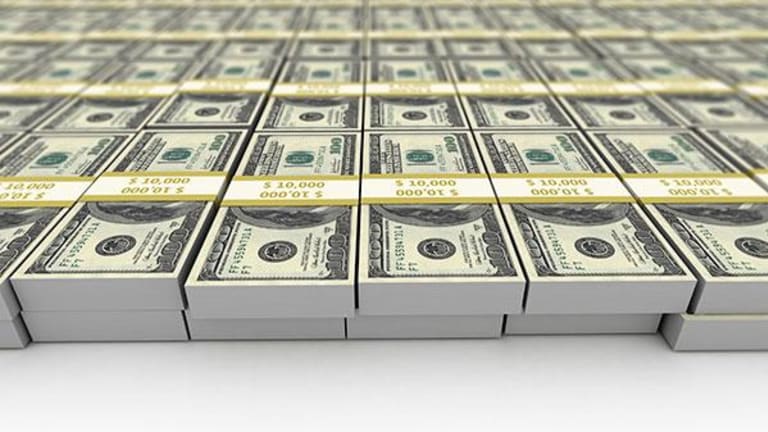 7 Stocks That Yield More Than 7% -- Dividend Traps or Good Buys?
Each of these high-yield stocks offers potential for strong current income, but investors need to understand their risks.
Investors seeking income are easily tempted by the highest-yielding stock they can find. Where is the fine line separating safety and risk?
An abnormally generous yield can be the result of one-time events or a long-term deterioration of business conditions.
Avoiding a dividend trap is key to success, and Dividend Safety Scores can help. Taking your clues from key financial ratios is good for starters.
Some of the following seven high-yield stocks are definitely not for conservative retirement investors. However, for those in search of current income and the prospects for sustainable payouts, here are some to consider for additional research.
1. Seagate Technology (STX)
Seagate is one of the big three in data storage. It competes with Western Digital and Toshiba along with various brands controlled by these companies.
Most data storage is based on those old style-rotating disks inside computers that store data magnetically (hard disk drive, or HDD) or the solid state drives (SSD) that do the same job without all the moving parts that wear out and break down.
The global demand for storage continues to expand, aided by the explosion of mobile devices the emergence of cloud storage services. Demands from new sources like these are replacing the fading PC uses.
If shipments to computer manufacturers were excluded, Seagate Technology's unit sales would be roughly flat. Seagate's sales to computer manufacturers over the past three years have fallen more than 35%, however. This group accounts for 55% of Seagate's business.
The other big contributor to the decline has been the shift from HDD to SSD as laptops and mobile devices proliferate. That leaves the HDD as the sick pup. So the challenge for Seagate is finding a strategy to overcome this issue. This is not easy, but it's not impossible either.
The $2.52-per-share annual payout offers a juicy 7.9% dividend yield. This unusually high yield is typically a red flag for problems. A quick look at recent management actions, however, doesn't show the usual signs of a financially troubled company.
For example, even though Seagate has had negative revenue growth for the past three years, its dividends have compounded an average of 14% annually during that time, including a 23% bump in the past year.
Seagate sports a 229% payout based on earnings per share, and this is ominous until noncash charges are taken out. A 52% payout ratio based on free cash flow is a more accurate indicator of the company's ability to pay current and future dividends. Another factor to consider is the $1.1 billion that Seagate has sitting in its bank account.
A final consideration for investors is the risk of owning the common stock. Over the past year Seagate Technology's stock has fallen 32% compared with the S&P 500 index's gain of 16%. With the ability to pay the current dividend and the decline in share price, dividend investors may well decide the risks associated with HDD storage is worth taking.
There is the risk, however, that management cuts the dividend in an effort to preserve cash until growth returns (if it ever does).
2. Vector Group (VGR)
Vector is a holding company that owns or has controlling interests in traditional cigarettes as well as electronic smokes with Liggett Group, Vector Tobacco and Zoom E-Cigs. VGR has a controlling interest in the real estate company Douglas Elliman through its wholly owned subsidiary New Valley.
VGR represents two separate businesses in search of a common balance sheet. There is virtually no overlap in these businesses. The core cigarette business draws it origins to the Liggett & Myers Tobacco Company founded more than 150 years ago. Through a highly diverse line of products, the company controls about 3% of the U.S. market. The company owns the Zoom E-Cigs brand but discontinued active marketing of electronic cigarettes last year.
It is no secret the cigarette industry has been in a unit sales decline for some time. Vector's strategy has been to aim at the low-priced end of the market including private labeling. The manufacturing of cigarettes is a business with unusually low fixed costs and high margins. That means it generates considerable cash flow. It also means that Vector has considerable flexibility in managing operations.
Cash flow from tobacco has been Vector's means to diversify into real estate investment and services. The vast majority of the $641million in real estate revenue is contributed in the form of commissions from Douglas Elliman. New Valley holds investment positions in commercial and residential properties that generate rental income. Properties are located mostly in New York and Los Angeles.
The current $1.60-per-share payout offers a compelling 7.3% dividend yield. However, the payout ratio is 302% of EPS and even 149% of free cash flow over the last 12 months.
The payout ratio has run in excess of EPS for quite some time, suggesting there are major noncash charges involved. Nevertheless, the balance sheet also raises red flags. Long-term debt is 1.13 of total capital. Vector is a highly leveraged company. Investors seeking high dividend yields may find less balance sheet risk elsewhere.
3. Royal Dutch Shell (RDS.A)
Royal Dutch Shell is one of the world's largest independent oil and gas companies. There is virtually no area it does not touch, from exploration and production to refining, distribution and marketing. It even has an interest in renewable energy with biofuels and wind.
Raw statistics on Royal Dutch Shell are pretty impressive: It operates in more than 90 countries, produces roughly 3 million barrels of oil per day and operates 44,000 service stations worldwide.
When you are a huge vertically integrated oil company, your ability to withstand a historic drop in crude oil prices, even with the most sophisticated hedging, is very limited. This is what happened to Royal Dutch Shell in 2015. Revenue tumbled 37% to $265 billion while the company lost $3.3 billion on an operating basis.
In February, Royal Dutch Shell completed the $70 billion acquisition of energy rival BG Group. Since the acquisition, crude oil has experienced a near doubling in price from the 2016 low of $26, leaving Royal Dutch Shell in a position to benefit both from the rebound in crude prices and the significant cost reductions that will come from combining the two companies.
The annual $3.20-per-share payout offers investors a sizable 7.6% yield. But is the payout safe or merely a dividend trap? Historically, dividends have grown 18% over the last 10 years and a respectable 9.3% over the past five.
Normally dividend policy reflects management's assessment of future business conditions and cash needs. The company's financial leverage could get it into trouble.
4. Telefonica (TEF)
Telefonica is one of the worlds largest communications companies with principal operations in Europe and Latin America. Telefonica was founded in 1924 and is based in Madrid.
TEF has it hands in about every form of communications. This includes a range from fixed and mobile phone services to internet. In addition, Telefonica provides TV services via cable, satellite and internet protocol and other pay TV services. Noncommunication services include financial payment, cloud computing, even advertising. Customers include major corporations as well as residential customers.
The telecom and related communication business is operated like a utility with income coming from monthly fees and service contracts. This makes forecasting future revenues more predictable. For American investors it is a good idea to remember that Telefonica results are measured in many local currencies. When translated to dollars, results can have greater volatility.
Looking at the balance sheet, long-term debt is 63% of total capital. However, the company relies heavily on short-term borrowings that total roughly $30 billion, bringing total borrowings at the end of 2015 to $83 billion. This suggests the company may be able to continue current dividends but is limited in its ability to grow its business using outside debt capital.
Telefonica offers a big dividend yield. The 78-cent-per-share payout equals a yield of 7.9%, one of the highest yields in this group. The payout takes place on a semiannual basis so investors in need of more frequent cash flow may wish to look elsewhere (learn all about monthly dividend stocks here).
The company has more than a 20-year history of dividends with growth compounding at a 9.9% average annual rate over the past decade and 37% per year over the past three years.
In the past five years, though, dividends have been more volatile. The payout ratio reached 187% of EPS and 114% of free cash flow in 2015. These ratios may reflect one-time events. In the past five years, the free cash flow payout ratio has ranged between 42% and 82%. This is more typical of companies in the global communications industry.
5. Williams Partners (WPZ)
Williams Partners operates in the so-called midstream energy business. This means the company is the middleman in energy gathering, transporting, and the treating and compressing of oil and natural gas. It provides service to all major U.S. energy drilling regions through five regional operators: Central, Northeast G&P, Atlantic-Gulf, West and NGL & Petchem Services.
Williams Partners was founded in 1908 in Tulsa, Okla. and is a Master Limited Partnership. The company avoids liability for federal income taxes by paying out distributable cash flow to shareholders in the form of dividends.
It earns revenue from service fees as well as oil and natural gas product sales. Service revenue is based on price and volume agreements. This means the company's results are sensitive to the supply and price of oil and natural gas.
The sensitivity to commodity prices is illustrated in the company's operating margins, which have ranged from a high of 45% in 2010 to just 5.2% last year. Cyclical companies are wise to store extra cash flow during peak periods in preparation for lean times.
As an MLP, however, it must pay out cash earnings. Investors should also note the performance of the stock since the price of crude oil reached a recent low earlier this year.
On a year-to-date basis, Williams Partners' shares have appreciated 30% compared with 7% for the S&P 500. This may be a sign the worst is behind it with improving cash flows ahead. Investors able to take the risk that oil prices can sustain their recovery can benefit from Williams Partners' unusually high yield, but MLPs carry higher risk.
The $3.40-per-share annual payout offers investors an ultra-high 9.2% yield. Is this sustainable or merely a dividend trap in disguise? The company's dividend history shows solid double-digit annual growth in recent years. This record was set, however, during the energy bull market that ended in 2015 and may not indicate a sustainable pattern.
On the basis of reported results, Williams Partners' payout is well in excess of net income. The company has, however, supplied non-GAAP financials that match tax regulations for MLPs, and on this basis, the payout ratio is approximately 100%.
Either way, Williams Partners' dividend should be approached with great caution.
6. Plains All American Pipeline (PAA)
Plains All American Pipeline is engaged in the transportation, storage, and marketing of crude oil, natural gas liquids, natural gas and refined products in the U.S. and Canada.
Its transportation segment employs pipelines, gathering systems, trucks and barges. At year-end 2015 it owned 18,100 miles of pipelines and gathering systems; 30 million barrels of tank storage capacity; 830 trailers; 142 transport and storage barges; and 64 transport tugs.
In its presentation to investors, Plains All American Pipeline says it has the most integrated crude oil pipeline and terminal system in the U.S. with minimal direct exposure to commodity prices.
Even so, revenue thus far in 2016 has fallen 28%, and operating earnings have fallen 27%. This performance shows that while revenue is dropping the company is keeping a tight control of costs. However, investors still need to remain vigilant while waiting for the rebound in crude prices to translate into improved revenue flow.
Plains All American Pipeline offers investors one of the most generous yields, with the $2.80 per share annual payout equal to a 9.5% dividend yield. Like other MLPs, profits earned must be paid out to shareholders to avoid paying federal taxes at the corporate level.
Plains All American Pipeline has been a steady income grower, compounding dividends by 7.9% on average over the past decade and 8.0% per year over the past five. The dividend payout ratio for MLPs is often misleading, but based on non-GAAP dividend coverage data provided by the company, it amounts to approximately 100% of free cash flow.
Just like with Williams Partners,Plains All American Pipeline should be approached with caution until energy markets have normalized. MLPs simply contain a number of additional risks to consider.
7. CenturyLink (CTL)
Founded in 1968 and headquartered in Monroe, La., CenturyLink is a speciality communications provider to residential and business customers. These include various types of voice and data network services, computer hosting, cloud and collocation services to business.
The company also offers digital satellite television, IT services such as network management, installation, and maintenance of data equipment, and the building of proprietary fiber-optic broadband networks. In other words, CenturyLink delivers whatever the customers communications needs may be.
The company is located in a small Louisiana town, but its reach is far bigger. It serves approximately 6 million high-speed internet subscribers and 285,000 television subscribers. This broad base of services and geographic diversity provides investors with a level of insulation from regional economic influences.
The communications industry worldwide is intensely competitive and dominated by companies far larger than CenturyLink. At the same time existing customers tend to stick with their established supplier unless driven away by inferior service or major price increases. The industry has been undergoing consolidation of several decades and at some point CenturyLink might put a for sale sign on its door.
Long-term CenturyLink financial trends are worth a close look. Revenue in recent years have been holding at the $18 billion level. For investors seeking rapid dividend growth, this is not a welcome sign.
During this period, however, operating income increased consistently, reaching a healthy 26% of sales last year. This is important as it indicates a good cash flow to finance ongoing business and pay dividends. Long-term debt is 57% of total capital. That's a bit on the high side, but the company has been steadily paying down debt, and that is a good sign.
The $2.16-per-share annual payout offers investors an attractive 7.5% yield. The dividend has remained steady over the past three years after having been reduced in 2013. A dividend reduction is normally a red flag of problems with cash flow.
In Century Link's case the reduction was some time ago, and the free cash flow payout ratio is a moderate 49%. This indicates the company has adequate capital to finance operations with enough left over to grow or pay dividends for the time being.
This article is commentary by an independent contributor. At the time of publication, the author held no position in the stocks mentioned.