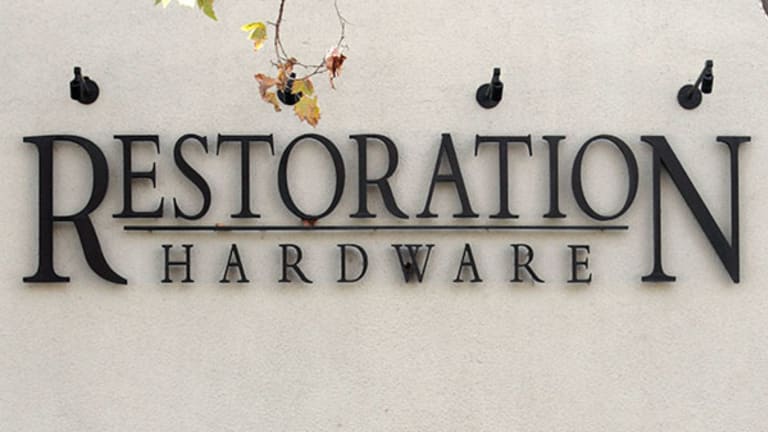 7 Retail Stocks That Rocked in 2013
Which retail stocks had the best runs of the year?
This story was originally published on Dec. 16, 2013 and is being reposted to our site as part of a retrospective of 2013. We hope you enjoy it, TheStreet staff.
NEW YORK (TheStreet) - This year's broader market gains also brought jolly returns to many stocks in the retail sector, despite consumers' wariness on spending on things other than for the home and electronics.
So which retail stocks really had home runs this year? More than half the retailers that made our list definitely benefited from the housing reboot, as consumers moved to shopping for goods to fill up their houses such as electronics, furniture and home decor.
"The pattern of buying continues to reflect fallout from home buying earlier in the year," said Steve Blitz, chief economist for ITG Investment Research, following the Commerce Department's Dec. 12 release of better-than-expected November retail sales numbers. "During the summer months, home purchases boosted spending at building materials stores which has since slowed. ... With flagstones now in place and rose trellises raised, attention moved indoors."
TheStreet analyzed total return data from Bloomberg. The data, as of end of day Dec. 12, was limited to specialty retailers in the U.S. whose stocks are in the Russell 3000.
Here are the six best performing retail stocks this year, in ascending total return.
7. Restoration Hardware
Year-to-date Total Return (as of Dec. 12): 93.51%
Price-to-earnings ratio: N/A
Market Cap: $2.54 billion
Restoration Hardware (RH) - Get RH Report has been a great turnaround story this year, having benefit from the luxury consumer and benefiting from the housing comeback and subsequent trend in home furnishings stores. The company has been undergoing a transformation from being purely a high-end furniture and domestics store to adding product lines including kitchen and tableware, as well as apparel and accessories under its RH Atelier brand.
Shares dropped on Friday following the company's surprise announcement that co-CEO Carlos Alberini, 58, would be leaving at the end of January to take on the role of chairman and CEO of Lucky Brand, which is in the process of being bought by Leonard Green & Partners from Fifth & Pacific (FNP) .
The announcement late Thursday came in conjunction with Restoration Hardware's third-quarter earnings, which surpassed analysts' expectations. Still investors were disappointed with the 29% comparable sales growth in the quarter, hoping for a higher number. Investors were also hoping for higher fourth-quarter guidance, Wells Fargo analyst Matt Nemer said.
"While we acknowledge Mr. Alberini's industry expertise will be missed in the short term, particularly given the number of initiatives in progress, we believe the longer-term story including entrance into new product categories, the full line gallery rollout, and improving margins from scale and cost saving initiatives remains intact," Nemer wrote. He rates shares "outperform."
Nemer also points out that with Alberini leaving one possible risk is that the company could experience a slowdown in new initiatives being rolled out (though he says this will likely be product related as opposed to opening new stores).
Gary Friedman, chairman and co-CEO said in a statement Thursday that the company was "developing a transition plan and will initiate a search for Carlos' replacement shortly."
6. Pacific Sunwear
Year-to-date Total Return (as of Dec. 12): 97.48%
Price-to-earnings ratio: N/A
Market Cap: $215 million
Shares of Pacific Sunwear of California (PSUN) popped on Dec. 6 after the action sports retailer reported an in-line earnings loss, yet was encouraged by better-than-expected sales, as well as a 6% sales comp for November.
For the fourth-quarter, the Anaheim, Calif.-based business predicts a 17-cent to 12-cent loss, missing consensus by a penny, and comparable-store sales from 1% to 5%.
Yet Pacific Sunwear seems to be a bright spot in the fledgling teen retailer space, where Aeropostale (ARO) , Abercrombie & Fitch (ANF) - Get Abercrombie & Fitch Co. Class A Report and American Eagle Outfitters (AEO) - Get American Eagle Outfitters, Inc. Report are struggling to keep teens interested in their wares.
Pacific Sunwear has been shuttering underperforming stores while improving its merchandise shift by adding private-label and exclusive lines in order to improve performance.
Analysts have been encouraged by the changes. "We think Pacific Sunwear of California Inc.'s multi-year efforts to introduce trendy brands are reaching critical mass," wrote Edward Yruma, an analyst at KeyBanc Capital Markets.
Despite the company's third-quarter loss, Yruma rates Pac Sun shares "hold," saying its valuation is "reasonable" at 0.3x 2014 enterprise value/sales vs. 0.5x the teen retail group "for a patient investor with high risk tolerance."
"We continue to believe that PSUN has the potential to become a key player in the teen mall retail space, again, given the strength of its management team," Yruma noted. "That said, we continue to look for more consistent trends before adopting a more constructive stance."
5. h.h. gregg
Year-to-date Total Return (as of Dec. 12): 100.57%
Price-to-earnings ratio: 15.47
Market Cap: $429 million
Big box retail chain, h.h. gregg (HGG) , has approximately 230 stores across the Midwest and South. H.h. gregg has been slowly expanding its merchandise offering on the appliance side as it struggles to compete in the busy electronics niche against Best Buy and other smaller players like Conn's, as well as online with Amazon and even Walmart.com.
This seems to be a win, although h.h. gregg's quarter which ended in Sept., was tough. The Indianapolis-based retailer said that sales fell 3.3% to $568.3 million, missing consensus estimates, while comps dropped 6.2% in the quarter.
Profit of 12 cents a share also missed analysts' estimates.
"Though we continue to see headwinds in our consumer electronics business, we are pleased with our ninth consecutive quarter of comparable store sales increases in the appliance category," CEO Dennis May said in the earnings statement. "Additionally, we are pleased with the completion of our sales floor reset and the progress made with our other initiatives aimed at the long term success of transforming our retail strategy."
"We have continued to make investments in our business, including the expansion of our consumer credit capabilities, with a seamless secondary credit option, and enhancements to our Web site," May added. "While pleased with our early efforts in reshaping our sales mix, our sales performance continues to demonstrate that this transition will take time as we introduce new products to offset the sales losses from the consumer electronics category."
The company reiterated its fiscal 2014 EPS guidance of 75 cents to 90 cents a share, but that includes negative store comps that fall between 2% and 3.5% as well as a decline in annual net sales by 1.5%, compared to previous guidance of an increase of 1% and 3.5%.
The company is "in the early stages of repositioning its business towards categories that leverage its core strengths, including consultative sales, large cube products, delivery/installation, and financed/bigger ticket purchases," wrote JPMorgan Chase analyst Christopher Horvers in a Nov. 1 research note, following earnings. He rates the company at "neutral."
"HGG is adding furniture, fitness, and other home categories (and rationalizing the video category)," Horvers adds. "We applaud the company's efforts in this regard, though headwinds facing the video category combined with mass/internet encroachment will make the transition a long journey. Net-net, we expect execution to improve going forward as the company strikes a more appropriate mix within its box and tweaks its price/margin philosophy, but tough to call a bottom in the overall consumer electronics business at this point."
Horvers cautions that "the key challenge for HGG is its ability to drive traffic into stores over the crucial holiday period, which continues to become more competitive every Christmas."
4. Kirkland's
Year-to-date Total Return (as of Dec. 12): 129.18%
Price-to-earnings ratio: 26.38
Market Cap: $420 million
Kirkland's (KIRK) - Get Kirkland's, Inc. Report, a Nashville-based chain of more than 300 stores that sells home furnishings and decor, sits in this year's retail sweet spot, as home buying was on a tear earlier this year and consumers made big ticket purchases for their new homes and renovations. The massive success of TJX's (TJX) - Get TJX Companies Inc ReportHomeGoods chain bodes well for Kirkland's prospects.
"We view Kirkland's as a viable competitor in home furnishings and accessories, with a well-differentiated merchandising strategy and significant organic growth opportunities," writes Wedbush Securities analyst Joan Storms in a Nov. 21 research note. Storms rates Kirkland's at "outperform."
"The company is investing not only in systems, but also in personnel and better processes, which is translating to better buying in key categories such as wall decor and decorative accessories as well as higher conversion rates and average ticket," Storms penned in the note.
Kirkland's reported third-quarter earnings of 6 cents a share, above expectations, while sales comps rose 4.9% (compared to a decrease of 4.7% in the prior year's quarter).
"Sales momentum was strong during the quarter as our fall and holiday seasonal merchandise performed well," Kirkland's President and CEO Robert Alderson said, We continued to see positive results from strong product margin, higher conversion and higher average ticket as our merchandise assortments are resonating well with customers. Traffic improved sequentially during the quarter, and early fourth quarter trends are similar."
Kirkland's bumped up its full-year earnings range to 90 cents to 95 cents a share from its previous guidance of 80 cents to 90 cents a share.
"Our plan for fiscal 2014 is to continue to build on our momentum with growth in sales, margin improvement, the execution of our multi-channel strategies and further investments in branding and e-commerce," Alderson said. "We also believe that fiscal 2014 is an opportune time to begin a more aggressive approach to store growth. We currently anticipate that our square footage growth will be at least 10% in the coming year. This early outlook reflects the intense foundational work we've done over the last three years, which has us well-positioned to grow the business."
3. Conn's
Year-to-date Total Return (as of Dec. 12): 145.99%
Price-to-earnings ratio: 31.74
Market Cap: $2.71 billion
Conn's (CONN) - Get Conn's, Inc. Report just busted out a solid quarter on Tuesday, showing that there's opportunity in its target customer base of underbanked consumers.
The Beaumont, Texas-based chain, with roughly 70 stores, sells consumer electronics, mattresses and home appliances, but it also has a nearly $1 billion consumer credit portfolio as well.
Conn's reported record profit and revenue for its fiscal 2014 third quarter. The company said last week third-quarter earnings of 66 cents a share were up 88% from the year-earlier period. Revenue rose by half to $310.9 million, with its retail gross margin expanding 460 basis points to 40.1%. Conn's upped its full-year earnings guidance to $2.75 to $2.80 a share.
"We achieved the highest quarterly revenue and net income in Conn's history," Theodore M. Wright, Conn's Chairman and CEO, said in the earnings statement. "This sales trend continued into November with retail sales expanding 49%. November same-store sales rose 32%."
Piper Jaffray analyst Peter Keith reiterated his "overweight" rating and $84 price target on Conn's following its earnings report.
"CONN continues to be one of the better long-term growth stories within our coverage," Keith wrote in a note.
Specifically, the company's retail/credit hybrid business model "allows for significant differentiation and a defensive moat," Keith said.
Conn's also has "a multitude of comp/sales drivers including enhanced marketing, relocations/remodels, new store maturity, continued expansion of furniture and mattresses," as well as opportunity to expand the store base to roughly 300 stores due to its underserved customer base, the note says.
Additionally, "with delinquency trends now running counter to normal seasonal patterns, CONN appears on track to work through the Q2 collections issue by early next year," the note stated.
"All in, we believe CONN is positioned to grow EPS" more than 30% for the next three years, Keith wrote.
2. Best Buy
Year-to-date Total Return (as of Dec. 12): 247.23%
Price-to-earnings ratio: 17.19
Market Cap: $14 billion
Everyone's been talking about Best Buy (BBY) - Get Best Buy Co., Inc. Report this year, as the company seems to be going through a successful turnaround. Shares have more than tripled year-to-date.
Still the big electronics retailer sits in a big competitive window with retailers like Amazon and Wal-Mart taking market share. This holiday season Best Buy is aggressively going after sales, even if it pays the price of margin erosion to get them.
Best Buy's acceptance of the store as a showroom - as evidenced by the large Apple display, and its store-within-store partnerships with Samsung and Microsoft as well as its focus on online sales have given Wall Street a renewed optimism that Best Buy is still relevant to customers.
Best Buy reported on Nov. 19 adjusted third-quarter earnings of 18 cents a share, a nickel higher than Wall Street expectations. Analysts' are expecting the company to post profit of $1.61 a share in the fourth quarter, down 2% from last year.
UBS analyst Michael Lasser upgraded the stock a week earlier to a "buy" rating.
"The next phase of appreciation for the stock will be driven by estimates marching higher with the current [2014] consensus likely to move from its current level of ~$2.75 to north of $3+ and the [2015] will probably go from $3.09 to $3.50+," Lasser wrote in a Nov. 11 research note. "Thus, the multiple can contract 10% over the next 12 months and BBY's shares can still return 20%. We think this skews the risk/reward to the upside and recommend buying."
Lasser adds Best Buy's cost-savings program is like to eventually produce $1 billion in cost savings, ahead of its current goal of $725 million.
"Greater connectivity with more vendors can sustain this part of the story," the note stated. "GOOG and AMZN have been rolling out kiosks in BBY's stores. The product environment will likely tilt further towards BBY. Aside from a boost from gaming; appliances, tablets, and phones should have legs."
1. Zale Corp.
Year-to-date Total Return (as of Dec. 12): 258.39%
Price-to-earnings ratio: 210.43
Market Cap: $484 million
Zale Corp. (ZLC) , owner of a handful of jewelry brands, its namesake business Zale's the largest, is also up against strong competition namely Tiffany (TIF) - Get Tiffany & Co. Report and Signet Jewelers (SIG) - Get Signet Jewelers Limited Report, owner of the popular Jared The Galleria of Jewelry and Kay Jewelers brands.
Zale's, with nearly 1,700 total stores across its platform, is primarily a mall-based jewelry retailer. The Dallas-based company said in its latest earnings report on Nov. 26 that sales rose 1.4% to $363 million in its fiscal first quarter. Sales comps of its two core brands, were 4.4% (5.4% on a constant exchange rate), driven by comp gains of 7.5% at Zale's and 3.1% at Peoples branded stores (8.5% comp growth in constant currency). Gross margin improved 20 basis points to 53.4% compared to a year earlier, the company said.
Even though, the Dallas-based company reported a net loss of $27 million, or 83 cents a share, it was slightly better than the 86-cent loss analysts were expecting.
The company has been working to improve margins and differentiate itself from the rest of the jewelry retailer pack.
Zale CEO Theo Killion said in the company's earnings statement Zale's is ready for the holiday season by expanding exclusive, branded product offerings, launching a new marketing campaign and improving customer experience.
"Zale will be increasing rollouts of key exclusive jewelry lines this holiday to differentiate itself from the competition," Bank of America Merrill Lynch analyst Lorraine Hutchinson wrote in a Nov. 26 note. Hutchinson has a "buy" rating on the stock.
"The company has expanded the Vera Wang LOVE collection to most of the store fleet, and is also testing new iterations of this successful brand. Zale has increased the penetration of its Celebration Diamond collection across different price points. Lastly, the company has added more color options to its Candy Colored Diamonds and began testing an exclusive fashion collection called The Heart Within in 300 stores, the note says. "We think these expanded exclusive offerings will help Zale garner further brand loyalty and set it apart from smaller competitors."
Hutchinson adds that there is opportunity for further margin expansion as Zale's gets further into its sourcing initiative with AT Kearney.
"We expect a more substantial benefit from the initiative over the next few quarters as less expensive inventory flows more quickly during peak periods," the note says. "The company is also working on Phase 2 of its sourcing program, which could include bringing some assembly in-house to lower Zale's reliance on higher-cost finished goods purchases."
Written by Laurie Kulikowski in New York.
Disclosure: TheStreet's editorial policy prohibits staff editors, reporters and analysts from holding positions in any individual stocks.