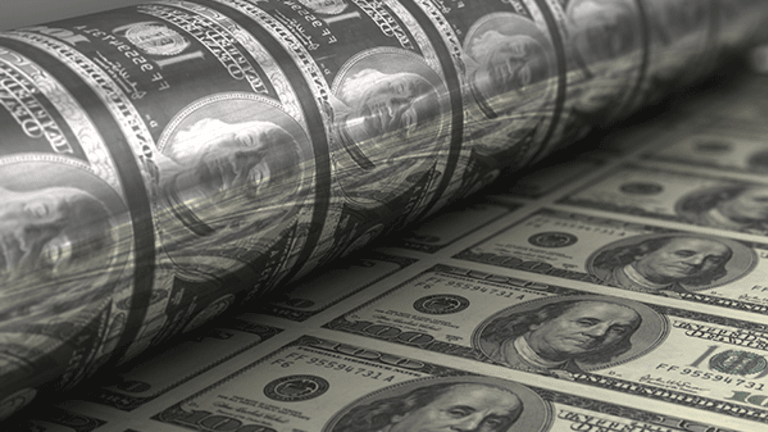 AT&T, Iron Mountain are High-Yield Stocks to Consider Buying Today
Scoop up yields as high as 8.7% with this group of high-dividend stocks.
Historically, the stock market has been the greatest source of long-term wealth creation, with the S&P 500 delivering a 9.0% compound annual growth rate since its inception in 1871. That means that $1 invested in the market 144 years ago would be worth a staggering $285,436.41 today.
However, even more impressive is the fact that historically many blue-chip dividend growth stocks have done even better. That's because managers of these companies have to be more conservative with their capital allocation strategies in order to both keep their companies and dividends growing.
And in today's world of historically low interest rates, when income investors living off dividends are starved for yield, generous, secure and growing payouts are more important than ever.
Our Dividend Safety Scores identify companies with the safest and riskiest dividend payouts. They flagged major firms such as Kinder Morgan and ConocoPhillips as high-risk dividend stocks before these companies announced dividend cuts. Investors can learn more about how Dividend Safety Scores work and what their real-time track record has been here. We used our Dividend Safety Scores to hunt down seven high-yield dividend stocks with average safety or better.
Read on to learn about seven high-dividend stocks that have what it takes to help you meet your income needs. They also have the potential to generate healthy total returns in the years to come. We own one of these stocks in our Conservative Retirees dividend portfolio, too.
1. Brookfield Infrastructure Partners (BIP) - Get Free Report : Yield 4.6%
Brookfield Infrastructure Partners is a limited partnership that went public in 2008. But don't let its young age fool you, because this infrastructure company is managed by Brookfield Asset Management, which has more than 115 years of experience investing in real estate, utilities and infrastructure assets around the globe.
In fact, with $250 billion in assets under management, and a staff of more than 55,000 people in 32 countries, Brookfield Asset Management has an unrivaled ability to find great undervalued infrastructure projects to buy and then "drop down," or sell, to the limited partnership.
In exchange for Brookfield Asset Management's deal-making savvy, Brookfield Infrastructure Partners pays a management fee, and 25% of all marginal funds from operations, or FFO, which is the limited partnership's version of operating cash flow.
Thanks to this symbiotic relationship, Brookfield Infrastructure has grown into one of the world's largest and most diversified utilities. It has more than 40 major, hard-to-replicate assets on six continents including: 17,000 km of natural gas pipelines; 13,900 km of electrical transmission lines in North and South America; 2.6 million electrical and gas connections in the U.K.; 33 ports in North America, the U.K. and Europe; 7,000 cell towers; 5,000 km of fiber-optic lines in France; 16 toll roads in South America and India; the largest coal port in Australia; and Australian and South American railroads.
These assets, almost all of them under long-term contracts or in regulated industries, along with currency hedging, produce a vast and stable stream of free cash flow, what Brookfield calls "adjusted funds from operations", with which to pay its secure and growing distributions.
In fact, in the last quarter Brookfield Infrastructure's AFFO payout ratio was 71.8%, which is actually low for a utility, and means there's plenty of retained cash flow with which to invest in organic asset expansion.
And because Brookfield Asset Management's constantly is finding new deals for it to invest in, Brookfield Infrastructure has been able to grow its distribution at a 12% CAGR since its IPO, including 11% this year. In fact, management's long-term target is 5% to 9% payout growth, and 12% to 15% total returns for investors.
And given Brookfield Infrastructure Partner's current strong liquidity position of $2.5 billion and a slew of upcoming acquisitions that are in the final stages of closing, the limited partnership likely will be able to deliver on that guidance.
2. AT&T (T) - Get Free Report : Yield 5.4%
AT&T is one of the most beloved high-yield blue-chips on the market and for good reason. Management just increased its dividend for another year. (AT&T has increased its dividend each year for 31 straight year and is a member of the S&P Dividend Aristocrats Index.) With a 5.4% yield, courtesy of the market's concerns about the recently announced $85 billion buyout of Time Warner, this is a great time to open a position or add to this blue-chip core holding.
After all, while AT&T is mostly known for its wireless business that serves 131 million customers, over the past two years the company has evolved into so much more. Assuming the Time Warner merger is approved, AT&T will own:
AT&T Wireless
DirecTV, including a 41% stake in Sky Mexico, and subsidiaries like Sky Brazil, and Sky Panamerican, a dominant force in Latin American satellite TV
HBO and Cinemax
Turner Broadcasting: CNN, TBS, TNT, Cartoon Network, Adult Swim
Warner Brothers: DC Comics, Warner Brothers Studios, Half of The CW, 10% of Hulu
In other words, AT&T has gone from a U.S. telecom utility to being poised to become a global telecom and media empire second only to Walt Disney.
And while it's true that the Times Warner acquisition, which is being half by debt and half by stock, will lead to higher debt and shareholder dilution, the deal will still be immediately accretive to both EPS and free cash flow per share.
That means that AT&T's current trailing-12-month free-cash-flow payout ratio of 67%, which makes the dividend highly secure, should only decrease with time. That's especially true given that management still has $3.3 billion in cost savings it thinks it can squeeze out of existing assets by 2020.
Add to this the $3.6 billion in free cash flow from Time Warner, plus $1 billion in expected synergies by 2018, and AT&T is likely to increase its FCF by 50% over the next four years to close to $25 billion. Of course, dividend growth investors will need to be patient before expecting dividend growth to accelerate, because AT&T will need to divert a lot of that cash flow toward paying down the $65 billion in debt it's taking on for this deal, as well as funding buybacks to offset the dilution created by creating additional hares.
Beyond 2020, when AT&T's balance sheet is once more strong, and the share count is far smaller, we fully expect that dividend growth could accelerate to 2 cents to 3 cents per quarter, or 4% to 6% CAGR. This means long-term investors buying now can expect total returns over the coming decade of 9.3% to 11.3%, which are fantastic considering the low volatility of the stock (beta 0.3).
3. Iron Mountain  (IRM) - Get Free Report : Yield 5.9%
Iron Mountain was founded in 1949 -- inside a mountain. It stored paper files and documents for major corporations from New York City. But it has evolved substantially over the decades, adding above-ground storage sites, and consolidating a highly fragmented industry through numerous acquisitions.
Today Iron Mountain is the world leader in storage and information management, serving 220,000 global customers (including 94% of the Fortune 1000), in 45 countries on six continents, and generating more than $3.1 billion in annual revenue. In 2015 the company converted to a Real Estate Investment Trust, or REIT, for tax purposes, meaning it pays no corporate taxes as long as it pays 90% of taxable income as nonqualified dividends to shareholders.
This explains the generous yield of 5.9%. However, more important than just the high payout is that with an adjusted-funds-from-operations dividend payout ratio of 75.5%, this dividend is rock solid.
Better yet, thanks to the expected $105 million in annual synergies expected from the recently completed $2 billion acquisition of Recall, management expects to raise the dividend from its current $1.94 per share to $2.54 per share by 2020.
That 7% annual dividend growth means that investors buying today can expect annual total return potential over the next few years of about 12.7%. And with a low beta of 0.67, IRM's stock offers a combination of lower volatility and high income.
4. Spectra Energy Partners (SEP) : Yield 6.6%
Spectra Energy Partners is a master limited partnership that owns: 15,000 miles of natural gas, and oil gathering and transportation pipeline; 170 billion cubic feet of natural gas storage capacity; and 4.8 million barrels of oil storage assets.
About 90% of its revenue is derived from long-term contracted fixed-fees, with annual inflation adjustments. This creates a vast and highly stable source of distributable cash flow (EBITDA-maintenance capex) with which to pay its generous, secure and fast growing distribution.
With a distribution coverage ratio of 1.36 in the last quarter, (anything more than 1.1 is considered secure), Spectra Energy's payout is among the safest in the industry. Better yet, thanks to $6.6 billion in new projects currently under construction, and about $30 billion in potential projects management is considering, the growth runway for this MLP is very long indeed.
In fact, analysts currently expect Spectra Energy Partners to grow its payout at around 7% CAGR through 2025, which would mean that today's investors could expect total returns of around 13%. And while I'm always skeptical of long-term forecasts from notoriously short-sighted Wall Street analysts, in this case, given the strong balance sheet, massive growth potential, and stable, commodity-insensitive nature of its business, I consider that payout growth projection reasonable.
5. W.P Carey (WPC) - Get Free Report : Yield 6.7%
W.P Carey is a triple net lease retail REIT, which one of the best business models any dividend stock can have. Triple net lease means that the tenant is responsible for taxes, insurance and maintenance.
All W.P Carey has to do is own the properties, and collect the rent. And with 866 properties, rented out to 222 major companies, an occupancy rate of 98.5%, and an average lease of nine years remaining, W.P Carey's cash flow is both large, diversified and highly secure.
Better yet, with a management team that has decades of experience in retail real estate, and manages more than $11 billion in nonlisted REIT assets (which is where many of its growth acquisitions come from), this REIT not only has a long growth runway, but with an AFFO payout ratio of 77%, this dividend is extremely well covered by the company's rock steady cash flow.
And with a potential acquisition backlog that would increase the REIT's asset base by 126%, I have confidence that W.P Carey should be able to continue growing its dividend by 4% to 5% a year for the next decade. That would mean an expected total return of 10.3% to 11.3%, which is excellent given that the S&P 500's frothy valuation at the moment means future returns from the market are likely to be below its historic norm.
6. Omega Healthcare Investors (OHI) - Get Free Report : Yield 8.3%
Omega Healthcare Investors is my favorite way to profit from one of the strongest megatrends of the coming century: the aging of the U.S. population. Investors can read my full thesis on the company here.
Omega is America's largest REIT specializing in skilled nursing facilities, or SNFs, with more than 900 located in the U.S. and the U.K., another rapidly aging nation. It typically leases out its properties for long-term fixed contracts of about 12 years in duration.
This provides the REIT with very stable and predictable cash flows from which to pay out its ever increasing dividend. In fact, not only has Omega's dividend grown at an impressive compound rate of 10.4% over the past decade, but it's raised its payout for 17 consecutive quarters.
And thanks to the SNF industry's fragmented nature, and management's skill with large-scale acquisitions, such as last year's $1.65 billion buyout of Aviv REIT, Omega Healthcare has been able to maintain a growth rate that is almost without peer in the medical REIT industry.
For example, in the first half of 2016 it was able to grow its AFFO/share by a simply remarkable 14.2%. This allowed it to hike the dividend 10.3% year over year while still lowering its payout ratio to 69%, the lowest of its major rivals. That means the dividend is far more secure than the 7.4% yield gives it credit for. It also means that Wall Street's consensus projection of 3.5% dividend growth going forward is likely to be conservative.
In other words, with a still highly fragmented SNF industry that is ripe for additional consolidation, Omega Healthcare should easily be able to beat the market's lowball expectations. Which in turns should mean not just strong income growth, but also the potential for very nice capital gains as well.
7. Starwood Property Trust (STWD) - Get Free Report : Yield 8.7%
Starwood Property Trust is a mortgage REIT, or mREIT, meaning it makes its money by owning, selling, and servicing mortgage-backed securities. Unlike residential mREITs such as Annaly Capital Management or American Capital Agency, which are primarily focused on residential mortgages, Starwood Property Trust specializes in commercial mortgage loans.
This is a very important difference, because unlike residential mortgages, which are fixed rate and come with prepayment risk, commercial mortgages are mostly floating rate, and have much lower prepayment risk.
In addition, commercial mREITs such as Starwood Property Trust have much lower leverage than residential mREITs, meaning stronger balance sheets that give them more financial flexibility should the economy hit a downturn.
More importantly for dividend investors is that Starwood Properties has one of the best management teams in the industry. It has been able to generate sufficient EPS to cover the current dividend of 48 cents for 10 straight quarters.
That may not sound like much, but believe me, in this time of historically low rates, and razor-thin interest spreads, this ability to have a highly secure dividend this generous is a triumph. In fact, many other commercial mREITs struggle to cover their payout which can lead to dividend cuts, but what makes Starwood Property Trust different is its diversification.
Rather than simply make commercial mortgage loans, or investing in them, Starwood Property Trust makes money via five separate routes.
Large loans origination: $16.8 billion so far, with zero loan losses (rock solid, conservative underwriting)
Investing in commercial mortgage backed securities or CMBS: 20-year track record of successfully and profitably navigating several economic and interest rate cycles
Servicing CMBS loans: Starwood is America's largest CMBS servicer (collects payments from borrowers) with a $10.6 billion portfolio on which it is paid service fees of 1.25% to 1.5%.
CMBS origination: When Starwood Property loans money to someone to buy commercial real estate it can sell part of the loan to other investors, at a profit of course.
Real Estate portfolio: Starwood Property owns $1.2 billion in high-quality real estate properties that it generally sells at a profit that generates 9% to 12% internal rates of return.
What is really great, however, about Starwood Property, which I consider the gold standard among commercial mREITs, is that it is extremely well positioned to take advantage of rising interest rates.
That's because its loans are floating rate, meaning that above a certain interest rate the interest rate the borrowers pay Starwood will rise as U.S. rates do. And while Starwood hasn't been able to increase its dividend since 2014 due to the ultralow U.S. rate environment, the fact remains that its trailing 12-month payout ratio of 91%, (among the best in the industry) means the current dividend is secure.
Better yet, analysts expect that rising rates over the coming years to allow Starwood to grow its dividend by 7.5% annually starting in 2019. The long wait time is due to interest rates having to climb high enough to rise above the baseline rate of its loans. But if you can be patient, and enjoy that secure 8.7% yield, then the ultimate payoff could be total returns of 16.2% in a few years.
In other words, Starwood Property Trust potentially represents one of America's best, (and least known) dividend growth stocks of the next decade.
This article is commentary by an independent contributor. At the time of publication, the author held shares of OHI.