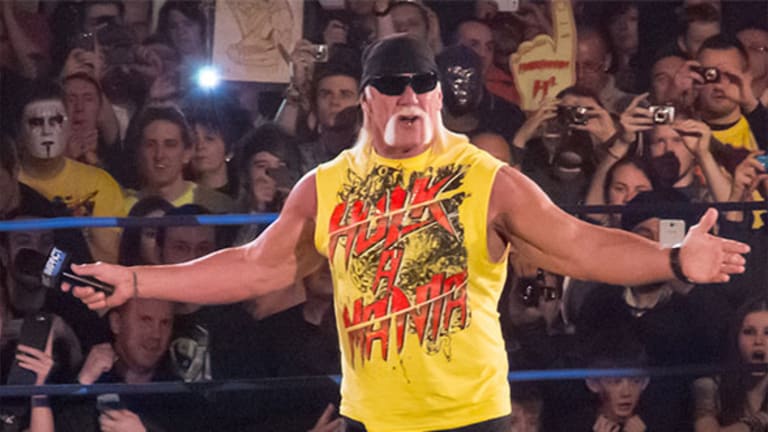 7 Other Times Hulk Hogan Has Completely Embarrassed Himself
It's not the first time The Hulkster has earned condemnation for his actions. But it won't be catastrophic for World Wrestling Entertainment.
NEW YORK (TheStreet) -- World Wrestling Entertainment (WWE) may have thrown Hulk Hogan out of the ring, but the company has bigger issues on its plate -- namely, maintaining the number of subscribers to its flagship service.
WWE said Friday it had "terminated its contract" with the pro wrestler, whose real name is Terry Bollea. The company made the decision as audio clips featuring his repeated use of racial slurs surfaced on Friday.
Although Bollea was inducted into the WWE's Hall of Fame in 2005 and was one of the company's best-known performers, the end of his contract isn't a blow to the company.
"It will have very little impact, if any," said Daniel Moore, managing director of research for CJS Securities, who covers WWE.
As part of its decision, the company removed information about Hulk Hogan from its website, including a page dedicated to selling his merchandise. Losing the Hulk Hogan name won't hurt the company's bottom line, though, since merchandise sales represent a small part of its revenue, Moore said.
Instead, when the company reports second-quarter results on July 30, analysts will be watching to see how many new subscribers WWE has attracted to its service, the WWE Network. By the end of the first quarter of this year, 1.3 million viewers had signed up for the network, which features prominent WWE matches, including annual focal point WrestleMania.
But the company, which has traditionally relied for revenues on pay-per-view events such as WrestleMania, charted a different course in the last year and a halfby including those events in its subscription package and hoping customers would continue to subscribe. This year's Wrestlemania cost $59.95 per view, while a monthly subscription to WWE network runs $9.99 per month and allows fans to cancel at any time. 
There was "lots of discounting in what the initial value proposition was," Moore said, adding that he expects to see a drop in subscribers for the second quarter as customers who signed up before this year's WrestleMania in March cancel their plans.
Shares of WWE were down 0.17% for the day to $17.20, a recovery after falling 1.5% in the early minutes of trading.
While the company's statement announcing its split with Hogan didn't cite his racist remarks, it did say that "WWE is committed to embracing and celebrating individuals from all backgrounds as demonstrated by the diversity of our employees, performers and fans worldwide."
This isn't the first time the Hulkster has said or done something boneheaded. Here are a few of the most cringe-worthy moments from his career:
1. No Match for a Lighter
Hulk Hogan hit the mat with his longstanding rival, The Ultimate Warrior, for World Championship Wrestling's 1998 Halloween Havoc. Even 17 years ago, the association approached Hogan as a star who had seen better days wrestling, and the match was designed as a duel of wrestlers past their prime.
But for Hogan, "prime" apparently included being able to use a lighter -- something he wasn't able to do as he prepared to throw a fireball in his rival's eyes during the match. The result was Hogan fumbling with a piece of flash paper while his adversary looked on, and when Hogan did get the flames going, they wound up in his own face, burning off much of his facial hair.
In January 2013, Hogan posted the above photo of his daughter Brooke, then 24 years old, on social media with just the caption, "Brooke's legs." Regardless of what he meant, his followers called the photo and Hogan's relationship with his daughter "disgusting" and "weird."
Brooke's response? "A dad can't be proud of his daughter without sickos makin it something it's not. Really?? Go back to your farm animals. #ignorant."


3. A Different Beat
He didn't limit himself to wrestling: In 1995, Hogan released his first -- and only -- album with the Wrestling Boot Band. Titled Hulk Rules, it contained such gems as a rap song entitled "The Beach Patrol."
Despite bad reviews from critics, the album made it into Billboard's Top 10 chart for children's music.
The 2006 tape caused problems when website Gawker published parts of it, which led Hogan to file a lawsuit for $100 million in damages. The case is ongoing, but Gawker has said it doesn't have the cash on hand to pay that money if it loses.


5. A Half-Done Idea
On his VH1 reality show, Hogan Knows Best, Hogan once claimed George Foreman offered him a contract to help promote his now-famed grill. That deal didn't work out, but the wrestler moved ahead with his own grill, which debuted in 2007.
The product, called Hulk Hogan's Ultimate Grill and advertised via its own infomercial, was also sold through television shopping channel QVC for a few months between May and August 2007. In 2008, 13,500 of the grills were recalled for being a fire hazard.
7. No Way with Words 
The 61-year-old wrestler took heat in June 2015 when he had trouble pronouncing the names of some of the key figures on his favorite hockey team.
The Florida native made clear his disdain for the Tampa Bay Lightning's rivals in this year's Stanley Cup, the Chicago Blackhawks. But when it came time to talk about the merits of his team of choice on television, Hogan mispronounced the names of Tampa's center, Steven Stamkos, as well as Head Coach Jon Cooper. Lightning fans were miffed, and hockey fans in Chicago didn't pass on the opportunity to hound Hogan for the mistakes.