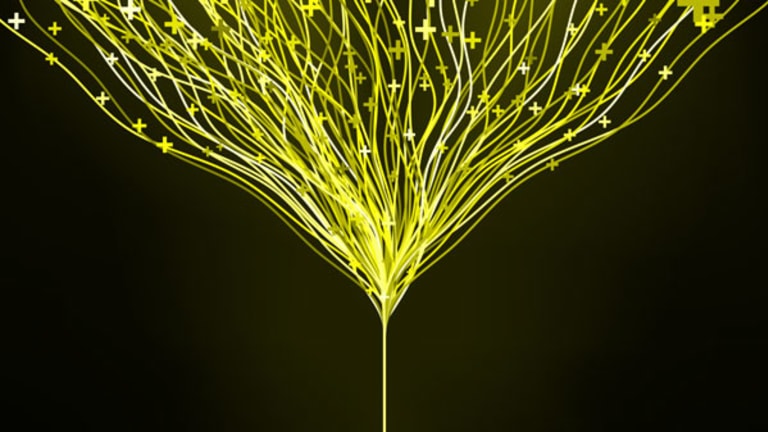 7 Little-Known Energy Picks From the Pros
The smart money is gobbling up small companies such as Carbo Ceramics and Far East Energy.
BOSTON (TheStreet) -- Energy stocks, some of which lagged behind technology shares and other industries last year, are the best performers of 2011, rising an average of 9.4%, more than twice that of the benchmark S&P 500 Index.
Almost all of the top dozen or so mutual funds ranked by returns at research firm
Morningstar
have an energy-industry bias and, in particular, an energy-services component. While gold and mining shares were fund-manager darlings last year, so far in 2011, the smart money is on energy as global economic growth accelerates.
The leaders for the three months through Feb. 2 are the
ProFunds Oil Equipment and Services and Distribution Fund
(OEPIX) - Get Oil Equip&Svcs UltraSector Pro Inv Report
, up 43%, and a sister fund,
ProFunds UltraSector Oil & Gas
(ENPIX) - Get ProFunds UltraSector Oil&Gas Inv Report
, up 37%.
Big mutual funds of all stripes are eager to get an oil-field-services industry stake, but they usually go for the leaders, including
Schlumberger
(SLB) - Get Schlumberger NV Report
and
Halliburton
(HAL) - Get Halliburton Company Report
.
Daniel Rice, manager of the $1.5 billion
Black Rock Energy & Resources Fund
(SSGRX) - Get BlackRock Energy & Resources A Report
, told
Bloomberg News
in an interview a month ago that he expects an expanding global economy to push oil prices above $100 a barrel this year and, as a result, shares of oil and gas companies may rise 25% to 30% while coal stocks could double.
>>JPMorgan Gets Contrarian on Energy Stocks
One way for conservative investors to play the commodities market is to invest in the industries' service providers. In oil and gas, that means companies that make and supply equipment such as oil rigs, exploration services or the new technologies that makes the big-company guys' jobs easier.
Some investors are already there, as oil and gas equipment services stocks are building on last year's 37% gain. But there are many interesting stocks under the surface. Here are a few:
A recent common pick among energy fund managers is
National Oilwell Varco
.
It is the industry leader as the oil rig and gas drilling equipment supplier, including offshore rigs, and its image hasn't been tarnished by the Gulf of Mexico's
BP
(BP) - Get BP Plc Report
disaster as its competitor,
Transocean
(RIG) - Get Transocean Ltd. Report
, has.
The company recently issued strong fourth-quarter earnings and, more importantly, a bullish outlook for the year. Fourth-quarter profit jumped 12% due to intense North American shale drilling along with a fleet of its new offshore rigs ready to enter the market. It also said it has a healthy 3% backlog, or about $5 billion worth.
A Morningstar analyst recently wrote that "after years of underinvestment by drillers, the drilling industry badly needs retooled and upgraded rigs to economically drill far more complex and deeper wells. As National Oilwell Varco has spent decades consolidating the rig equipment industry, it is the best and only source of rig equipment for many of the largest offshore drillers."
Its shares are up 10% this year after gaining 53% last year.
MFS Investment Management
has a 4% stake, the largest among institutional investors.
Weatherford International
(WFT) - Get Weatherford International plc Report
, one of the world's leading providers of equipment and services used for the drilling and production of oil and natural gas wells, is a top holding of the $1.8 billion
Fidelity Select Energy Service
(FSESX) - Get Fidelity Select Energy Svcs Report
. It's now its fifth-largest holding at 5%. Shares of the $17 billion market-capitalization company are up 6.8% this year. On the downside, it carries a relatively high trailing price-to-earnings ratio of 41.
Analysts' mean price target for Weatherford is $26.70. Those same analysts give the company's shares seven "strong buy" ratings, nine "buys," 13 "holds" and one "reduce," said S&P.
Standard & Poor's analyst Stewart Glickman said the strong growth in U.S. on-land oil drilling activity appears to have been spurred, in part, by growth in unconventional shale plays, "which fits well with (Weatherford's) capabilities, in our view."
"In 2010, North America generated 51% of (its) segment-level operating income, versus just 16% in 2009. Still, we think international operations present the strongest long-term growth opportunities, which we see accelerating towards the latter part of 2011," he said in a research note.
Weatherford's biggest investor is
ClearBridge Advisers
, at 6.6%, followed by
Fidelity
, at 4.4%. Their stakes have remained relatively constant over the past two years, according to Morningstar data.
Another Fidelity energy-focused fund,
Fidelity Select Energy
(FSENX) - Get Fidelity Select Energy Portfolio Report
, doubled its stake in
Baker Hughes
(BHI)
in the fourth quarter, increasing it to 2.8% of the fund. Baker Hughes, a long-time industry leader with a market capitalization of $30 billion, is ubiquitous in energy funds' portfolios. It shares are up 20% this year after gaining 43% last year.
Standard & Poor's Glickman writes that Baker Hughes has strong growth opportunities outside North America that bode well for its future. "With oil prices remaining very resilient in 2010 in the $80 to $90 per barrel range, buoying spending confidence by upstream operators, we expect capital spending growth in 2011, which we think dovetails nicely for BHI's expansion plans," he says.
"For 2011, we see North American operating margins around 18% (versus 17.6% in 2010)," he wrote. "Outside North America, we see a near-doubling of margins to about 13% in 2011."
Invesco Energy Services
(FSTEX) - Get Invesco Energy Inv Report
, a $1.9 billion fund that's up 8.4% this year, is another big believer in Weatherford, more than doubling its stake to 4.3% in the fourth quarter.
A new holding for the fund, which can't be considered under the radar but is interesting nonetheless, is
Hess
(HES) - Get Hess Corporation Report
, at 2.6% of the portfolio. Morningstar says Hess has amassed a promising collection of high-profile oil and gas projects to drive long-term production growth. While oil already accounts for more than 70% of its production mix, Hess has the flexibility to shift to more oil-based projects to benefit from the current pricing advantage of oil over U.S. natural gas prices."
Last month, Hess said it plans to spend $5.6 billion on capital projects in 2011, including $900 million on exploration. That's up 44% from plans to spend $3.9 billion in 2010.
Funds also seek opportunities in tiny, speculative stocks.
For example, the
Integrity Williston Basin/Mid-North America Stock Fund
(ICPAX) - Get Integrity Mid-NAmer Resources A Report
, which has a restrictive agenda that calls for it to invest in stocks of companies developing the oil and potash resources from the Williston Basin area and Mid-North America area, which is roughly eastern Montana, parts of North Dakota and South Dakota and into southern Canada, is benefiting from a huge oil shale boom.
In the fourth quarter, it added
Canyon Services Group
, making it a 2% holding of the fund late last year. The Canadian company provides specialized "fracturing" and chemical materials used to drill for oil and natural gas in Western Canada, site of a huge oil boom. Shares of the $715 million market-capitalization firm are up 3.5% this year, after gaining 361% last year and 209% in 2009.
Another big gainer for the fund is
Carbo Ceramics
(CRR) - Get CARBO Ceramics Inc. Report
, which produces and supplies the unique ceramic material used by oil and natural gas drillers for the hydraulic fracturing of wells. Its shares have run up 14% this year. During the fourth quarter, the fund boosted its stake by 20,000 shares to make it its second-largest holding, after National Oilwell Varco.
Its products are marketed internationally through the oil-field-service companies that provide the hydraulic fracturing services. In the third quarter, it reported a 29% revenue increase, year-over-year, and a 45% increase in operating profit. It has a market value of $2.7 billion.
Analysts who follow the stock give it one "buy" rating, four "outperforms," six "holds" and one "sell." The Neuberger Berman family of funds owns 13% of its shares, and the next-largest shareholder is BlackRock, at 6%.
Black Rock Energy & Resources
(SSGRX) - Get BlackRock Energy & Resources A Report
recently added two very small oil exploration stocks to its roster:
Far East Energy
(FEEC)
and
DeeThree Exploration
(DTX)
.
Far East Energy, with a $163 million market capitalization, is a development-stage company engaged in drilling, exploring and testing wells for future production. But it already has 38% institutional ownership led by
Prudential Investments
, with a 10% stake. BlackRock built a 9.8% stake late last year. There's not much available on its financial performance but its shares have lost 14% this year, after gaining 52% in 2010.
Similarly, DeeThree Exploration, a petroleum and natural gas explorer based in Calgary, with a market capitalization of $147 million, has four big institutional investors, led by BlackRock's 5.8% stake built up late last year. DeeThree's shares are up 15% this year, after gaining 84% in 2010.
Disclosure: TheStreet's editorial policy prohibits staff editors and reporters from holding positions in any individual stocks.