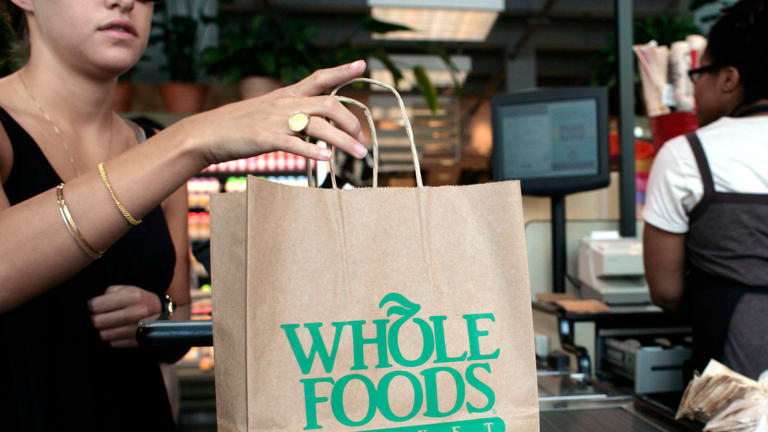 Whole Foods CEO John Mackey Says Amazon Deal Only Took 6 Weeks: "It Was Truly Love at First Sight"
Whole Foods CEO John Mackey says there are big changes coming to the company.
Whole Foods (WFM)  executives met with Amazon (AMZN) - Get Report executives just six weeks ago before tying the $13.7 billion knot on a deal that will "change the world," according to Whole Foods CEO John Mackey.
Mackey and Amazon's CEO of Worldwide Consumer Jeff Wilke spoke in an excited manner about the deal to employees at a town hall meeting on June 16, according to an SEC filing released Monday afternoon.
When the executives talked at Amazon's headquarters in Seattle six weeks ago they only spoke for 90 minutes, but they could have spoken for 10 hours, Mackey said. "It was truly love at first sight," he said. "I'm very serious."
Mackey called the deal "a historical moment" that is the second most important day in the company's history, only behind its birthday of September 20, 1980. "Together, these two companies are going to do tremendous dreams together," Mackey said. "We're going to make a big difference in the food industry."
Analysts and investors have reacted mostly positive to the deal, believing it's a win-win situation with Amazon getting a well-know quality grocer that it can help by giving it a facelift in technology. Amazon's stock closed up less than 1% to $995.17 on Monday, while Whole Foods' stock closed up 1.27% to $43.22. 
Full details of the deal will remain secret until it officially closes, but here are the important early details we learned about the pending deal from the town hall meeting.
1. Whole Foods' headquarters will stay in Austin. 
Whole Foods' base will remain in Austin, while Amazon's will stay in Seattle. "I'm going to get a lot of frequent flyer miles flying to Seattle," Mackey joked. 
2. Mackey will stay on as Whole Foods CEO, but there will be some leadership changes. 
Mackey is excited to stay on as CEO and noted that the upcoming changes in Whole Foods' leadership will not be "forced" on them by Amazon. The changes are more about putting Amazon people in Austin and Whole Foods people in Seattle, he said. "Because at the end of the day, we're all Amazon people," he added. 
The leaders also note that employees will have some amazing opportunities to advance in the newly formed company. "Its going to be great opportunities for people in this room," he said. 
3. Whole Foods' culture is going to become more competitive.
Whole Foods' culture will inevitably change when it's absorbed by Amazon, Mackey said. The evolving culture will benefit the company, making it more competitive, he added. In five years, people will be amazed at what Whole Foods becomes, he added.
4. Whole Foods is going to become much more customer-focused like Amazon. 
Amazon CEO Jeff Bezos has drilled a customer-centric philosophy into his team and now it's coming to Whole Foods. "By God, we're gonna become as customer-centric as Amazon. . . Because I think, sometimes, our company's gone a little bit too much team member focus at the expense of our customers," Mackey said. 
Although the company will be working to match its customer service with Amazon, it will also continue working on taking $300 million out of its cost structure. The company is committed to making the changes Boston Consulting Group recommends for it and the changes will probably happen faster with Amazon on its team, Mackey said. 
5. Whole Foods and Amazon may spin off other food brands. 
Whole Foods will keep its quality standards that are sometimes criticized for the higher prices they require, Mackey said. However, it's possible that the merged company will create other "formats" that won't be branded as Whole Foods and won't meet its standards, he said. 
6. Whole Foods is going to be focused on long-term results when it comes to investments. 
Amazon is famous for giving up an "A+" on its quarterly report cards in favor of long-term results. "They have had the courage that almost no other public company has had the courage to, basically, resist the drumbeat of short-term, quarterly earnings that have had us trapped here for a couple of years, as our same-store sales came down," Mackey claimed. 
Now Whole Foods will follow suit. Wilke noted that choosing long-term cash flow over short-term quarterly profit frustrated investors when it first went public in 1997, but now they are mostly used to the philosophy. "We've been true to that mantra for our entire life as a public company. And this is the way we will approach the investments that we make together in Whole Foods," Wilke said. "We will think about the long run. We'll think about customers."
7. Whole Foods is going to become more technologically savvy.
Mackey admitted that Whole Foods is behind in technology and will be relying on Amazon to inject it with some much-needed updates. "I think that we can expect that we'll go to the front of the class, eventually, in the grocery business," he explained.
More of What's Trending on TheStreet:
Editors' Pick: Originally Published June 19, 2017