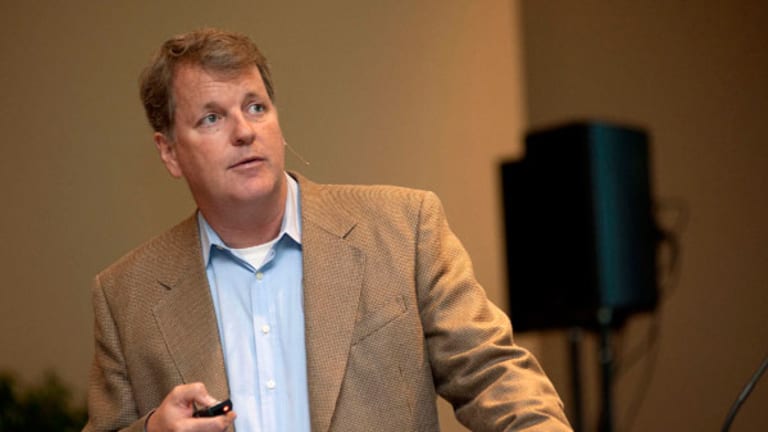 7 Hot Topics in the US Airways/American Merger
Here are seven hot topics that concern US Airways as a likely merger with American moves closer.
CHARLOTTE (
) --
US Airways
(LCC)
CEO Doug Parker visited Charlotte last week, making his first appearance in his airline's largest hub since a planned merger with
American
(AMR) - Get Free Report
was announced last month.
At meetings with employees, business leaders and reporters, Parker touted the benefits of the merger, although he said that wasn't really needed with the first two groups. He said employees are "so excited -- I just wanted to come celebrate with them," and he praised Charlotte business leaders, whom he said "really do understand" that the merger benefits Charlotte, as does having an airport with low operating costs for airlines.
"Every city doesn't get it as well as Charlotte does," Parker said. He described a "virtuous circle" where US Airways offers a lot of flights -- currently 609 daily departures -- and "the business community can attract more and more companies, and once more companies come, we can (offer) more flights."
At Charlotte Douglas International Airport, US Airways operates the fourth-largest single airline hub operation in the world -- after Atlanta, Dallas and Houston -- even though "this is not the fourth-largest travel market in the world or close to it," Parker said.
Parker praised veteran airport director Jerry Orr, saying he "has done a phenomenal job of building an airport for this community." Orr, however, is 72, and concern over his impending retiremen, has led to an effort to transfer airport oversight from the city to a regional transportation authority, with members appointed by Raleigh politicians.
The effort is a big story in Charlotte, reviving the decades-old battle between the state and its biggest city as well as the battle between the Republican-controlled N.C. legislature and a city where Democrats hold a city council majority and the mayoralty. During an hour-long press conference with Charlotte media, many of the questions for Parker focused on that conflict.
Parker said US Airways prefers not to take sides in the jurisdictional dispute, but does want to be consulted on the selection of the next airport director, given that "we know who are the best ones (because) we fly to every airport in the U.S., and we think our input would be valuable."
Here are six additional hot topics that concern US Airways as a likely merger moves closer.
Divestiture
As the anti-trust division of the Justice Department reviews the proposed merger, the principal question is whether it will require the carriers to divest "slots" at Washington Reagan National Airport. Slots are assigned takeoff and landing times, assigned at congested airports.
Speaking to a Senate subcommittee on March 19, Parker revealed, for the first time, that US Airways
as a hub, one where it offers 220 daily departures to 69 destinations. Many are smaller cities. Parker made the case that if regulators require divestitures, small cities will likely lose flights, because they are the least profitable destinations and because only an airline that operates a hub at National can economically justify them.
Aviation consultant Bob Mann said Parker's argument "hit it out of the park," given regulatory concerns regarding small cities. Also, at Newark airport,
United
(UAL) - Get Free Report
and Continental held nearly 90% of the slots when they sought to merge, and were required to divest just eight slot pairs. "If you look at the standard of Newark, there should be no divestiture," Mann said.
Labor Integration
Labor integration will be complex because different unions represent each group of workers at the two airlines. That means a series of negotiations and representation elections likely to take years. Much of the focus has been on whether the two pilot unions can resolve a seniority dispute among US Airways pilots related to the 2005 merger with America West.
However, last week the International Association of Machinists, which represents US Airways mechanics, asked to be released from mediation, citing US Airway's desire to seek four-party negotiations involving the two airlines and the Transport Workers Union, which represents American mechanics. Over time, a release can lead to a strike.
Mann said he does not expect a release because the National Mediation Board "doesn't want to interfere with the merger." Following the merger, he said, the board may never release any union at a big three airline because the three carriers will be "too big to release." In other words, a strike at any one of them could cripple transportation in the U.S.
Pittsburgh Ops Center
Parker indicated the Pittsburgh operations center, which employs about 600 people, will likely close, while American's larger Dallas operations center will remain open. "Generally airlines do not need two operations centers," he said, later adding: "It seems more likely you'd (keep) the bigger operations center than the smaller one, but who knows?" In any case, he said the impact is mitigated because a shutdown is about two years in the future and transfer opportunities will be offered to employees at whatever center closes.
Philadelphia Growth
Even if Pittsburgh suffers, Pennsylvania will benefit from the merger because US Airways' Philadelphia hub should grow. "Philadelphia becomes a bigger player in a bigger airline," Parker said. Negotiations with the Allied Pilots Association, which represents American pilots, provide an indication of Philadelphia's potential. The bankruptcy reorganization plan once backed by American CEO Tom Horton envisioned a code-sharing deal with
JetBlue
(JBLU) - Get Free Report
, which could feed American's international flights at New York Kennedy.
As a result, American originally sought an APA contract enabling code-shares equivalent to up to 50% of domestic available seat miles. But an initial tentative contract with US Airways reduced the amount to 4% and the eventual memorandum of understanding settled on 15%. With a merger, "they decided to use US Airways as the code share partner," said aviation consultant Mann. That means more international traffic can flow through Philadelphia.
Charlotte Growth
Will Charlotte get more flights to Latin America? Parker was vague but positive on Thursday. He insisted: "I don't want to give indications on growth opportunities we haven't thought about," but at one point he also reeled off a list of Charlotte's international flights, including two to Brazil once Sao Paulo service starts in June, and he noted that American's "Latin American presence will allow more and more opportunities."
American's Latin service focuses on the Miami hub, but the carrier has also been adding service between Latin America and Dallas. Miami International is an important international airport, but the American hub serves just 50 domestic destinations, while Charlotte serves 108. In a December report, Imperial Capital analyst Bob McAdoo said the airline would benefit from moving some Latin flights to Charlotte in order to enable more connections.
Technology Integration.
Parker reiterated that US Airways made a mistake in the 2005 merger because it chose to use the reservations system from the smaller carrier, America West, rather than from the larger carrier, leading to months of disruption in 2007.
"There is a tendency when management comes from the smaller airline to (use systems) it is most comfortable with," he said. But
Delta
(DAL) - Get Free Report
CEO Richard Anderson, once a co-worker at Northwest, reminded Parker during a phone conversation that it is generally better to use the systems and practices of the larger airline in a merger.
For Jim Cramer's take on the airline industry, read his
Real Money Preview column.
-- Written by Ted Reed in Charlotte, N.C.
>To contact the writer of this article, click here:
Ted Reed