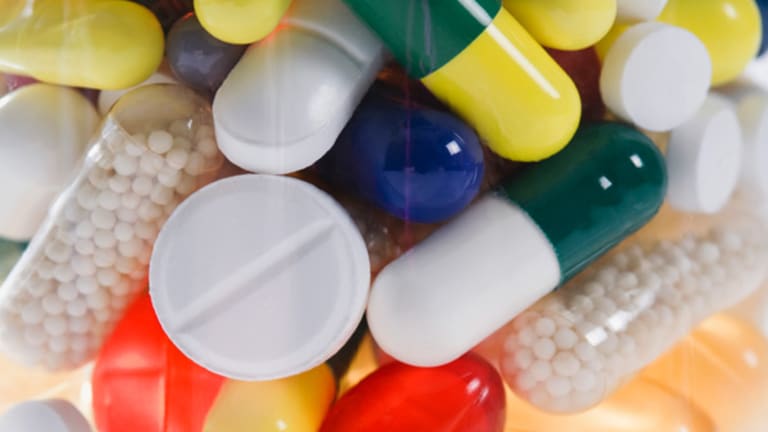 7 Firms Developing RNAi Drugs
Biotech investors are paying close attention to RNAi. Here are seven drug and biotech companies focused on developing RNAi drugs.
BOSTON (TheStreet) --RNA interference (RNAi for short) is a natural process of gene silencing in cells -- think of it as a genetic switch that when turned off, tells the body to stop making a certain protein.
RNAi therapeutics are drugs that mimic this process. They potentially work by silencing specific messenger RNAs that are responsible for making disease-causing proteins. If you can prevent these proteins from being made, you can potentially stop or cure the disease.
RNAi drugs are still in the early stages of clinical development, but the field is drawing a lot of attention from Big Pharma and smaller biotech startups, companies racing to develop the first successful RNAi-based drug. The 2006 Nobel Prize for Medicine was awarded to two RNAi research pioneers.
Biotech investors, naturally, are also paying close attention to RNAi. To help in that effort, read on for more about seven drug and biotech companies focused on developing RNAi drugs.
Company:
Alnylam Pharmaceuticals
(ALNY)
Lead drug: ALN-RSV01 for respiratory syncytial virus
Partner:
Cubist Pharmaceuticals
(CBST)
Status: A phase IIb study in adult lung transplant patients launched in February.
Upcoming milestones: Data from a phase 1 study of VSP-01 in liver cancer patients are expected mid-2010. VSP-01 is unpartnered.
Company:
MDRNA
(MRNA)
Lead Drug: Research is still in preclinical stages, but the company is targeting oncology, including liver cancer and bladder cancer.
Partners: MDRNA's preclinical drug candidates are not partnered.
Roche
and
AstraZeneca
(AZN)
have licensed certain technology from the company.
Status: Raised $4.9 million in a January offering of stock and warrants but will require additional funds to continue operations into the second half of 2010.
Upcoming milestones: Submit an IND for a bladder cancer drug candidate; still seeking a large drug research partnership.
Company:
Merck
(MRK)
Lead Drug: Undisclosed. Merck entered the RNAi arena with the $1.1 billion acquisition of
Sirna Therapeutics
in 2006. Since then, the company has kept its drug research efforts largely out of view.
Status: Merck has disclosed research efforts into drugs targeting liver disease, including hepatitis and liver cancer.
Upcoming milestone: Merck has not disclosed timelines for its RNAi drug candidates.
Company:
Isis Pharmaceuticals
(ISIS)
Lead drug: Mipomersen for high cholesterol
Partner:
Genzyme
( GENZ)
Status: Isis focuses primarily on developing drugs using antisense technology, which is a cousin to RNAi. The company's drug pipeline includes drugs targeting metabolic, cancer and inflammatory diseases in early and mid-stage human clinical trials.
Affiliated companies: Isis and Alnylam formed
Regulus Therapeutics
to develop micro-RNA-based drugs.
Upcoming milestones: Additional mipomersen data will be presented in the middle of 2010. Isis and Genzyme expect to seek approval for mipomersen in the first half 2011.
Company:
RXi Pharmaceuticals
undefined
Lead Drug: Its research is still in preclinical stages, but RXi is targeting metabolic and inflammatory diseases.
Partners: RXi is a spinoff of
CytRx Corp.
(CYTR)
, but its drug research remains unpartnered.
Status: Raised $16 million on March 23 through the sale of stock and warrants.
Upcoming milestones: In 2010, select drug candidate to advance into human development and complete one or more corporate partnerships.
Company:
Sangamo BioSciences
(SGMO)
Lead drug: SB-509 for diabetic neuropathy
Partners: Sangamo's human drugs are not partnered. The company has a plant agriculture partnership with
Dow AgroSciences
.
Status: Sangamo is focused on engineering protein "switches," called zinc fingers, that can turn genes on or off -- similar to the work being conducted with RNAi.
Upcoming milestones: Additional extension data from a phase II study of SB-509 in severe diabetic neuropathy patients will come in the second quarter. Data from a phase IIb study of SB-509 in moderately severe diabetic neuropathy patients are expected in late 2011.
Company:
Tekmira Pharmaceutical
undefined
Lead drug: ApoB SNALP for high cholesterol in phase I; preclinical oncology drug candidates.
Partners: Alnylam, Roche,
Bristol-Myers Squibb
(BMY)
, Merck and Regulus Therapeutics have licensed drug delivery technology from Tekmira that allows RNAi drugs to be administered systemically. Alnylam's VSP-01 liver cancer drug uses Tekmira's RNAi delivery technology.
Upcoming milestones: Second generation ApoB SNALP drug in high cholesterol to enter phase I study in the second half of 2010; start phase I study of PLK1 SNALP in solid tumors, second half of 2010.
-- Reported by Adam Feuerstein in Boston.
Follow Adam Feuerstein on
.
Adam Feuerstein writes regularly for TheStreet.com. In keeping with TSC's editorial policy, he doesn't own or short individual stocks, although he owns stock in TheStreet.com. He also doesn't invest in hedge funds or other private investment partnerships. Feuerstein appreciates your feedback;
to send him an email.