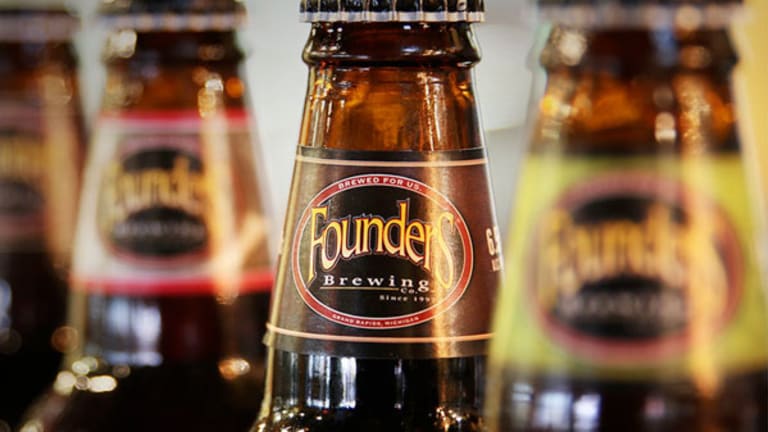 8 Craft Beers That Won't Be Craft In 2016
A string of craft beer buyouts has left some long-time brewers -- and a couple of lucky newbies -- rich, but rejected by their smaller colleagues.
Correction: Updated 1/7 to indicate that Anheuser-Busch InBev did not buy out other holdings in its purchase of Breckenridge Brewery.
There are more craft brewers than ever before, but there have also been more brewers kicked out of craft beer's club than at any point in history.
Two years ago, the Brewers Association craft beer industry group cut some slack to brewers who use maize, corn or rice as adjuncts in their brewing process by tweaking its definition of a craft brewer. Already flexed once in 2010 to raise the production limit for small brewers from 2 million barrels to 6 million to accommodate Samuel Adams producer Boston Beer, the definition's stance against the use of rice and corn as adjuncts in its "traditional" pillar was softened. That allowed the Brewers Association to finally welcomed brewers including Pottsville, Pa.-based D.G. Yuengling & Son (the oldest in the U.S., founded in 1829); St. Marys, Pa.-based Straub Brewing (1872); New Ulm, Minn.-based August Schell Brewing (1860); and Monroe, Wis.-based Minhas Craft Brewery (1845 as Blumer Brewing). That allowed craft beer to increase its overall volume 17.6% while increasing its share of the market to roughly 11%.
The Brewers Association changed its mission statement to reflect a new goal of 20% market share by 2020. By bringing Yuengling on board, BA just added a brewer that produced 2.7 million barrels in 2014. That said, it doesn't mean the Brewers Association is willing to bring in any brewery with less than 6 million barrels of U.S. production. The "independent" portion of its craft brewer definition still applies and still excludes any brewer selling more than a 25% stake of their operation to a member of the alcohol industry that isn't a craft brewer. That left out brewers like Fordham and Old Dominion, as those Delaware-based brewers are 49% owned by Anheuser-Busch InBev, the Craft Brew Alliance (whose Redhook, Widmer Brothers and Kona brands are 32.2% owned by ABI) and North American Breweries (whose Magic Hat, Pyramid and Portand Brewing brands are owned by Labatt importer Florida Ice and Farm). However, brewers like Full Sail, Oskar Blues and Firestone Walker -- which all sold last year -- are still considered "craft," since private equity firms and Belgian brewer Duvel Moortgat are all considered O.K. in the BA's eyes.
However, if you're purchased by a big brewer, that 25% stake is now the line of demarcation. Fall on or beneath it, as Athens, Ga.-based Terrapin Beer does with a sub-25% stake owned by MillerCoors, and you're still O.K.. Move above it or that 6 million barrel mark -- which Samuel Adams producer Boston Beer Company should hit in about three years -- and you're out. This year, a whopping seven breweries punched their tickets out of craft beer, thanks to acquisitions by larger breweries. Drinkers may still consider them craft and their new owners certainly think they're craft beer, but the Brewers Association thinks differently at this point:

Founders Brewing Company
Grand Rapids, Mich.
Sold to: Mahou San Miguel (30% stake)
This wasn't a complete buyout, but it was one of the first big shocks to hit the craft beer world in 2015.
Founded in 1997, Founders had growing into a more than 190,000 barrel operation behind the strength of beers including All Day IPA, Breakfast Stout, Dirty Bastard Scotch Ale, Centennial IPA and Kentucky Breakfast Stout. However, when founders Mike Stevens and Dave Engbers began thinking about their legacy, succession plan and the next 20 years, they began looking into options before linking up with the folks behind Spanish brewer Mahou San Miguel. They liked it as an opportunity to grow their operations with a little extra money, they likes the opportunity to increase their presence abroad, and they liked the idea of working with a family owned brewery.
However, the Brewers Association determined that Mahou didn't meet its criteria and officially kicked Founders out of the club. However, it waited until the deal went final, which just happened to occur after craft beer production numbers for 2014 were finalized.

Elysian Brewing Company
Seattle
Sold to: Anheuser-Busch InBev
This is the deal that pushed beer acquisitions from business ventures to full-scale dramas.
Opened in 1996, Elysian situated itself as an anti-establishment beer. It teamed up with Sub Pop Records on its Loser Pale Ale (with the now infamous Corporate Beer Sucks tagline), its co-founder Dick Cantwell was active with the Brewers Association and actively fought for small brewers and it produced bold, boundary-breaking beers like Space Dust IPA, Superfuzz Blood Orange and an entire line of pumpkin beers during the fall.
However, when Cantwell ran into an A-B rep at a conference and that rep prodded him about a deal, he did what he felt was the right thing and reported the new to co-founders Dave Buhler and Joe Bissaca. They were far more enthusiastic than Cantwell was about it, and the deal went final in January... just before A-B aired a Super Bowl ad for Budweiser mocking craft beer and "Pumpkin Peach Ale." Cantwell noted that his brewers had brewed Gourdgia On My Mind, a pumpkin peach ale, just a few months earlier. Cantwell turned away more money from A-B and left the company early. Elysian, meanwhile, has since expanded its availability to the East Coast.

Golden Road Brewing Company
Los Angeles
Sold to: Anheuser-Busch In-Bev
Founders Meg Gill and Tony Yanow only opened for business in 2011, but this IPA-heavy brewery was slated to brew 45,000 barrels this year before Anheuser-Busch InBev swept in back in September.
While Anheuser-Busch InBev had previously purchased Elysian, Oregon-based 10 Barrel, Long Island's Blue Point and Chicago's Goose Island, it had a noticeable blank spot on its map in California. This brewery's stylish tallboy cans and presence in relatively craft-devoid Los Angeles made it especially appealing, even if scrutiny of A-B's distribution practices was making California a little uncomfortable at the time. However, A-B wasn't the first brewer to make a deal in California this year.

Saint Archer Brewing Company
San Diego
Sold to: MillerCoors
MillerCoors bought its own young, IPA-heavy brewery in California earlier that same month.
Earlier in September, MillerCoors announced that it was buying Saint Archer after that brewery had spent just two years in business. With 35,000 barrels in sales, a prime location in craft-friendly San Diego, but only a modest attachment to the city after a series of missteps that included voicing support for the Los Angeles Dodgers, Saint Archer was considered a malleable steal at an estimated $35 million.
Besides that, it had something that Golden Road didn't: a gold medal for its White Ale from the 2014 Great American Beer Festival. That made MillerCoors confident enough to make its first craft beer acquisition since Miller bought stakes in both Austin, Texas-based Celis and Portland, Maine-based Shipyard in 1995. Granted, it ended up selling Shipyard and folding Celis five years later, but a whole lot has changed for Miller Coors during that span.

Ballast Point Brewing Company
San Diego
Sold to: Constellation Brands
Constellation Brands wasn't expected to be a huge player in the craft beer scene, but the right brewer came along. Founded in 1996, Ballast Point home to prestigious beers including Sculpin IPA, Big Eye IPA and Victory At Sea Imperial Porter and has a huge presence in California.
It was the perfect situation for Constellation Brands, which basically had the Grupo Modelo brands handed to it by the Justice Department after it found Anheuser-Busch InBev's $20.1 billion purchase of them in 2013 a violation of antitrust law. However, it had to shell out an estimated $1 billion in November to get its hands on a brewer that produced 123,000 barrels last year, produced arguably this summer's most sought-after craft beer in Grapefruit Sculpin and hinted that it might have to consider selling shares and going public to fund its expansion. Constellation Brands is publicly traded, all right, but Ballast Point likely never imagined it would end up in the same portfolio as Corona and Pacifico.

Lagunitas Brewing Company
Petaluma, Calif.
Sold to: Heineken NV (50% stake)
Its IPA helped create the West Coast IPA as we know it. Its beers, including Hop Stoopid, Little Sumpin' Sumpin' Ale and Brown Shugga, helped push the envelope and advance U.S. beer to the point it's reached today. Its founder served as one of craft beer's loudest advocates.
That's what made this brewery's September sale so perplexing. It had already pushed for more extensive distribution, it placed a brewery in Chicago and it made plans for another brewery that would push it well beyond the 1 million-barrel threshold. Founder Tony Magee has also been a vocal and vehement proponent of craft beer and opponent of large breweries and consolidation. However, despite scrapping with fellow craft brewers over trademarks and lambasting small brewers for selling to Anheuser-Busch InBev and others, Magee made the decision to sell half of his company to one of the largest brewers in the world based on his reading of the beer market going forward.
Magee calls it a partnership, but it's a succession plan with a huge multinational backer. It's a coup for Lagunitas but a big loss for the Brewers Association.

Breckenridge Brewery
Breckenridge, Colo.
Sold to: Anheuser-Busch InBev
Updated 1/7: Announced just before Christmas Day, this particular sale was a stunner. Founded 25 years ago in a state considered to be the cradle of the craft beer movement (the Brewers Association is headquartered in Boulder), Breckenridge was one of the standard bearers for Colorado's beer community.
However, the sale only gave A-B access to Breckenridge's portfolio, 35-state distribution, and 70,000 barrels of production at facilities in Breckenridge and Littleton. It did not include the other holdings of Breckenridge-Wynkoop LLC. That's kind of important, as it means that Anheuser-Busch InBev didn't get its hands on the Wynkoop brewery, founded in 1988 by a group that included current Colorado Gov. John Hickenlooper. It means the oldest brewpub in Colorado -- as well as Ale House at Amato's, Breckenridge Ale House, Breckenridge Colorado Craft, the Cherry Cricket, Mainline and Phantom Canyon Brewing -- all remainindependent.
This one stings for the BA and for craft beer hardliners not only for how much of Colorado's craft beer history was just sold, but whom it was sold to, but it could have been much worse.

Four Peaks Brewing
Tempe, Ariz.
Sold to: Anheuser-Busch InBev
When we featured Arizona-based Four Peaks in our March Madness bracket a few years back and among our best brewpubs in the country, it hadn't expanded its reach beyond Arizona.
That's going to change this year, after the 20-year-old brewery and its Kilt Lifter Scottish Ale leave the comforts of its multiple Arizona restaurants for more expansive distribution. Like Breckenridge, it produced about 70,000 barrels of beer last year and has an extremely high profile in its home state. Unlike Breckenridge, however, it never had the chance to show what it could do beyond that home state. This buyout gives Four Peaks a chance to break out and seek a bigger audience, but it also signals an end to its days as Arizona's little brewery that could.
This article is commentary by an independent contributor. At the time of publication, the author held no positions in the stocks mentioned.