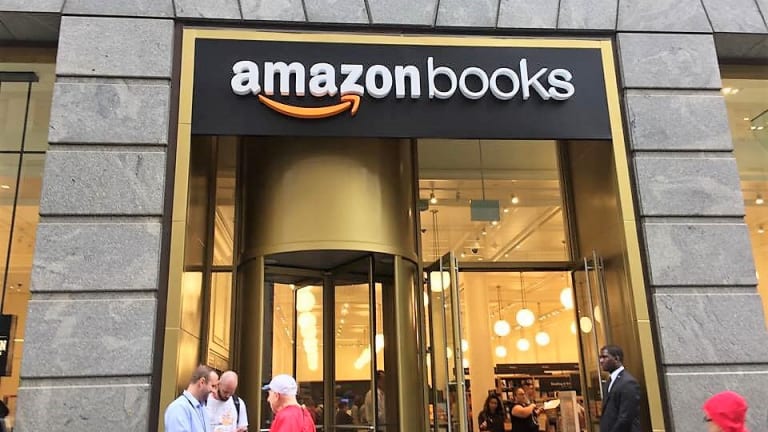 7 Cool Things You Can Buy at the New Amazon Books Store in New York
The new Amazon Books store offers so much more than a good page-turner.
Amazon  (AMZN)  has become a brick-and-mortar retail giant overnight. 
On Monday, Amazon's Whole Foods acquisition became official, giving it access to about 470 stores, and on Tuesday, the company opened its eleventh Amazon Books store at Herald Square in New York. This is the second Amazon Books store in the Big Apple and third Amazon Books store that features a coffee shop (after the Boston and Chicago location). The chain of bookstores has expanded rapidly considering at this time last year there was just a single location in Seattle, where the company is headquartered. 
In addition to this new store, Amazon Books has locations in Seattle, Wash., San Diego, Calif., Portland, Ore., Dedham, Mass., New York City at Columbus Circle, Chicago, Ill., Lynnfield, Mass., Paramus, N.J., Bellevue, Wash., and San Jose, Calif. Additional stores will open by the end of the year in Walnut Creek, Calif., and Los Angeles, Calif. 
The store located at 7 34th St. is about 5,200 square feet, which is larger than the 4,000 square-foot location at Columbus Circle. The cafe in the store sells coffee from Stumptown Coffee Roasters as well as a variety of pastries and snacks, including wraps and salads. The store features about 3,700 unique titles, some of which are organized in unique groupings, such as "Page Turners: Books Kindle Readers Finish in 3 Days or Less" or "Most-Wished-For-Books on Amazon.com." 
Amazon Books stores are another way that Amazon has improved the shopping experience for customers by providing a better way to discover good books, said Jennifer Cast, vice president of Amazon Books. The store only displays books that are rated 4 stars and above on its website as a way to offer top selections for customers. Cast said that the stores are not data driven or algorithmic. Instead, the books are chosen by its customers who rate the books online, as well as by Amazon Books curators that pick from the 4-star rated books. 
"Humans are choosing the books," she said. "And if the books don't sell, then they don't stay." 
Like Whole Foods stores, the Amazon Books stores also display the company's line of hardware products from the Amazon Fire TV to the Kindle line to the new Amazon Echo Show. The bookstores also display a wide variety of knock products that are also highly rated on Amazon.com. Here are seven of the most interesting products we found in the new Amazon Books store in New York.