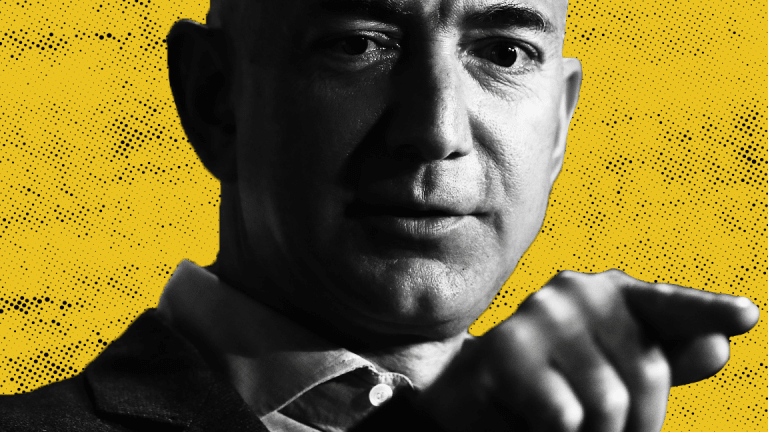 Publish date:
7 Bold Amazon Predictions for 2018
The new year could see Jeff Bezos' company expand in Latin America, raise Prime fees and strike another bricks-and-mortar deal.
The new year could see Jeff Bezos' company expand in Latin America, raise Prime fees and strike another bricks-and-mortar deal.
Amazon.com (AMZN) - Get Amazon.com, Inc. Report  followed up a strong 2016 with an even better 2017. Its e-commerce growth surged in the U.S. and (eventually) overseas, Amazon Web Services (AWS) continued growing at a 40%-plus clip and -- thanks partly to its $13.7 billion purchase of Whole Foods -- the company generally terrified retail rivals to an unprecedented degree.
Here are some thoughts on what 2018 might have in store for Jeff Bezos' company. As always, it's worth remembering that predictions like these rarely have a 100% hit rate.
1. Amazon revamps and expands its grocery delivery services.
The AmazonFresh service, which provides (depending on the time of the order) same-day or next-day delivery for thousands of grocery items, has been around for a while. But it's still only available in a handful of big U.S. and foreign metro areas, and isn't exactly cheap: Amazon charges U.S. Prime members an extra $15 per month for AmazonFresh, and a $10 delivery fee is attached to orders under $50.
The addition of Whole Foods' retail stores and distribution centers to Amazon's empire should pave the way for AmazonFresh's expansion. And by increasing Amazon's grocery scale and bringing order-fulfillment points closer to customers, they should improve the service's economics, which in turn should enable cuts to AmazonFresh's monthly fees and/or order minimums.
Amazon only closed the Whole Foods deal in August, so moves like this can't be expected right away. In addition, Whole Foods' partnership with grocery delivery startup Instacart, which on paper isn't due to expire until 2021, could complicate matters. But Amazon has indicated it wants to use Whole Foods to strengthen its online grocery efforts, and could be ready to make a move in a few months.
2. Amazon Prime sees a price hike.
Amazon last hiked Prime's annual U.S. fee in early 2014, when it was raised by $20 to $99. Since then, Amazon has significantly grown Prime's product selection and same-day/next-day delivery services, as well as invested billions in Prime Video and (to a lesser extent) other digital content services that are bundled with Prime. Along the way, it has gotten tens of millions of consumers hooked, relying on Prime for both their weekly shopping needs and much else besides.
While the psychological effect of raising prices above $99 probably needs to be accounted for here, it feels like the stage has been well-set for a 2018 U.S. Prime price hike. Prices could also rise in places such as Germany (€49, or $58) and Japan (¥3900, or $34), though it's worth noting Prime doesn't provide quite as much value in those locales.
3 Amazon gets serious about conquering Latin America.
In the past, Amazon's management has noted the company's international expansion has been limited by the amount of attention management is able to give at any one time towards the opportunities in front of it. That appears to explain why Amazon, which has devoted a lot of attention to expanding in Europe and India, remains only a small player in some major Latin American markets, and non-existent in others.
But things are gradually changing. Prime launched in Mexico in March, and Amazon is reportedly planning to open a major warehouse near Mexico City. In addition, an electronics marketplace for third-party sellers was opened in Brazil in October.
Look for larger moves in 2018. It's hard to imagine Amazon allowing MercadoLibre (MELI) - Get MercadoLibre, Inc. (MELI) Report to dominate a region with over 600 million people and a GDP north of $5 trillion forever.
4. India and advertising become major growth engines.
With the help of billions in local warehouse and logistics investments, Amazon has quickly joined local marketplace Flipkart as a top player in a burgeoning Indian e-commerce market. With its gross sales rising 67% last quarter, Amazon India appears to have been an important contributor to the 29% third-quarter growth recorded by Amazon's International reporting segment, and it should be a bigger contributor still to future growth.
Amazon's ad business, which shows e-commerce ads on both Amazon and third-party sites/apps, is also quickly becoming a key growth driver, thanks both to the popularity of Amazon's app and the mountains of customer data Amazon can use for targeting. The company's "Other" reporting segment, for which ads are the largest contributor, saw revenue rise 58% annually in constant currency last quarter to $1.1 billion. $6 billion in annual sales doesn't seem out of the question for 2018.
5. Amazon cleans up its seller marketplace.
In the U.S. and elsewhere, Amazon has grown its third-party seller base at a breakneck pace. Shoppers have benefited via greater product selection and -- due to competition among sellers for various items -- lower prices, while Amazon has benefited via high-margin revenue streams such as commissions, fulfillment services and ad sales.
But as Amazon's marketplace has swelled, quality control has become more challenging. Searches for popular items often yield an eBay-like (EBAY) - Get eBay Inc. Report barrage of similar listings (the same item, just from different sellers and at different prices), and reports of counterfeit merchandise sales and other unethical practices have grown considerably over the last two years.
Look for Amazon, whose obsession with the customer experience has much to do with its meteoric rise, to try harder in 2018 to police its marketplace and prevent dodgy sellers from setting up shop. As well as to keep the presence of many similar listings from damaging the shopping experience on its site and apps.
6 Amazon makes another bricks-and-mortar purchase.
This probably won't happen until Amazon has made more progress towards integrating Whole Foods -- for now, Amazon is still working on things like making Prime Whole Foods' rewards program and leveraging Whole Foods' assets for its grocery delivery efforts. But once such moves are finished, look for Amazon to go on the hunt for another bricks-and-mortar target.
As was the case with Whole Foods, look for Amazon to eye companies operating in markets for which a solid majority of sales are likely to remain offline in the coming years. Possibilities include dollar-store chains and gas station/convenience store chains. Drugstore chains are another one, but the fact that Amazon could use Whole Foods stores to set up pharmacies could act as a deterrent.
7 AWS sees more large enterprise migrations.
Amazon has already seen major enterprises such as GE and Capital One announce plans to shutter large data centers and move the workloads inside of them to AWS. It also handles much or all of the cloud infrastructure needs of Internet/cloud companies such as Netflix (NFLX) - Get Netflix, Inc. (NFLX) Report , Workday (WDAY) - Get Workday, Inc. (WDAY) Report , Zendesk (ZEN) - Get Zendesk, Inc. Report and Box (BOX) - Get Box, Inc. Class A Report .
As AWS' prices keep dropping and its massive feature set keeps growing -- November's AWS re:Invent conference brought dozens of new offerings, including alternatives to popular services from rivals -- we might be nearing a point where the number of enterprises that decide the arguments for shutting down data centers and migrating to AWS are stronger than the arguments not to do so grows meaningfully. At re:Invent, Amazon announced large new migration deals with Disney (DIS) - Get Walt Disney Company Report , Expedia (EXPE) - Get Expedia Group, Inc. Report and Turner. There could be quite a few additional deals along those lines -- some announced, some not -- over the course of 2018.
More of What's Trending on TheStreet: