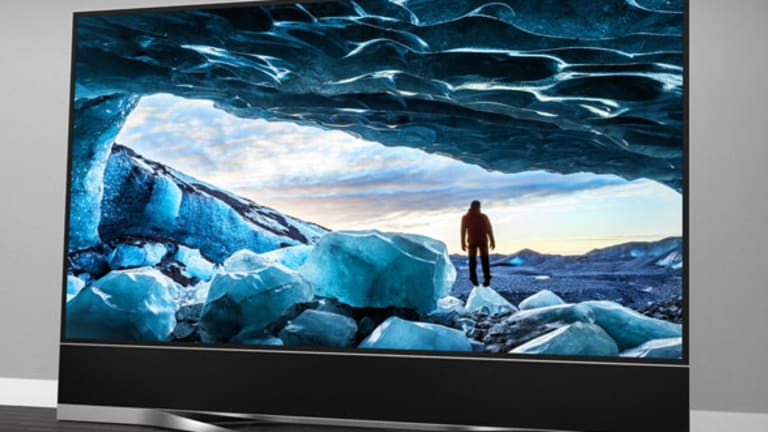 Publish date:
7 Best Smart TVs for 2015
These are a combination of high definition (or better) flat-screen TVs with built-in Internet access for added programming choices.
These are a combination of high definition (or better) flat-screen TVs with built-in Internet access for added programming choices.
NEW YORK (TheStreet) -- Smart TVs are capable of presenting high-definition or ultra-high-definition programming from over-the-air, cable, satellite, Blu-Ray and computers, as well as from apps.
Basically, smart TVs contain small computers, which handle tasks such as Internet searches, email and popular streaming services, including Hulu, Netflix (NFLX) - Get Report, YouTube (GOOG) - Get Report and Pandora (P) . Think in terms of having the features of a modern tablet computing stuff inside your HDTV.
Smart TVs come in either HD (1080p) or 4K (2160p) configurations. Although there are few examples of real 4K broadcasts, disks or data streams, 4K/UHD TVs should be even more popular in the near future. DirecTV (T) - Get Report is currently offering special 4K programming and a 4K DVR although, at the moment, the number of 4K titles available is limited. Cable systems aren't far behind with 4K offerings. In England, the BBC is currently preparing a 4K video channel to launch next year.
So, while 4K programming sources are limited, buying and using an Ultra-HD TV now is not a bad idea. Most of today's 4K models can "upscale" 1080p (or lower) signals to 2160p plus. When there's more native 4K programming, you'll be ready.
We've chosen our favorite models centered around 50-inch screens in a $1,000 (more or less) price range. Larger 4K smart TV models can cost a lot more (like the 105-inch LG selling for a few pennies less than $100,000.
Samsung J520D
Samsung's (SSNLF) latest line of smart HDTVs includes the J520D line. These are full-HD, flat-screen, color-enhanced LED, Internet-connected models, with 60 Hz refresh rates and the ability to play audio and video streams from your favorite Web sources.
You'll need to connect your TV to the Internet via Wi-Fi. You can also access portable devices, such as a smartphone or tablet. Your computer-style inputs include a USB port for a mechanical mouse as well as an on-screen keyboard.
Samsung smart TVs are beginning to utilize their own Tizen (Linux-based) operating system for Internet-connected functions.
The J520D series offers screen sizes from 40-to-50 inches. Retail prices for the line are yet to be announced.
Get the Samsung J520D on Amazon
Samsung JS9000
This is one of Samsung's next-generation, 4K smart TV, SJ9000 series, a curved smart TV.
Samsung's lays on the hype in its description of the devices with phrases like "redefines your TV viewing experience," "reveal a brighter, more true-to-life-picture" and promising you will "get drawn into the action with the 3D "state-of-the-art curved panel." I've seen a JS900 on display and I can vouch for the fact that the screen looks very, very good, but I'm not sure it was a life-changing experience.
The JS900 series comes in three screen sizes: 48 inches for $1,999.99, 55 inches for $2,499.99, and 65 inches for $3,499.99.
Get the Samsung JS9000 on Amazon
Vizio E55-C2
Vizio has made its reputation offering high-quality products sold at reasonable prices.
The E55-C2 is a full-HD, LED TV capable of displaying up to 1080p videos as well as wirelessly connecting to your Wi-Fi router for access to the Internet so you can stream both video and audio online programming sources. Vizio also offers a line of 2.1 and 5.1-channel sound bars for enhancement of your audio pleasure.
Vizio calls its Web platform Vizio Internet Apps Plus in association with Yahoo! (YHOO) Smart TV.
The E55-C2 currently sells for $599.99.
Get the Vizio E55-C2 on Amazon
Vizio M55-C2
Vizio's Ultra-HD M-Series TVs are new this year. The M55-C2, as you might guess is a Vizio 55-inch, 4K, Ultra-HD, full-array television.
The M55-C2's screen is packed with 8.3 million pixels and the TV actually upscales your usual cable or satellite, pushing it to 2160p from 1080p for the highest possible quality.
The M55-C2 currently retails for $899.99.
Get the Vizio M55-C2 on Amazon
LG 49LF7600
The LG line of smart TVs is somewhat special for two reasons: the company makes only ultra high-definition models and it uses WebOS, a mobile operating system it purchased from HP (HPQ) - Get Report a few years ago.
The 49-inch screened 49LF7600 boasts a 3840 by 2160 pixels resolution, TrueMotion 120 Hz refresh rates as well as HDMI connections that are capable of handling 4K/60P sources. LG says by using WebOS 2.0, its smart TVs are easy to learn and to master.
LG is currently offering the 49LFG7600 for $999.99.
Sony KDL-48R510C
New for 2015 is Sony's (SNE) - Get ReportKDE-48510C HD smart TV.
Sony remains one of the world's premier, high-quality television manufacturers on the planet. Its new 1080p, 48-inch screen model is the latest reason why Sony TVs are still highly valued by customers. Among other proprietary features, Sony says it uses Edge LED backlighting for increased screen contrast and its own system of Wi-Fi connectivity for access to the Internet-based Sony Apps system.
The KDE-48510C retails for $499.99 on Sony's Website, but you can also find it selling for even less on Amazon.com.
Get the Sony KDL-48R510C on Amazon
Sharp LC-50UB30U
Sharp (SHCAY) was one of the flat-screen TV pioneers, and it's still in the business of making some great-looking models -- for instance, its LC-50UB30U UHD product.
Sharp's 50-inch, 4K, 2160p TV boasts four times the quality of the company's Aquos models. Sharp calls its smart TV operating system SmartCentral which, in addition to other online features, also offers up to 4K/UHD streaming. There are three HDMI ports (many new TVs only have two), two USB ports, Wi-Fi, Bluetooth and much more.
The LC-50UB30U currently sells for $749.99.
Get the Sharp LC-50UB30U on Amazon
Disclosure: TheStreet has advertisers and partnerships; we may get a share of the revenue from your purchase.