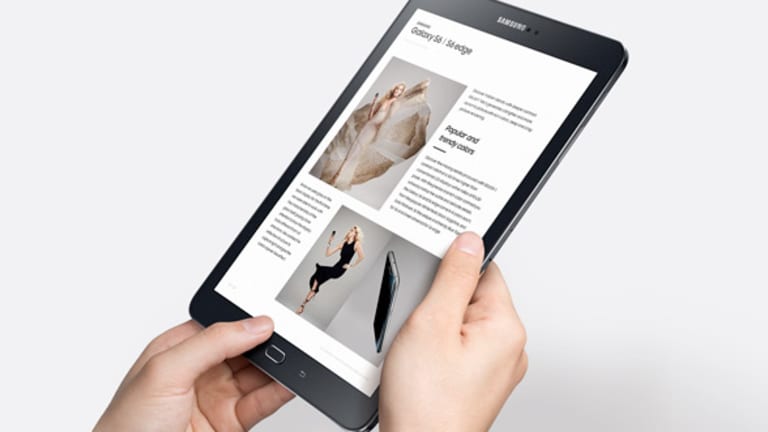 7 Best New Tablets of 2015
New designs from Apple, Amazon, Google and Microsoft could boost tablet sales during the holiday season..
NEW YORK (TheStreet) -- Tablet computers are getting bigger and smaller, cheaper and also more expensive all at the same time. That's a good thing, as it gives consumers more choices for their dollar.
They range in size from 7-inch to nearly 13-inch screens, come in a rainbow of different colors, have faster (in most cases) processors, more memory, run on numerous operating systems and sell anywhere from $50 to nearly $1,100.
Here are the seven best of the current crop of new designs. You can be sure they'll all be vying for your holiday shopping dollars in the very near future.
Apple iPad Pro
Bigger and bolder, Apple's (AAPL) - Get Free Report newly announced iPad Pro is aiming directly at business professionals.
It's Apple's largest iPad model to date. The Pro features a monster 12.9-inch, 2732-by-2048 resolution (264 pixels per inch), Multi-Touch display, a more powerful, 64-bit, A9X processor, 8 and 1.2 megapixel cameras back and front, Siri, Apple Pay and much, much more.
The Pro will be available in November with prices starting at $799 for the 32GB Wi-Fi model up to $1,079 for the 128GB LTE version.
Apple iPad mini 4
At the other end of its tablet lineup, Apple has redesigned its smallest model - the iPad mini 4.
Apple has chosen a stronger processor attached to a faster graphics chip, improved the cameras front and back, installed faster Wi-Fi and cellular modems, beefed-up security and, in general, improved everything.
The 10.4-ounce mini 4, with its 7.9-inch Retina display, is available in three colors and retails anywhere from $399 for a 16GB Wi-Fi-only model to $729 for 128GB of storage and Wi-Fi plus Cellular connectivity.
Amazon Fire
Amazon's (AMZN) - Get Free Report new Fire tablet is most notable for its price -- $50.
The new Fire offers an almost high-definition, 1024 by 800 pixels, 7-inch IPS touchscreen along with 8 GB of internal storage (plus a microSD card slot), and a 2 MP camera on the back and VGA quality shooter up front.
This is an Amazon Fire tablet so expect a very good tablet experience at a reasonable price. At $50 it's a no-brainer. Amazon is also offering an even better deal, allowing users to buy five tablets and get the sixth free. They'll be available at the end of October.
Google Pixel C
If the first two generation Pixel luxury Chromebooks laptops weren't enough, Google (GOOG) - Get Free Report (GOOGL) - Get Free Report is now offering an upscale convertible as well.
The new Pixel C is part tablet and part convertible notebook, similar to Microsoft's Surface.
Inside is a new NVIDIA (NVDA) - Get Free Report Tegra X1 processor, 3 GB of RAM, 32 or 64 GB of storage and a 10.2-inch, 2560 by 1800 pixels (308 ppi) touchscreen. It charges via a USB C port. The Bluetooth-connected wireless keyboard is optional.
And, like other Pixel models, the C is not cheap. Prices to range from $500-600.
Samsung Galaxy Tab S2
Samsung's (SSNLF) latest premium Android tablet is the Galaxy Tab S2.
Our recent review of the model with the 8-inch screen (there's also a 9.7-inch version) found a bright, clear display measuring 1536 by 2048 pixels (320 pixels per inch), 3 GB of RAM a fast processor. Overall, a great tablet computing experience.
Prices start at $400  and $500 for the larger model.
Asus ZenPad S 8.0
The AsusZenPad S 8.0 is really a super-sized version of the company's terrific ZenFone 2 smartphone.
That means it's an Android (5.0) tablet, with an 8-inch touchscreen, (instead of 5.5-inch on the smartphone), a 64-bit, quad-core Intel (INTC) - Get Free Report Atom processor plus a generous 4 GB of RAM and 64 GB of internal storage. We've found that both the phone and tablet are great performers.
Asus knows a lot about making quality tablets. Both generations of Google's Nexus 7 tablets (with 7-inch displays) were designed/manufactured by Asus.
Tablet prices start at $299.

Microsoft Surface Pro 4
Microsoft (MSFT) - Get Free Report is expected to announce a new Surface Pro tablet, in early October, during a flashy New York City event. New York. It's been more than a year-and-a-half since the unveiling of the last model, the Surface Pro 3 (pictured above).
With the addition of the new Windows 10 operating system a new Surface Pro 4 could be the one to watch. Experts believe the next Surface (or Surfaces) will have double the graphics processing power, screen sizes of 12 and 14 inches as well as your choice of 8 or 16 GB of RAM and much more.
That also means the current Surface Pro 3 models (read our review), terrific in their own right, could soon see discounted prices. Buyers will win either way.
This article is commentary by an independent contributor. At the time of publication, the author held no positions in the stocks mentioned.