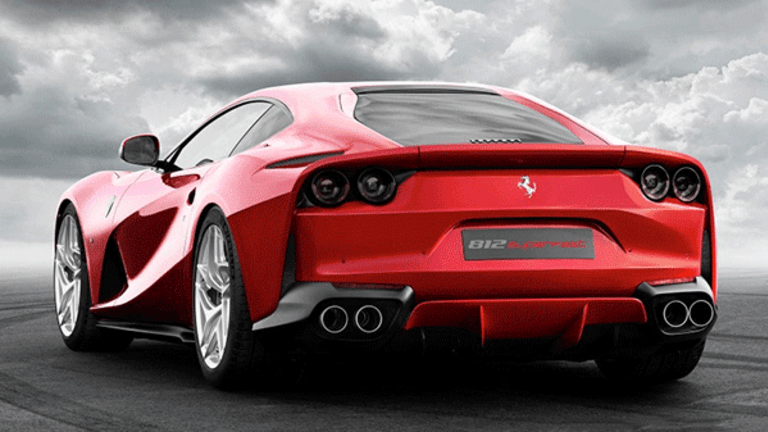 Publish date:
Ferrari Isn't the Only Super Luxury Car Brand Selling Like Crazy Due to a Surging Stock Market
With the stock market in full gear, luxury cars are having their moment in the sun.
With the stock market in full gear, luxury cars are having their moment in the sun.
Editors' pick: Originally published March 2.
Thanks to investors anticipating a business-friendly administration, the Dow Jones Industrial Average is setting new records. As a result, high net worth buyers seem to be celebrating by purchasing super luxury items such as real estate, art, and you guessed it — six-figure cars. 
Vehicle sales by Volkswagen's (VLKAY) Bentley, Ferrari (RACE) - Get Report ,  Maserati, Porsche, and Rolls-Royce jumped an estimated 18% since the election through January, compared with the same period in 2016, according to a recent WSJ article.  
"Demand has been very strong -- I always look at the S&P 500, and it's doing well, so I'm not surprised," Rolls-Royce North America President Pedro Mota told TheStreet when asked about the state of the U.S. luxury car market and demand so far for the new $300,000 plus Rolls-Royce Wraith Black Badge Edition. Mota says sales have gotten off to a good start this year, too.
Jim Cramer sat down Wednesday with four market experts to talk about how to play the Trump tax plan. Click here to check out their recommendations.
The perceived jump in wealth based on portfolio gains is called "the wealth effect" by economists, and affects those with higher stakes in the stock market. 
Another variable playing a factor in the sales boom in the luxury auto market are the notoriously limited production volumes. Cars that cost more than $250,000 are produced less to protect exclusivity and hey, fewer people can afford them anyway. Autodata estimates there were about 7,000 deliveries of Rolls-Royce, Bentley, Ferrari and Lamborghini autos in 2016 — and that's a lot. 
Let's take a look at how the uber wealthy are celebrating their new riches by seeing how much auto sales have jumped for particular luxury auto brands of late. Try to not cry.