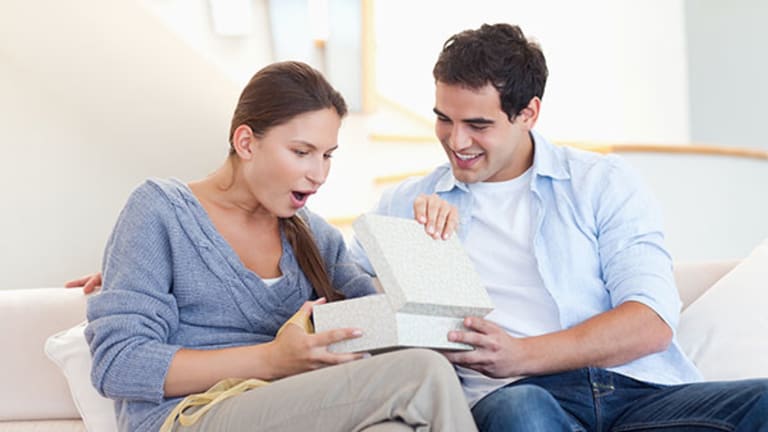 6 Retailers With Grinchy Holiday Return Policies
Though many retailers are getting better about being flexible with holiday returns, a select few make it harder on holiday shoppers than it has to be.
It can be difficult for obscure aunts, and even your spouse, to get it right every time when it comes to gift-giving. But which retailers are going to make it most difficult to rid yourself of that doozy of a bad gift in exchange for cash?
There's bad news all around on that front. Even with a short holiday shopping calendar, retailers haven't been so flexible with shoppers who began their holiday shopping early. That's been an increasingly frustrating issue as more shoppers pick up holiday presents early. The National Retail Federation found that roughly 40% of holiday shoppers planned on starting their shopping before November. In fact, more than 14% had finished 50% of their shopping or more by November 10.
Considering how unforgiving store return policies have been in recent years, that isn't great. Last year, a Consumer Reports holiday survey found that 43% of shoppers tried to return items in the six months prior to the holidays. Even before holiday return policies when into effect, 23% said they couldn't get their money back and could only get store credit. Some 11% had to pay shipping charges while 3% had to pay a restocking fee.
It doesn't help that average consumers are being punished for others' fraudulent returns. Because retailers say fraudulent returns accounted for $3.6 billion of all holiday returns last year, retail return polices are just about always in flux. However, Consumer Reports says there are a few ways to make the return process a bit easier.
First off, never take a gift out of its packaging unless you're 100% sure you want it. Retailers can impose a restocking fee (which often adds up to 15% of the product's cost), especially on electronic items. That's if they take them back at all. Meanwhile, computer software, CDs and DVDs aren't generally returnable once they're opened and any product with damaged packaging or missing tags is going to be a tough return.
Also, if you received a gift receipt, hang on to it. Many merchants will flat-out turn you away if you don't have a receipt and if your think asking the person who gave you the present for a receipt is gauche, then you're squandering your last chance to return that item. Also, even if you have a receipt, bring some government-issued identification with you if you're returning the item to the store. The stores card customers in an attempt to track down serial returners, who surprisingly haven't been purged from the system by now.
Even if you play by the rules and follow the above suggestions, you still might not get a full refund or exchange. In sifting through this year's return policies, we found 6 that left shoppers with unwanted gifts and a whole lot of resentment toward stingy retailers:

Sears
It amazes us. Sears stores haven't been updated since the '90s, stock is disheveled and being sold off brand-by-brand and management so distracted by finding buyers for its various parts that it shows almost no interest in getting its remaining customers to buy anything. Yet it takes absolutely no cues from its Land's End division, which allows returns and exchanges for any reason.
This store has never made returns easy and its multi-layered return policy dividing items into 30-, 60- and 90-day returns is actually considered an improvement. The holiday return policy only simplifies things somewhat. Items purchased between November 8 and December 24 with a standard 30-day return period, can be returned through Jan. 24. Items purchased between during that span with a standard 60-day return period can be returned up to 60 days from the date of purchase or by January 24, whichever is longest.
Great, but Sears's holiday return policy excludes floor care equipment, vacuums, major home appliances, sewing machines, water treatment, plumbing, heating equipment and items with return policy period less than 30 days -- including mobile phones. There's also a 15% restocking fee for furniture, grills, space heaters, opened electronics and other items. Christmas items aren't returnable at all after Christmas, and there are no exchanges or refunds without receipts. Meanwhile, you should be grateful for any refund you get: Sears outright refused them in years past.

Staples
If you didn't buy your loved ones a few reams of paper and some binders this holiday season, good luck with Staples's return-it-for-any-reason, full refund return policy.
For everyone else who shops here for electronics and furniture -- which you may know as gifts -- you can get refunds or exchanges only if you purchased those items between November 22 and December 24 and return them by January 16. That holiday return policy falls well short of most other retailers' deadlines, but also a fraction of the sales window allowed by said competitors.
Basically, any purchase made before Thanksgiving doesn't count? It's an improvement over the two-week window Staples allows for the rest of the year, but come on -- we're talking about a retail environment in which Amazon gives customers until January 31 to send back anything they bought after November 1. We realize it's a tough time in the bulk office supply business right now, what with Office Depot and Office Max trying to merge and Staples closing stores, but this doesn't help anyone.

Best Buy
Best Buy has made its returns a "perk" for a while now, but it's infuriating when the initial return policy is so stifling.
Best Buy only accepts returns of items purchased in November or December through January 14. We keep pointing out that Costco's return policy on electronic items extends 90 days from purchase, but it's not as if Best Buy is averse to the idea of longer deadlines: it just wants you to jump through hoops for the privilege. After joining the free My Best Buy program, you can reach Elite and Elite Plus status for an extended return and exchange period of 30 or 45 days, respectively, on most items. Not only that, but you can return or exchange mobile phones within 14 days for a full refund, regardless of whether you're a My Best Buy Elite or Elite Plus member, where the typical customer can't return them at all.
Granted, you have to drop at least $1,500 a year at Best Buy to be "Elite" or $3,500 to hit "Elite Plus." Considering you can become a Costco member for all of $55, Best Buy may be doing this club thing all wrong.

GameStop
Anyone who's bought a game here and tried to return it under normal circumstances knows that it's tough to do returns here any time of year. It isn't exactly surprising that the store doesn't make concessions for the holidays.
GameStop makes console returns a nightmare by making cash purchases of $150 or more subject to a refund by check issued from GameStop corporate offices -- 14 business days later. If you used any other form of payment, the only way to get a full refund is to bring back the item within 30 days of purchase. If that item happens to be a tablet, the window shrinks to 14 days. If it's a pre-owned item, slash it to 7 days with store credit available for the next 30.
That's only if you didn't open the packaging. New merchandise and tablets in opened packages aren't eligible for a refund, but you can swap it out for an item of equal or lesser value for 30 days. Considering the used game business isn't what it used to be, we're surprised there's any kind of return policy here at all.

RadioShack
The chain is bankrupt, the number of stores is dwindling and the future looks bleak. What were you doing shopping here for the holidays?
That said, the company's return policy was never great. You get 30 days to return an item. That's it.
If your gift giver shopped here on Black Friday, best of luck with that return. If your loved ones hit this store any time before mid-November, best of luck reselling that item. If you actually fall within that deadline, but your gift was purchased through RadioShack.com, you'll have to scrounge up the packing slip. If you don't have the slip or a receipt, you're getting a RadioShack gift card.
Oh, and that refund doesn't cover tablets, laptops, PCs, digital cameras, GPS devices and radar detectors, which only get a 14-day return policy. If Radio Shack didn't provide enough reasons not to shop there in 2015, this return policy should provide enough doubt about it for 2016.

ThinkGeek.com
We recommended it as a holiday shopping site, so we feel it's only fair to warn you about its return policy. The upside is that they'll take back any product 90 days after you bought it, unless it's noted on the product page. However, they'll only issue a refund to the original payment method, so no refund to you if it's a gift, and you'll have to provide the email address, first and last name, or last name and zip code of the gift giver if you want to make a return at all.
Some items require a 15% restocking fee, all items leave you on the hook for return costs and only apparel is eligible for exchange. At this treasure trove of Star Wars items, even a Jedi would have a hard time with returns.
This article is commentary by an independent contributor. At the time of publication, the author held no positions in the stocks mentioned.