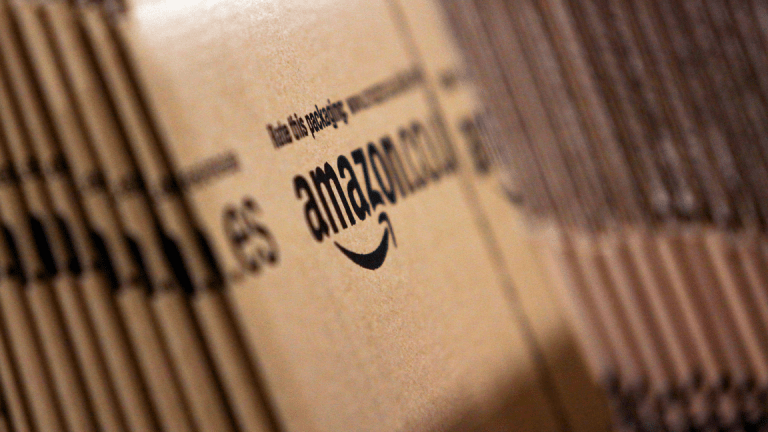 6 Reasons Amazon Is an Investor's Dream
Ahead of Amazon's earnings results on Thursday, TheStreet looks at why the tech giant is a still a great investment.
All eyes on Amazon's (AMZN) second quarter earnings on Thursday after Alphabet's (GOOGL) profit blowout.
Shares of the tech beast have skyrocketed 52% this year on the back of strong demand for cloud services, e-commerce growth and the ongoing death of physical retail. The stock has also been boosted by a stellar Prime Day, which positions Amazon to cash in this coming holiday season to an even greater extent. 
Even if Amazon lets investors down a bit with its second quarter results -- which is possible given sky-high expectations -- the stock will be hard to bet against. RBC Capital Markets analyst Mark Mahaney shares six reasons why Amazon investors should rest easy.
Digital Retail Is a Beast
It's an online shopping future.
"We anticipate that Online will continue to rise by ~100 basis points per year from the present 11% U.S. Online Penetration level," remarks Mahaney.
It's Amazon's World
"By our estimate, Amazon already accounts for roughly 20% of U.S. Online Retail Sales, but the company's strong mobile positioning and infrastructure advantages facilitating next-day and SDD (Same-Day Delivery) should allow Amazon to continue to take share," Mahaney says. 
Attention, Target (TGT) .
A More Expansive Business
Says Mahaney, "Prospects include consumer staples, apparel, international expansion, Amazon Web Services, digital media offerings, office/industrial supplies, and advertising. Certain opportunities (e.g., Amazon Web Services) should provide a boost to margins while others (such as international expansion and consumer staples) would likely provide expansionary headwinds." 
And who said Amazon wasn't a budding monopoly.
Profit Margin Upswing
Amazon's profit margins are always volatile quarter to quarter, but over time they are likely to head higher. 
"Margins should be able to expand back to the 2003-2010 average 6% level and to long-term levels in the high-single-digit % range," Mahaney thinks.
"We view scale, improved vendor terms, the ongoing mix shift to third- party (3P) sales-likely driven by Fulfillment by Amazon (FBA) and Prime and Amazon Web Services-as likely catalysts for gross margin expansion. Finally, each of the core opex lines (Marketing, Technology & Content, Fulfillment, and G&A) possesses the potential for long-term leverage driven by scale."
Top Management Team
Hard to beat Jeff Bezos. 
"We are positive on management given their consistency, operational and strategic track record, focus on innovation and customer service, and long-term shareholder orientation," Mahaney says. 
Financial Quality
"Even though Amazon has consistently traded at a premium valuation level (average forward price-to-earnings multiple of 35-40 times plus since 2007), its sector-leading forward earnings per share growth outlook and its high earnings per share quality (very high free cash flow conversion) warrant, in our opinion, a considerable market multiple premium."
Mic drop.
Jim Cramer's Action Alerts PLUS member club is bullish on Amazon's future. Here's why.