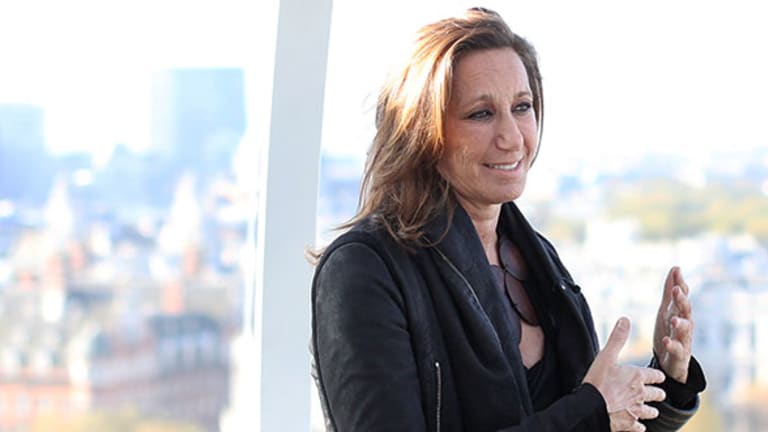 Publish date:
6 Fashion Superstars Who Have Transformed What Americans Wear
Donna Karan started a new era of style for professional women, Ralph Lauren took polo club prep to Main Street and the Gap's Don Fisher made khakis and tees fashionable.
Donna Karan started a new era of style for professional women, Ralph Lauren took polo club prep to Main Street and the Gap's Don Fisher made khakis and tees fashionable.
NEW YORK (TheStreet) -- Few designers have had as big an impact on fashion retail as Donna Karan, who announced this week she will step down as the head of the fashion label that bears her name.
Karan's wear-to-work separates dressed a generation of professional women in the late 1980s and 1990s, buying her mass-market label at her own stores, as well as at high-end department stores such as Saks Fifth Avenue and Neiman Marcus.
"You felt like when she spoke, she was speaking to you," said Marshall Cohen, a retail analyst at NPD Group. "That was a big difference in what she did -- she personalized the brand."
At a time when women faced a choice of power suits inspired by menswear or ruffled dress shirts, Karan's Seven Easy Pieces "capsule wardrobe" spawned innumerable copycats. Karan would later expand to street clothes via her DKNY brand.
But younger consumers have not gravitated to Donna Karan in the same way, and so the label is scaling back. Karan will still advise DKI with a hand in creative development as well as its licensing business. She will also continue work on her Urban Zen product line and its associated foundation.
DKI parent company LVMH Moet Hennessy Louis Vuitton's (LVMUY) portfolio also includes luxury brands Sephora cosmetics, Cheval Blanc hotels, Louis Vuitton fashion and TAG Heuer watches. LVMH purchased Donna Karen International for $243 million in 2001. DKI was first listed on the New York Stock Exchange in 1996.
Karan's exit recalls a few other icons whose style profiles set the agenda for shop windows and became the darlings of consumers. Here are a few other favorites.
Ralph Lauren
The Bronx, N.Y.-born designer has made multicolored collared dress shirts and cotton short sleeves emblazoned with the Ralph Lauren (RL) - Get Ralph Lauren Corporation Class A Report polo player logo a staple of American men's fashion. Starting in 1967 with a line of neckties sold at large department stores, Lauren expanded to full clothing lines for men and women and started to excel in sportswear.
In 1972, the designer rolled out the first crop of short-sleeved polos in 24 colors. The company has been publicly traded since 1997. Ralph Lauren now includes home, accessories and fragrance segments.


Mickey Drexler

J. Crew CEO Mickey Drexler has been called the "merchant prince" for his spectacular turn at the helm of Gap (GPS) - Get Gap, Inc. (GPS) Reportin the 1980s and 1990s, but he's also become known for making preppy cool again at his current gig. When he joined J. Crew in 2003, Drexler added a dash of sequins and a whole lot of brightly colored cashmere to a brand that had become austere. His efforts paid handsome dividends: The company reduced its debt by 92%, started to turn a profit and launched a successful IPO. TPG Capital and Leonard Green & Partners took the company private in 2011 for $2.6 billion, and there has been much speculation of a second IPO in the works.
The brand, however, has been losing popularity because of high prices and perhaps because it has strayed too far from its classic aesthetic. After reporting yet another drop in sales during its first quarter, the company cut 175 positions and announced it was replacing head of women's design Tom Mora. 


Don Fisher
The co-founder of Gap was among the first retailers to elevate everyday basics like jeans, khakis and a white T-shirt to the level of fashion. Donald Fisher and his wife started to sell Levi's blue jeans in San Francisco out of a single store in 1969 before beginning to produce their own apparel and going public in 1973. At its peak, the company had more than 1,400 stores in the U.S. and continues to market clothing through Banana Republic, Old Navy and other brands. But disappointing sales due to competition from online retailers as well as from H&M and Forever 21 have prompted the Gap to announce it will cut 175 underperforming stores.


Mike Jeffries
When Jeffries was CEO during the 1990s, Abercrombie & Fitch (ANF) - Get Abercrombie & Fitch Co. Class A Report made the transformation from the outdoor apparel maker it had been since it was founded a century earlier to a teen-oriented brand known for polos bearing its moose logo and the shirtless male models it splashed across shopping bags. The chain broadened its products to include underwear, home goods and more offerings for women, and its number of stores nearly tripled between 1992 and 1996.
Eventually, though, the chiseled torsos on A&F ads ceased to attract consumers, and Jeffries himself made a number of gaffes that hurt the brand and its sales. The CEO was haunted by a 2007 interview with Salon in which he declared that A&F's target demographic was exclusively "good-looking people" and weathered lawsuits claiming discriminatory hiring of store salespeople based on race, ethnicity and religion. Just as the 2014 holiday shopping season was under way, Jeffries retired under pressure from activist investor Engaged Capital.


Paul Marciano
The Los Angeles-based premium jean-maker Guess? (GES) - Get Guess?, Inc. Report owes its signature tight-fitting styles and supermodel-making ads to Moroccan-born fashion designer and co-founder Paul Marciano. Guess advertising campaigns featuring models wearing jeans and very little else made the likes of Anna Nicole Smith and Claudia Schiffer famous. After Marciano founded Guess in 1981 with his three brothers, the company went public in 1996.
But the brothers have  quarreled often, including a debate over whether the brand should be sold only in upper-crust department stores such as  Bloomingdale's or should trickle down to lower-rung retailers such as J.C. Penney (JCP) - Get J. C. Penney Company, Inc. Report. The 2007 departure of Maurice Marciano as co-CEO and key executive Carlos Alberini (now CEO at denim rival Lucky Brand) in 2010, combined with the recession, shook investors' confidence. Since then, same-store sales have fallen during the past three years, prompting some Wall Street observers to demand a change in leadership.