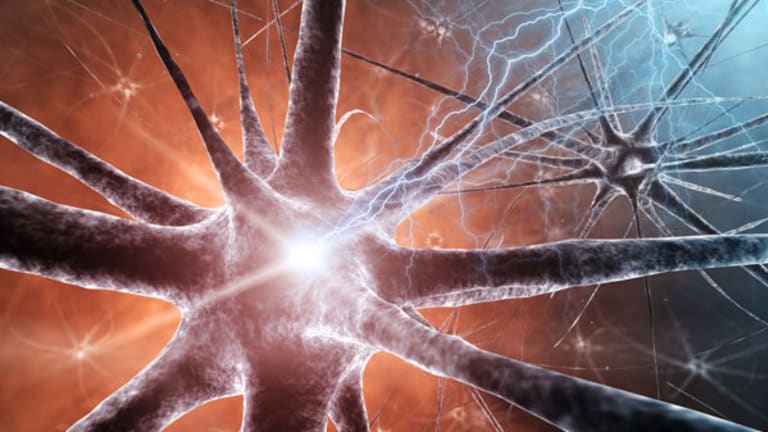 6 Drug Stocks Unworthy of Biotech Bull Market
The biotech sector is having a party but not all stocks deserve invites. Here's a list of over-valued or undeserving biotech stocks.
Updated with closing stock prices.
BOSTON (
) --Biotech stocks are off to their best start in more than a decade, with the Nasdaq Biotechnology Index (NBI) soaring 17% since the start of 2012, trouncing broader stock indices. Investors are riding a wave of unprecedented optimism following what seems like an avalanche of deals, early drug approvals and positive clinical news that has kicked off the year.
Biotech bull markets are fun but they turn quickly into biotech bubbles when ebullient investors get cocky and start believing that these risky, volatile stocks only go up. It may seem like a distant memory but it was only last August when biotech stocks tanked and the sector was un-investable. Don't believe biotech stocks will ever fall again? Guess again, they will. They always do.
Evidence of a biotech bubble abounds. My Twitter stream is turning into a raucous party of self-congratulatory tweets from traders who fancy themselves biotech stock-picking geniuses. More telling: Valuations in some high-quality stocks are starting to defy logic while the sector's garbage stocks are propelled higher on a noxious fuel mix of momentum, speculation and ignorance.
On the following pages, I take a look at
six biotech and drug stocks with valuations reaching unsustainable levels
or that, for various reasons, don't deserve an invitation to the biotech bull market party at all.
Cytori Therapeutics
(CYTX)
Stock return since Jan. 1: 96%
Cytori's base business of selling machines and related consumables that turn belly blubber into stem cell- enriched fat grafts for breast reconstruction and other soft tissue repair is hurting. While fourth-quarter results haven't been released yet, lower-than-expected sales in the third quarter and mounting losses offer little hope of a turnaround from what was a bad 2011.
Simply put, Cytori is having trouble convincing doctors in Europe and Japan to buy their expensive stem-cell fat graft machines. And even when doctors do buy the device, they're not using it very much, or at all, because procedures aren't being reimbursed. (Most likely because Cytori has yet to provide convincing clinical data to prove that stem cell-enriched belly fat is superior in any way to "regular" fat.")
The U.S. remains a closed market for Cytori because regulators here won't allow the company's machine to be sold without first demonstrating a real clinical benefit for patients.
Meantime, Cytori continues to burn cash and raise money though dilutive stock sales in order to keep its unprofitable business afloat. Simultaneously, the company is funding large, expensive clinical trials in indications like heart repair following heart attack that will take years to fully enroll.
Cytori shares closed Tuesday down 6% to $4.05.
Regeneron Pharmaceuticals
(REGN) - Get Regeneron Pharmaceuticals, Inc. Report
Stock return since Jan. 1: 84%
I was on the fence about including Regeneron on this list until the stock strolled past $100 per share Monday. I get it -- Regeneron has a newly approved and launched eye drug, Eylea, that's requires fewer inconvenient, uncomfortable (creepy?) eye injections than
Roche's
Lucentis (and repurposed, off-label Avastin) for treating age-related macular degeneration. But Regeneron is now valued at well over $9 billion. Even if Eylea does really well and brings in $1 billion in sales (not a sure thing by any means), Regeneron's valuation is bubblicious. Regeneron is the new
Vertex Pharmaceuticals
(VRTX) - Get Vertex Pharmaceuticals Incorporated Report
.
Regeneron shares closed Tuesday down less than 1% to $100.34.
Galena Biopharma
(GALE)
Stock return since Jan. 1: 168%
The prevailing "wisdom" seems to be that Galena is undervalued as a "phase III drug company" because investors have bestowed higher market values on other companies with products in late-stage clinical trials. Of course, this reasoning sidesteps the thorny question of whether or not Galena's "phase III drug" really belongs in a phase III trial. (At least, a phase III trial with a reasonable chance for success.)
The Galena drug in question is NeuVax, a cancer immunotherapy designed to stimulate the immune system in patients with breast cancer that express low levels of a protein known as Her-2. Similar patients who express high levels of Her-2 are typically treated with Roche's antibody cancer drug Herceptin.
Data from the NeuVax phase II study have been presented (and presented again) through so many updates and retrospective looks at various patient subgroups that the overall results -- NeuVax failed to significantly reduce breast cancer recurrence or improve survival -- have been virtually whitewashed. Instead, Galena pins its phase III hopes on assumptions culled from rosier retrospective looks at small subgroups of patients who were "optimally dosed" or who have low levels of Her-2 expression.
NeuVax isn't new. The therapy has been kicking around for years under the control of a private drug firm,
Apthera
, which conducted the earlier studies and drafted plans for the phase III study. Last year,
RXi Pharmaceutical
acquired Apthera in exchange for 4.8 million shares of RXi stock, worth a bit more than $7 million. At the time of the purchase, RXi had been focused (unsuccessfully) on developing RNAi therapeutics. RXi and its RNAi drugs are now gone, transformed into Galena with a more investor-friendly breast cancer immunotherapy moving into a pivotal phase III study.
How many high quality, late-stage cancer drugs get acquired for just $7 million?
Galena shares closed Tuesday down 20% to $1.01.
Human Genome Sciences
(HGSI)
Stock return since Jan. 1: 48%
If
Dendreon
(DNDN)
can turn around its reimbursement mess with Provenge, Human Genome can do the same with the lupus drug Benlysta. That's the essence of the Human Genome bull story, which has pushed the company's valuation back above $2 billion by a comfortable margin.
Dendreon has done a good job of getting Provenge back on course, or at least demonstrating some early evidence of a rebound with strong fourth-quarter 2011 sales. But has Human Genome done anything to suggest it can do the same with Benlysta? Not yet. Not even close. The company whiffed in the fourth quarter and analyst estimates for 2012 are still too high based on current prescription trends. Benlysta sales will improve (the drug's performance can hardly get worse) but Human Genome has a very long way to go before Benlysta sales reach a point where a $2 billion-plus valuation makes sense.
Human Genome shares closed Tuesday down 5% to $10.19.
Entremed
(ENMD)
Stock return since Jan. 1: 198%
A biotech bubble wouldn't be complete without a new crop of investors "discovering" Entremed, the cancer-drug developer made famous -- or infamous -- by a
New York Times
front-page article in 1998. The article claimed Entremed was curing cancer by discovering two compounds that starved tumors of their blood supply. Less noticed was that Entremed's research at that time was only done on mice. Unfortunately, mice are cured of cancer all the time, people not so much. Although the scientific thesis underlying Entremed's research was later vindicated by the success and approval Genentech's Avastin, Entremed's own anti-cancer drug research flopped.
Entremed's record of drug-development futility is hard to match yet the company survives, always short of cash, always transitioning or re-inventing itself every few years. And like clockwork, when a new biotech bubble comes along, investors who know nothing of Entremed's checkered history start buying the stock again, insisting that this time, Entremed will be a winner.
Entremed shares closed Tuesday down 8% to $2.60.
BioSante Pharmaceuticals
(BPAX)
Stock return since Jan. 1: 110%
All you need to know about the bio-bubble can be summed up in BioSante. Libigel, otherwise known as BioSante's attempt at developing a "female Viagra" is a total failure and is never coming back. BioSante partner
Teva
(TEVA) - Get Teva Pharmaceutical Industries Ltd. Report
settled a patent dispute with
Abbott
(ABT) - Get Abbott Laboratories Report
over Bio-T-Gel, a testosterone gel for male hypogonadism, which means the product isn't likely to launch in the near future even if FDA approves it on Feb. 14. If or when Teva does start selling Bio-T-Gel, royalties that flow back to BioSante are almost immaterial. Jefferies, for instance, models BioSante receiving less than $7 million in Bio-T-Gel royalties in 2015 based on $135 million in overall sales.
Libigel's a bust. Bio-T-Gel is irrelevant. That leaves BioSante's pipeline of cancer vaccines, which were picked off the ash heap from Cell Genesys years ago after trials in prostate cancer and lung cancer blew up. Likelihood of BioSante's making a real go in cancer vaccine development: Miniscule.
BioSante should shut down and return its cash to shareholders. That this failure of a company is surging this year is proof that a biotech sector sell off is coming. Get ready for it.
BioSante shares closed Tuesday down 18% to 86 cents.
>>To see these stocks in action, visit the
6 Drug Stocks Unworthy of Biotech Bull Market
portfolio on Stockpickr.
--Written by Adam Feuerstein in Boston.
>To contact the writer of this article, click here:
Adam Feuerstein
.
>To follow the writer on Twitter, go to
http://twitter.com/adamfeuerstein
.
>To submit a news tip, send an email to:
.
Follow
TheStreet
on
and become a fan on
Adam Feuerstein writes regularly for TheStreet. In keeping with company editorial policy, he doesn't own or short individual stocks, although he owns stock in TheStreet. He also doesn't invest in hedge funds or other private investment partnerships. Feuerstein appreciates your feedback;
to send him an email.