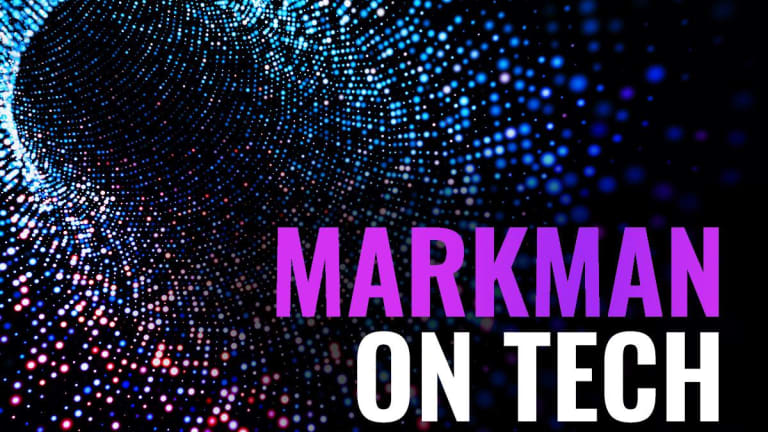 5G Spending Caution Presents a Good Opportunity to Invest in Crown Castle
Crown Castle International is one of the largest operators of cell phone towers in the United States and will be among the greatest beneficiaries of the current and eventual shift to 5G.
Cisco Systems (CSCO) - Get Cisco Systems, Inc. Report  reported less-than-stellar financial results a week ago, with the San Jose, Calif. maker of networking gear feeling the pinch of slow orders from carriers contemplating huge 5G systems.
From semiconductors to optical equipment and software, the order delays are causing weakness in all of the major 5G stock groups. Naysayers argue the hype is finally meeting with reality. They're wrong. This is an opportunity for investors.
For a long time, cable, phone and internet providers have had a last mile problem. Smart engineering brought more robust networks that scaled better. Unfortunately, getting all of that goodness to homes and businesses was still difficult. Crews of workers had to break up concrete to lay fiber optic cables. Technicians had to drill holes through walls.
5G is a world without wires, cables or compromises.
It will bring blazing fast connectivity with low latency, or lag. In some cases, that might be 1,000 times faster than the downloads speeds you're currently getting on your smartphone, and several hundred times faster than home WiFi.
Imagine lifelike virtual and augmented reality, city infrastructure optimized for energy efficiency, factories made more productive with preventive maintenance, rural hospitals improved with robotic surgery and connected and self-driving cars making highways safer.
5G isn't just the next generation of wireless connectivity. It is the foundation of the first generation of truly smart things. Billions of connected devices will begin communicating at a machine level.
It's an epic opportunity for investors to get in on the ground floor.
There are some near-term challenges, though. 5G isn't merely an evolution of 4G. It's something very different. The rollout will mean new antennae systems, switches and other hardware. And it is going to be extremely expensive.
Accenture (ACN) - Get Accenture Plc Class A Report , a global consulting company, estimated in 2018 that telco companies could spend $275 billion through 2025 getting their networks up to snuff.
That's only the thin end of the wedge, according to February research from Greensill, the world's leading non-bank provider of working capital. Analysts see telecom infrastructure spending surging to $1 trillion, with an additional $1.7 trillion needed for internet of things deployments.
Given the expense and complexity, telcos are understandably cautious. That's some of the resistance Chuck Robbins, Cisco's CEO, is experiencing first hand. Many carriers are delaying plans as they digest political upheaval in Britain and the ongoing U.S.-China trade war, according to a report from the Financial Times.
However, delay is not curtailment. Ultimately, carriers may have no choice.
McKinsey & Co., a management consulting firm, predicted in a Feb. 2018 report that telcos in many countries must upgrade to 5G because their current business models are unsustainable. Network traffic is overtaxing existing cell towers, leading to poor performance, and analysts have suggested adding capacity with new small cell networks, which are small arrays of radio equipment mounted on telephone poles, low rise buildings etc. These small cell networks are also integral to providing 5G because the new technology needs many more radios to be effective since 5G signals don't travel as far.
Crown Castle International (CCI) - Get Crown Castle International Corp Report is one of the largest U.S. operators of cell phone towers and small cell networks supported by fiber. The business, operated as a real estate investment trust, looms large over the segment, with 40,000 towers and 87,500 miles of fiber. 
That kind of massive scale is a huge advantage, and the same is true for Crown Castle's top big-cap rivals, American Tower (AMT) - Get American Tower Corporation Report and SBA Communications (SBAC) - Get SBA Communications Corp. Class A Report .
Crown Castle, based in Houston, has been around since 1994, but it was 2007 when managers began to focus exclusively on corporate strengths. They doubled down on the United States, beginning to aggressively expand its business footprint and using leverage.
The strategy was prescient. It was founded on the idea that Crown's collection of towers, small cells and fiber networks would prove indispensable as carriers brought more devices, machines and things online.
Today the company gets about 84% of its revenues from AT&T (T) - Get AT&T Inc. Report , T-Mobile (TMUS) - Get T-Mobile US, Inc. Report , Verizon (VZ) - Get Verizon Communications Inc. Report and Sprint (S) - Get SentinelOne, Inc. Class A Report . Because cell tower infrastructure is limited, major carriers compete fiercely for capacity, paying large sums to CCI and its rivals to use their towers.
And building super valuable small cell networks is less fragmented than you might think. Crown is dominating that market by forming relationships with municipalities. It now has properties in every leading market in the U.S.
Sales reached $5.35 billion in 2018, a 25% increase year over year. Crown managers also raised guidance for 2019, citing tight markets and rising rents. And the dividend yield is 3.5%.
The stock has also been a big winner, rising 27% in 2019, but the best is yet to come. 5G is not hype. It's the beginning of a world with more connected, smarter things. Crown is cornering the market on the infrastructure needed to make that happen.
Growth investors should consider buying the shares into any weakness.
 *
To learn more about Jon Markman's recommendations at the crossroads of culture and technology, check out his daily investment newsletter Strategic Advantage. To learn about Markman's practical research in the short-term timing of market indexes and commodities, check out his daily newsletter Invariant Futures.
The author of this column owns shares of Crown Castle International and Accenture.