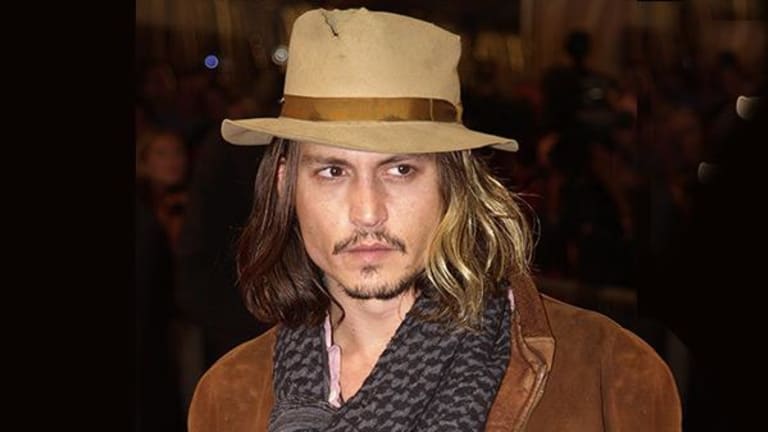 Johnny Depp and 11 Other Celebrities Who Have Badly Mismanaged Their Money
Johnny Depp isn't the first celebrity to mismanage his money.
Johnny Depp isn't the first celebrity to mismanage his money.
Editors' pick: Originally published Feb. 2.
Johnny Depp isn't the first celebrity to mismanage his money.
Depp's former managers claimed in a lawsuit countering the actor's own suit earlier this year that the "Pirates of the Caribbean" star spends an extravagant amount of money on staff, real estate and even wine. Court documents obtained by The Hollywood Reporter say Depp lives a $2-million-a-month lifestyle and lists excessive splurges including $75 million on 14 residences, $18 million on a luxury yacht and $30,000 per month on wine.
"Depp lived an ultra-extravagant lifestyle that often knowingly cost Depp in excess of $2 million per month to maintain, which he simply could not afford," writes Michael Kump, the attorney representing The Management Group, Depp's former managers. "Depp, and Depp alone, is fully responsible for any financial turmoil he finds himself in today."
The countersuit also claims Depp paid more than $3 million to blast the ashes of author Hunter S. Thompson over Aspen, Colorado with a specially-made cannon.
Depp, 53, sued TMG in January alleging "gross misconduct" resulting in the loss of tens of millions of dollars. He is seeking at least $25 million in damages.
Regardless of whose fault it is, Depp is clearly having some money problems. And he wouldn't be the first celebrity to suffer such a fate. A number of stars have had major financial issues over the years.
Depp isn't at the point of bankruptcy, but if he were to get there, he wouldn't be alone.
Disney (DIS) - Get Report founder Walt Disney's first film company was Kansas City, Mo.-based Laugh-O-Gram Studios, which went bankrupt in 1923. Ford Motor Company (F) - Get Report creator Henry Ford saw his first enterprise go bankrupt at the turn of the century, and H.J. Heinz, the founder of the company that was just combined to create Kraft Heinz Co. (KHC) - Get Report , had an early bottled horseradish business that went under following a financial panic.
Here are 11 celebrities who have gone broke over the years:
50 Cent
Court documents filed in July 2015 revealed that the rapper, whose real name is Curtis James Jackson III, filed for Chapter 11 bankruptcy protection. The documents said Jackson's assets and liabilities are in the $10 million to $50 million range.
The move comes in the wake of a jury ruling earlier in the month ordering 50 Cent to pay a woman $5 million over a sex tape. The woman said the rapper had acquired a video of her and her boyfriend and then posted it online.
It also marked a steep fall for the creator of Get Rich or Die Tryin,' given that Forbes in May of that year estimated his net worth to be $155 million.
Kim Basinger
Actress Kim Basinger was hit with a major lawsuit in the early 1990s after she backed out of an agreement with Main Line Pictures to appear in the 1993 film Boxing Helena. After a court ruled against Basinger and ordered her to pay the production company $8.1 million, she filed for bankruptcy protection in 1993.
Basinger's financial situation was further complicated by her 1989 purchase of the town of most of the privately owned land in the town of Braselton, Ga. for $20 million with a group of investors. Their goal was to build movie studios and a site for a film festival, but she and her partners were eventually forced to sell off the town in pieces.
In 1995, Kim Basinger took issue with an article in The New York Times titled "The Basinger Bankruptcy Bomb" that discussed her financial troubles and described Braselton residents as suffering economically from her bankruptcy filing. She called the piece "carelessly reckless and deliberately defamatory," and her lawyers sent a letter to the newspaper "to correct false implications."
Toni Braxton
R&B singer Toni Braxton has had not one but two bouts with bankruptcy, first in 1998 and again in 2010.
In a 2012 interview, she explained that she felt she had let her fans down by filing for Chapter 7 bankruptcy protection for a second time. "Because you're supposed to be smarter," she said. "People expect for you to be smarter."
Braxton has since settled her debts, though doing so entailed losing the rights to 27 of her songs.
Francis Ford Coppola
Francis Ford Coppola has made some of the most iconic films in history, including The Godfather trilogy and Apocalypse Now. But despite his numerous box office successes and millions of dollars made, the director has struggled with finances.
Coppola filed for bankruptcy three times over the course of a decade following the release of 1982 film One From the Heart. The romance film cost $27 million to make but earned only $4 million and, according to the Los Angeles Times, triggered a "series of complicated financial transactions" that left Coppola owing partner and co-producer Fred Roos $71 million.
In a statement at the time, Coppola said, "This bankruptcy filing closes the book on a complicated decade-long series of financial and legal problems arising from the making of One From the Heart in 1982. It will finally let us resolve all remaining debts and obligations stemming from this film and enable me to focus my attention to current projects."
Coppola's last bankruptcy protection filing, made in 1992, covered himself, his wife Eleanor, and two of his production companies. Assets were listed at $52 million, and liabilities at $98 million.
Janice Dickinson
Janice Dickinson filed for bankruptcy in 2013. According to the New York Post, court documents revealed that the self-professed original supermodel had accumulated nearly $1 million in debt, including unpaid taxes and doctors' bills.
She confirmed the maneuver to Internet publication Radar Online. "I had some trouble, so yes, it is true," she said. "I am upset and taking every step to pay everyone back and I feel terrible about it."
M.C. Hammer
M.C. Hammer's U Can't Touch This topped the charts in 1990, but the rapper's fortune didn't last long. Just six years later, he was broke.
Though he made more than $30 million in the early '90s, excessive spending -- including maintaining an enormous entourage and buying an enormous mansion -- eventually did him in. Hammer, whose real name is Stanley Kirk Burell, filed for Chapter 11 bankruptcy protection protection alongside his wife, Stephanie, in 1996. He had more than $13 million in debt. "My priorities were out of order," he said in an interview with Ebony magazine.
M.C. Hammer has since bounced back. He is now an ordained minister, entrepreneur and investor.
Larry King
Larry King has amassed a multimillion-dollar fortune in his decades-long career as a host and broadcaster. But many years ago, he appeared to have lost it all.
King rose to fame in Miami in the 1950s and 1960s. But when he was arrested and charged with grand larceny in 1971, he took a major hit. Even though a judge threw out the larceny charge, King struggled to get his career and finances back on track.
With around $350,000 in debt, King was forced to file for bankruptcy in 1978. That same year, he began hosting a coast-to-coast late-night radio talk show on the Mutual Radio Network. The program eventually transformed into the "Larry King Live" show on CNN, which he hosted from 1985 to 2010.
Willie Nelson
In 1990, the Internal Revenue Service raided Willie Nelson's home and seized nearly all his assets. The reason: The country star owed $16.7 million in back taxes, penalties and interest.
Instead of filing for bankruptcy protection, Nelson and his lawyers struck a unique deal for him to pay off his debt, including an album titled The IRS Tapes: Who'll Buy My Memories?, the proceeds of which were to be shared with the IRS. He also auctioned off some of his memorabilia.
The singer remained optimistic throughout the ordeal. "I had a lot of things I owned, I needed to get rid of," he said. "I had a lot of people around and needed to back off and stop supporting half the world so I could stop and look at my situation. It's given me time to take inventory."
Willie Nelson settled his debts in 1993.
Burt Reynolds
Burt Reynolds raised eyebrows in 2014 when he began auctioning off his movie memorabilia, but the iconic actor insisted it wasn't because he was in dire straits.
"I want everyone to know that contrary to what all the news outlets are saying, I am not broke," he said, according to ET. "Quite frankly, I am sick of so many pictures of myself in my own home."
Whatever his reasons for selling off his things in 2014, Reynolds is no stranger to money troubles.
He filed for bankruptcy in 1996, claiming more than $10 million in debts. The case finally closed in 2007. Reynolds also faced foreclosure in 2011 for a 3.4-acre estate in Florida.
Mike Tyson
Mike Tyson made millions and millions of dollars during his boxing career, but by 2003, he could no longer pay his bills.
A bankruptcy filing revealed he had $27 million in debt, including $13.4 million owed to the IRS, $4 million to British tax authorities and thousands of dollars to numerous parties, including lawyers, his financial manager and even a former trainer.
"I have been in financial distress since 1998, when I was burdened with substantial debt to Showtime, taxing authorities and parties to litigation," he said in an affidavit. "Since that time, although my fight income, various asset sales and litigation recoveries have enabled me to pay a lot of my debt, I am still unable to pay my bills."
Dionne Warwick
Facing more than $10 million in tax debt dating back more than two decades, 1960s songstress Dionne Warwick filed for bankruptcy protection in 2013. Her Chapter 7 filing revealed she had only $1,000 in cash at the time.
"Due to several consecutive years (the late '80s through the mid '90s) of negligent and gross financial mismanagement, Dionne Warwick has realized the current necessity to file personal bankruptcy," her publicist, Kevin Sasaki, said in a statement, according to CNN.
In a Rolling Stone interview, Warwick's attorney, Daniel Stolz, blamed the singer's money issues on a business manager who had mismanaged her affairs. "Before she knew it, she owed a gazillion dollars in taxes," he said. "She's actually paid more than the fact amount of the taxes, but with all of the crazy interest and penalties they add, the number kept mushrooming -- even though she paid off the amount that she owed in terms of actual taxes."
This article is commentary by an independent contributor. At the time of publication, the author held no positions in the stocks mentioned.