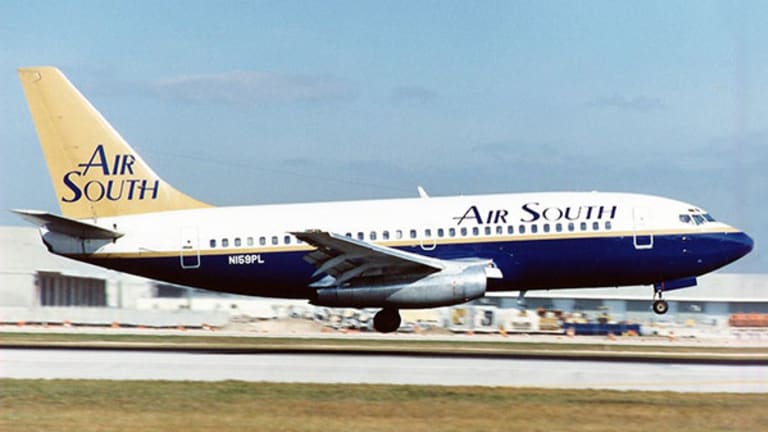 5 Worst U.S. Airlines of All Time
Five airlines stand out as the worst U.S. airlines of all time, a result of flawed models, flawed execution and often terrible operations.
CHARLOTTE, N.C. (TheStreet) -- A day of East Coast thunderstorms in July could lead to massive delays in Charlotte, possibly stranding hundreds of connecting passengers in the airport overnight -- or even longer -- as they await seats on nearly full aircraft. Some might then decide that the US Airways division of American (AAL) - Get Report is the worst airline in the world.
But that is not what we looked for in compiling a list of the five worst U.S. airlines of all time. Rather, we looked for airlines with flawed models, failed execution and, in some cases, severe operational deficiencies.
Despite occasional bad days, American and US Airways and other existing major airlines are not candidates for such a list. Their models obviously work and their execution is generally good, even if they remain hypersensitive to weather events and often, given high passenger loads that were unimaginable a decade ago, unable to quickly accommodate passengers whose flights are disrupted.
Flying Between the U.S. and China Is Booming -- Too Bad It's Not Profitable
How Delta Plays Politics in Washington: Who Needs Eric Cantor?
United Pilots: We Flew to Chengdu on a Boeing 787 and Loved It
Why Alaska Air Shares Could Soar Anther 15% to 20% This Year
To assemble the list of the worst ever, we consulted with about a half dozen people who are airline-obsessed. They included airline columnist Joe Brancatelli, airline consultant Bob Mann, Dallas Morning News airlines reporter Terry Maxon and others, some who are employed by airlines -- and who asked not to be named.
The bias was in favor of airlines that I personally covered. In fact, while they were operating, I interviewed top executives at all five. The executives all assured me that their airlines would succeed, even though in four of the cases airline experts were actively arguing that the chances for success were nil.
The exception was ValuJet, a success for a time, but one based on a flawed model where maintenance was outsourced and unable to accommodate the extremely rapid growth.
Importantly, as Mann said, in every case of a failed airline, "The saddest thing is you had employees who tried very hard to resolve what you knew and they knew to be problems. They were articulate about it and they communicated it, but for a variety of reasons management wasn't up to the task of listening or up to the task of fixing it.
"Either the strategy was bad or the management was bad or things just didn't work out," Mann said.
One of the executives, Air South Chairman John Tague, went on to become president of United (UAL) - Get Report, where he became known as a leader with a love for the industry and a willingness to communicate face-to-face with employees at all levels.
Maybe working at Air South helped make him that way.
Here is our list, which begins with Air South.

Air South

In the small Columbia, S.C., office that John Tague occupied as Air South chairman, a door to the tarmac just outside was locked with a wooden board inserted into metal brackets. The walls were cinder blocks, decorated only by three children's drawings. To block out the sound from an air compressor outside, Tague had to close the window.
It was a humble office for a humble airline. Air South was started by an entrepreneur who preferred St. Petersburg, Fla., but located in Columbia because South Carolina offered $17 million in incentives,
By October 1996, when I visited, Air South seemed to have done everything wrong. It has lost $30 million in two years, including the taxpayers' $17 million. Envisioned as a low-cost carrier, its per-mile costs exceeded those at most major carriers. It ran through three CEOs before Tague arrived. It had changed routes with alarming regularity. Its on-time performance has dipped below 50%, while the percentage of scheduled flights that actually took off had dipped below 80%.
Tague, who grew up in the airline business, was considered an industry veteran at 34 years old. "I wouldn't have stepped in the front door if I couldn't be successful," he said. "We think we can create a good, medium-sized company that sticks to its knitting, provides a good place to work and makes a profit."
This did not prove out, despite Tague's best efforts.
Air South began flying in August 1994. The plan was to serve the Southeast, especially Florida, from a Columbia hub, with a fleet of Boeing 737-200s. Eventually, the fleet grew to seven airplanes. Air South filed for bankruptcy protection in August 1997 and liquidated two months later.
"The legacy of Air South will be that you couldn't rely on it and it wasn't on time," Tom Volz, the vice president of marketing who helped found the airline in 1994, told TheState newspaper in a 1997 post-mortem. "We were like the town drunk who, every six months, would promise to sober up and then, inevitably, fall off the wagon."
Among the problems: Columbia simply was not big enough to be an airline hub. Air South tried to cut costs on maintenance, but ended up spending excessive amounts for maintenance back-up, including payments to US Airways to carry its passengers when it couldn't fly. The airline's plan kept changing as the airline ran through five top executives, each of whom spent money to make changes.
"Ultimately, Air South became known for a constant string of delays and cancellations that eroded customer confidence," TheState reported. "That, coupled with skyrocketing costs, made Air South a failure -- and a case study of the risks of investing taxpayer money in a private business."


Braniff 3

What most distinguishes Braniff 3, among all of the bad airlines of the recent past, is that it was fraudulently run. Two of its owners eventually went to jail.
The carrier began flying in July 1991 and folded in July 1992. During its brief life, it operated as a low-fare carrier, with a fleet of six Boeing 727s and one McDonnell Douglas DC-9. Based in Dallas, Braniff 3 offered about 40 daily flights on a mishmash of routes, with an emphasis on Florida and the Caribbean from bigger cities including Boston, Dallas, Los Angeles and Newark. It also served MacArthur Airport in Islip, N.Y.
The strategy had problems. Sometimes, competitors offered lowered fares. Also, Braniff 3 service levels were bottom-of-the-barrel. Phone lines to reservations were often jammed and airport lines were long because agents had to write tickets by hand, given their lack of electronic ticket printers, according to a New York Times article in April 1992.
"So high (was) the frustration level of people bumped from oversold flights that riots nearly broke out among angry Braniff passengers" at MacArthur Airport, the newspaper said. Later, ticket printers were installed at all airports.
Braniff 3 shut down abruptly on July 2, 1992, the day before a heavy holiday travel weekend began and also the day before employees were to be paid. About 7,000 Braniff passengers were stranded.
Braniff 3 operated under bankruptcy court protection for much of its existence. After the shutdown, the U.S. Trustee asked the court to install a trustee in place of Jeffrey Chodorow and Arthur Cohen, the airline's principal owners. In 1996, Chodorow, who later became a prominent restaurateur, spent four months in prison for obstruction of justice in a federal investigation of Braniff' s collapse, according to The Times.
Chodorow pleaded guilty to two counts of obstructing justice for providing a false affidavit about the improper involvement of a partner in the management of the airline. That partner was Scot Spencer, who was convicted of bankruptcy fraud and sentenced in 1996 to a 51-month prison term.
In recent years, Spencer surfaced in San Bernardino, Calif., where "in a move that still baffles us, persuaded elected officials there to give in millions of dollars in contracts to develop the former Norton Air Force Base into a commercial airport," aviation consultant Scott Hamilton wrote on the Leeham News Web site.
In March 2013, Spencer was arrested on various criminal charges, including conspiracy to commit grand theft, after a long investigation of business dealings at the San Bernardino airport authority, The Press-Enterprise reported.
The Braniff name had a long life. Braniff was founded in 1928 and shut down in 1982, an early victim of deregulation. Braniff expanded extremely rapidly at a time when oil prices rose rapidly. As a symbol of its miscalculation, in the early 1980s, its "747 service from the new Boston hub did poorly, with huge planes flying nearly empty," according to Wikipedia.
Braniff 2 represented an effort by Chicago investor Jay Pritzker to restart the historic carrier. It lasted from 1984 until 1989, when it again filed for bankruptcy protection. Chodorow headed a group that bought out Pritzker in 1990. Subsequently, Braniff emerged and then filed for bankruptcy protection in 1991.
 In April 1992, I interviewed Chodorow for The Miami Herald. "We want to be the lowest-cost alternative," he said, adding: "The thing I learned from my last experience at Braniff is that if one flight is good, two are not necessarily better." He said he had bought a Houston-based airline called Emerald Air and used its operating certificate rather than Braniff's -- which some viewed as an effort to avoid Braniff's union contracts -- and he said he raised the number of incoming lines to the reservations center to 400 from 100.
 "If we could answer all our calls, we wouldn't have a single flight go out with a single empty seat," Chodorow told The Herald.
 In the late 1980s, Braniff took over an Airbus order from Pan Am. America West subsequently acquired a half dozen A320s that were delivered to Braniff. Today, the airplanes fly for American/US Airways.

Independence Air
Independence Air was seemingly started in the interest of revenge. It might as well have been called Revenge Air.
For a few months in 2004, Independence rapidly built a hub at Dulles International Airport, where its former partner United also had a hub. Eventually, the two carriers were each offering about 300 daily departures, with United matching fares that fell as low as $29. Many of the Independence Air departures used 50-seat regional jets with high per-passenger costs.
History shows that this battle was not well-chosen by Independence.
Until June 2004, Independence predecessor Atlantic Coast Airlines operated as a commuter feeder, primarily for United, and chalked up steady profits. Then United sought to negotiate a cheaper contract in bankruptcy court, and Independence Air CEO Kerry Skeen balked. Before its bankruptcy filing, United allowed Atlantic Coast profit margins of 15%, but in bankruptcy court, United offered 8% to 9% profit margins, Mesa Airlines CEO Jonathan Ornstein told The Charlotte Observer in August 2004. Mesa was also a United Express carrier.
In response, Independence rapidly dropped almost all the commuter flying and became a low-fare carrier dependent on explosive growth. Between June and August, the fleet of 87 regional jets was converted from United Express to Independence Air service.
"It's painful right now, (but) we didn't have a choice," Skeen said in August 2004, when I interviewed him for The Charlotte Observer. "If I designed this on a clean sheet of paper, we would have taken it at a slower pace."
In a 2005 column at JoeSentMe.com, Airline commentator Joe Brancatelli called Independence Air "the dumbest airline in American history." He said the carrier "was created with the dumbest aviation concept of all time: We got planes. We got gates. What the hell?
"Worst of all, Independence had no place to fly," Brancatelli wrote. "One example is my own home airport, Stewart/Newburgh, in New York's Hudson Valley. When Atlantic Coast flew as United Express, it couldn't fill the three 19-seat flights it operated each day between Stewart and Dulles. Yet Independence Air launched Dulles-Stewart service with six 50-seat flights or 300 seats a day.
"For all intents and purposes, Independence Air was dead on the day it launched, June 16, 2004," Brancatelli said. "At its frenzied height, it operated 600 flights a day and flew to 46 cities," including Charleston, W. Va.; Huntsville, Ala; Lansing, Mich. and Albany, N.Y.
In November 2004, Independence Air began flying A319s, but it had no place to put them. It tried Tampa and Orlando, markets already controlled by low-fare carriers and then began serving West Coast cities with transcontinental fares as low as $69.
"In slightly less than 18 months, Independence has gone from profitable regional carrier to failed start-up," Brancatelli wrote. "It has blown a huge horde of cash and destroyed a company that just three years ago this week was selling north of $15 a share. It has flown the wrong planes to the wrong places with the wrong schedules at the wrong prices. It has failed in big cities and small towns. ... And it did it all (this) while defying the first-guessers who judiciously warned that Independence's business plan, such as it was, could never fly."
Independence filed for bankruptcy protection in November 2005 and flew its last flight on Jan. 5, 2006.
Skybus

On May 29, 2007, I covered the inaugural Skybus departure from Greensboro, N.C., to Columbus Ohio. It departed 3 1/2 hours late.
"I hate that this happened, but it happened," said CEO Bill Diffenderffer, a passenger on the flight. The flight had left Columbus about three hours late because a valve in the cargo hold temperature-monitoring system wasn't working, he said. The airline replaced the valve, but the monitor still registered, so another aircraft was substituted.
"We had one of those worst of all cases, a creeping delay, until we said, 'Let's switch the airplane,'" Diffenderffer said. "We followed procedures exactly the way they are supposed to be followed, even when the CEO is going to be embarrassed for being late on an inaugural."
Not only was the Greensboro arrival delayed, but also the Greensboro departure was further delayed. A scheduled 25-minute turn took about 50 minutes. A plan to board passengers at two doors failed because portable stairs didn't accommodate wheelchair users, who needed a special lift.
Also, at the last minute, a frantic passenger thought she had left a child's medicine on the plane. Agents searched the plane, until the passenger was reminded that the medicine had already been returned to her. This exercise consumed several minutes.
It is hard not to conclude that the first day in Greensboro was an early indicator that Skybus had problems.
The carrier had started flying at the Columbus hub eight days earlier. Around that time, according to my story in TheStreet, aviation consultant Mike Boyd called Skybus executives "total amateurs" and asked, "Why don't they just file bankruptcy now and avoid the rush later?"
Skybus lasted for about 10 months before it shut down in April 2008.
Skybus was an early practitioner of the ultra-low cost, charge-for-everything model. All passenger transactions occurred on the Internet: you could not call for a reservation. Aircraft were supposed to fly 15 hours a day. Most service was to secondary airports like Chicopee, Mass; St. Augustine, Fla., and Bellingham, Wash. As a sales gimmick, at least 10 seats on every flight were sold for $10. Passengers disembarked from two doors, which was supposed to reduce turn times to 25 minutes. Every extra, from a soda to early boarding rights, was sold.
Brancatelli said Skybus "was so bad it wouldn't even let you bring your own food aboard because they wanted to sell you their food." The airline "collapsed in a heap after less than a year in the 2008 financial crisis caused by the oil spike," he said.
Skybus managed to raise about $160 million from 18 institutional investors, including Fidelity, Morgan Stanley, Tiger Management and various hedge funds. It flew Airbus A-319s equipped with 144 seats. By contrast, US Airways, part of the American Airlines Group, puts 124 seats on the same aircraft.
Skybus' problems began to cascade in December 2008, according to a 2009 article in Columbus Monthly magazine. The tight scheduling and 15-hour utilization collapsed once de-icing entered into the picture; that month, half of all Columbus departures were 15 minutes late or worse. Then at Christmas, "mechanical mishaps grounded two planes, stranding thousands during the holiday and creating a PR crisis." In January and February, load factors declined by 15% to 20%,
 Meanwhile, oil prices were rising, the economy was tanking and Skybus was sinking.
 "You had some folks who had an idea, but the idea was not operational," said aviation consultant Mann. "The hub scheduling meant airplanes came in but offered no connectivity; they connected to nowhere, or had two-day connections, and Skybus turned into a furball."

ValuJet
ValuJet makes the list not because it suffered a crash, but rather because of the dramatic flaw that the crash exposed: ValuJet's maintenance model included too much outsourcing.
The National Transportation Board determined that the May 11, 1996, crash of Flight 592, which killed 110 people, was the shared responsibility of three parties -- ValuJet, maintenance contractor SabreTech and the Federal Aviation Administration.
The immediate cause was that two SabreTech workers placed chemical oxygen canisters in the cargo compartment. The compartment was considered fireproof because it was airtight and contained no oxygen.
The SabreTech workers filed work records saying they put safety caps on the canisters, when in fact they had not, The Miami Herald first reported. The generators were activated, perhaps because the plane jolted during takeoff, igniting cardboard boxes -- and then tires -- in the cargo hold.
In the aftermath of the crash, the FAA banned oxygen generators in commercial flight cargo holds and mandated fire detection and suppression systems for cargo areas. The agency also increased its scrutiny of safety practices at startup airlines.
ValuJet began flying in 1993 and grew rapidly, eventually operating 56 aircraft. Most were DC-9s, although shortly before the crash the market for cheap DC-9s dried up and ValuJet leased three MD-80s, which used a different type of oxygen canister -- the type that was being shipped to Atlanta.
Few airlines were as impacted by a crash as ValuJet was. In June 1996, the FAA grounded the carrier, which resumed flying in September with just 15 aircraft. The crash received intense media coverage, and after flights resumed many people were unwilling to fly on ValuJet.
On June 16, 1996, a Miami Herald story concluded that the ValuJet crash was the second most heavily reported crash in recent history, following only the 1988 crash of Pan AM Flight 103 over Lockerbie, Scotland, which killed 270 people.
Subsequently, the crashes related to the Sept. 11, 2001, terrorist attacks have without doubt been more widely covered.
But at the time, "Pan Am Flight 103 was the most covered because it was a national tragedy caused by a terrorist bomb," Lynne Flocke, an associate professor in the Newhouse School of Public Communications at Syracuse University, told The Herald.
"ValuJet Flight 592 has been covered tremendously because it hits close to home in a different way, involving one of these discount airlines that most of us either fly or have thought about flying," she said.
Ranked third was the 1982 crash of Air Florida Flight 90 into the Potomac River, killing 78 people. That crash, in the middle of the nation's capital, stayed in the news for weeks.
"It happened at prime time in Washington, D.C., and TV news was there within minutes," Bob Booth, a Miami aviation consultant who was Air Florida's marketing chief, told The Herald. "TV actually covered the rescue effort and, because there was a delay in moving the plane, there were pictures on TV every day of the tail sticking out of the Potomac.
"Until the ValuJet crash, I always said Air Florida and Lockerbie were the two most highly publicized incidents in aviation history," Booth said.
All three crashes contributed to the demise of the airlines involved, or at least, in the case of ValuJet, to the disappearance of the name. Air Florida ceased flying in 1984. Pan Am shut down in 1991. In July 1997, ValuJet acquired Orlando-based AirTran and in 1998, the two airlines merged under the AirTran name.
The surviving headquarters was Orlando, although Atlanta remained the principal hub. In 1999, a new management team headed by Chairman Joe Leonard and CEO Bob Fornaro took over. In 2010, Southwest (LUV) - Get Report acquired AirTran.
Written by Ted Reed in Charlotte, N.C.
To contact this writer, click here

.Follow @tedreednc