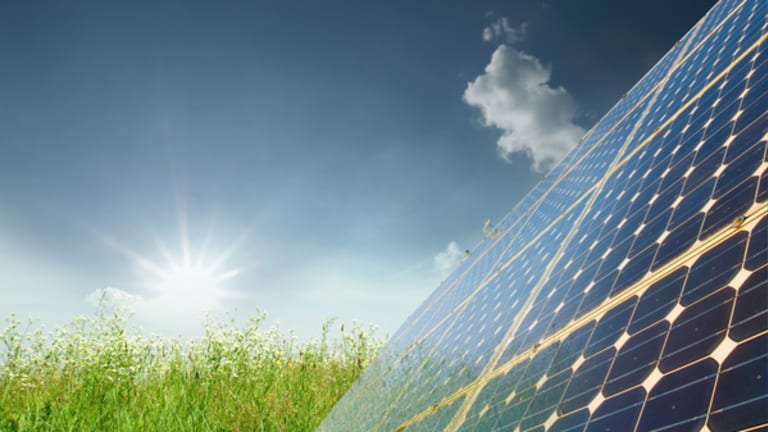 5 Ways to Trade Total's SunPower Gamble
SunPower's surprise deal with European oil giant Total changes the nature of debate about solar stock valuations.
NEW YORK (
) -- European oil giant
Total
(TOT) - Get Total SA Sponsored ADR Class B Report
is offering to take
a 60% majority stake in U.S. solar company
SunPower
( SPWRA), paying $1.3 billion to $1.4 billion.
Total will begin a tender offer for up to 60% of SunPower's class A and class B shares at a price of $23.25 a share, a 46% percent premium over the April 27 closing price of SunPower's A shares and a 49% premium over the closing price of the B shares.
SunPower shares soared by 35% on Friday, from a Thursday closing share price of $16.21, to $22.07 -- though still short of the Total offer which values SunPower shares at $23.25.
SunPower officials described the deal as a transformational investment that will help fund projects across the board from the largest utility scale deals to smaller commercial and residential projects as it seeks to install as much as 10 gigawatts of solar over the next half decade. SunPower pointed to Total's credit strength and financing relationships across a global footprint of 130 countries.
Of course, the deal could spark the proverbial wave of consolidation across the solar sector, analysts predict. Furthermore, for a sector of publicly traded stocks that has suffered from an existential crisis founded on endless cycles of subsidy risk from key European markets, the Total deal was viewed as a major endorsement for solar stocks, at a time when solar stocks are once again facing weak market conditions.
Case in point, in a negative footnote to the big Total news, was SunPower's forecast of first-quarter earnings of 15 cents a share, the low-end of its previous guidance and below Wall Street's consensus view of 19 cents. SunPower sees revenue of $450 million in the first quarter, shy of the average analysts' view of $510 million.
The huge premium offered by Total for SunPower shares comes after a one-year period during which SunPower shares have been close to flat in trading. SunPower went public in 2005 and in its first day of trading rose from its IPO price of $18 to above $25, compared to the $23.25 offered by Total for a 60% stake. SunPower shares rose as high as $130 in 2007, and were still trading at the $40 mark at the outset of 2009 before declining to the current range, which over the past year saw SunPower shares move as low as $10 and as high as $20.
Shares of the largest solar companies, including the U.S. companies
First Solar
(FSLR) - Get First Solar, Inc. Report
and
MEMC Electronic Materials
(WFR)
, which both have big project businesses like SunPower, rose by 7% after the close. By Friday, MEMC was still up by 6.4% but First Solar, the most richly valued company in the solar sector, only gained 1%.
The Chinese solar leaders
Yingli Green Energy
(YGE)
,
Trina Solar
(TSL)
, and
Suntech Power
(STP)
, also shot up quickly after the closing bell by between 5% and 7% on Thursday, but by Friday the gains were smaller than some second-tier Chinese solar stocks, like
Hanwha SolarOne
(HSOL)
and
China Sunergy
(CSUN)
.
Right after the SunPower deal was announced there was likely short-covering, and some of the second-tier Chinese solar stocks, at valuations as low as 5 times earnings, were likely to receive a bump on the premium Total is paying for a solar company, yet there may be more to the sustained gained in MEMC and Hanwha SolarOne than just cheap valuations.
Chinese solar cell vendor
JA Solar
(JASO)
rose by more than 6% on Friday, and analysts noted that JA Solar is one of the most highly shorted names in the solar sector as a percentage of its float -- more than 28 million shares short, according to the latest
Nasdaq
data, of an 83 million float share total. The move up in solar stocks and big move up in JA Solar reflects the fact that shorts see "Big Oil" coming in to the solar sector and that has increased the takeout risk, leading to short-covering.
The euphoria across solar from the SunPower deal led Jefferies analyst Jesse Pichel to coin a new term: PV Oil Equivalent (PVOE). Integrated oil and gas companies may be encouraged to acquire PV companies.
For investors grappling with the implications of the SunPower deal, and not yet able to comprehend PVOE, here are five ways to think about trading solar in the wake of the surprise wedding between Big Oil and SunPower.
Sell SunPower, and Buy What?
One SunPower shareholder wrote to
TheStreet
on Thursday right after the Total deal was announced that he had sold his SunPower shares. The shareholder was of the opinion that the gains had to be taken, and on a side note speculated that Total was out to destroy solar through the purchase and would dismantle SunPower -- think Standard Oil in the early 20th century buying up all the urban electric trolley companies, only to destroy the trolley lines and spur the largest gas-guzzling, highway-building country in world history.
The Standard Oil "acquire to destroy" model seems a stretch in the case of Total and SunPower, but it doesn't mean that investors shouldn't sell SunPower shares on the Total deal premium boost.
Theodore O'Neill, analyst at Wunderlich Securities, wrote on Friday, "We would take proceeds from the sales of these shares and invest them in other solar companies with lower valuation." The analyst added, "Another reason to sell into strength on the notice of the tender offer is that Total isn't buying the whole company ... yet. We believe that Total will likely take the remaining 40% of the company if the stock drifts lower, which it may. There is still quite a lot of uncertainty in the market over the direction of subsidies and there is constant pricing pressure from Chinese panel makers."
Wedbush analyst Christine Hersey wrote on Friday, "We believe the premium Total is paying may be too high."
So what's the buy trade to pair with the SunPower sell for those investors inclined to get out now?
Wunderlich's O'Neill slapped a buy on MEMC Electronic Materials, writing, "MEMC is developing its own line of super-efficient solar wafers that are certain to impact 2012 revenue in a positive way. We believe having its ownwafer line will make WFR a more attractive takeover contact."
As far as speculative M&A buys, Sam Dubinsky, analyst at Wells Fargo Securities, pointed to Hanwha SolarOne.
"
The company is already ~50% owned by Hanwha group, with the parent company a likely suitor for the remaining shares long-term," Dubinsky wrote.
Speaking more generally about SunPower's move into large-scale utility solar projects, Stifel analyst Jeff Osborne wrote about coming consolidation.
"We see a focus by acquirers on technology leaders that are vertically integrated with robust downstream capabilities and a strong brand presence. We see little read through to Chinese solar equities." Osborne specifically mentioned First Solar, MEMC and Germany's SolarWorld, given their project pipelines and distribution capabilities.
The Chinese triumvirate of module vendors at the top of the brand list, Trina, Yingli and Suntech, have been edging into the utility scale solar market through straight module sales, as opposed to pipeline acquisitions. Suntech recently won a big large-scale solar module supply deal that many thought would go to First Solar, and
that it didn't need to buy the gigawatts of pipelines to succeed.
But will Suntech get a premium deal valuation, even if it doesn't need to make pipeline deals?
Finally, Proof that Solar Is Undervalued!
If SunPower, a solar company that has faced stiff competition from lower-priced Chinese vendors, is getting a big premium the entire solar sector is due for a valuation boost, right?
Pichel, the Jefferies analyst and inventor of PVOE, wrote on Friday that the deal is a "validation for the solar sector and confirms the notion that valuations are compelling."
Wedbush's Hersey, who is typically less bullish overall on solar stocks valuations than Pichel, wrote, "We view this deal as a vote of confidence for the solar sector and expect investors may become more bullish as a result of the valuation assigned in this investment."
Wells Fargo analyst Sam Dubinsky expects Chinese solar stocks to rally following the news.
"With Chinese stocks trading at 5-8X earnings, we believe the SunPower deal will improve sector multiples even if forward estimates need to be revised lower due to European subsidy cuts. On a near-term basis, we recommend investors cover short positions," Dubinsky said.
Needham analyst Edwin Mok concurred with the almost-inevitable group view, saying the deal highlights how the equity market is undervaluing solar stocks (excluding First Solar) and as a result expect a strong near-term rally for the entire group.
Whether the trading action on Friday could be described as a "strong" rally is another matter. Other than MEMC, up 6.5%, and Chinese solar cell vendor
JA Solar
(JASO)
, up 5%, the rally in top Chinese solar module stocks was at the level of 1% or 2%, though notably on a day when the markets were more or less flat.
How Can Solar Be Undervalued Given the Weak Conditions Currently?
The lack of more pop in solar shares could be attributed to the weak market environment. After all, SunPower sneaked into the Total deal announcement that its first-quarter results will disappoint expectations. It was no surprise to anyone given SunPower's focus on Italian projects and the delays in Italy due to solar policy review. However, it did highlight that the numbers aren't getting better for solar stocks in a hurry.
"Timing, valuation, and strategy a bit awkward in our view," wrote Wells Fargo's Dubinsky. "We are surprised to see Total make a large investment in a solar company at the height of subsidy risk, during an earnings shortfall, and for a premium valuation vs. a depressed peer group. "
Hapoalim Securities analyst Aaron Chew commented that while the read through for the rest of the solar sector will surely lead to multiple expansion across the group near term, "we remain concerned that the intensifying risk to 2011 earnings will ultimately have a more lasting impact on the sector's performance later this year. While we expect the deal to attract new flows into the sector, we also expect disappointing 2Q11 guidance and the threat of oversupply and further module ASP deterioration in 2H11 to resume pressure on the stocks."
It isn't all exactly this bad for solar stocks, with at least two minor bright spots. First the euro is stronger than ever as the dollar fades -- primary solar sales are into Europe, and for companies manufacturing in low cost Asian locales, the strong euro is a boost to financial performance. At $1.48 on Friday, the euro is at a much higher level than any solar company expected headed into 2011. However, the surprising euro strength is only viewed as a partial offset to the larger industry pressures. On Thursday, there were also indications that Italy will relent on its solar policy changes, somewhat, extending the current policy for an additional three months, until August, and increasing the ceiling for more preferential financial support to solar projects from 200 kilowatts to 1 megawatt per project. The changes are not official, but demand potential in solar demand sinks like Italy can change swiftly, and if signed into law by the Italian government, these changes would be incremental positives to solar companies. Analysts stressed nonetheless that conditions right now are bleak in Europe.
Chew also raised an issue not raised by the rest of Wall Street: Is SunPower even a legitimate comp for other solar stocks? Chew concludes that SunPower is not due to its focus on system sales and project development. This focus "provides it with greater barriers to entry and an ability to stack margins throughout the value chain. Moreover, while SPWRA's Italian pipeline poses some risk to 2011 earnings, SPWRA offers Total a multi GW pipeline and high market share of the burgeoning US market."
Stifel's Osborne cautioned investors to look past the excitement generated by the deal and to the recent data points and commentary from solar producers surrounding 1Q11 results and 2Q11 outlook. The near-term deteriorating solar end market given policy delays in Italy, reduced subsidy programs across Europe and weak German demand have all been factors in recent sector weakness, and
earnings disappointments from LDK Solar
, ReneSola, Evergreen Solar, and now SunPower as well.
"According to our checks, module pricing has come in substantially in the European arena in 1Q to the tune of 20-30% with further reductions increasingly likely" Osborne said.
ReneSola said during its earnings call on Thursday that
to $1.10 in the fourth quarter. That would be below Trina Solar's all-in cost of production of $1.16 in the fourth quarter 2010. Yet analysts stressed that ReneSola is likely trying to temper expectations, or is simply not providing a credible estimate for an ASP level that allows the solar industry's main players to be profitable, and the $1.10 figure should be viewed with a grain of salt.
Wells Fargo's Dubinsky came to the middle ground conclusion, writing, "Though estimates are in flux due to a volatile subsidy environment, we believe multiples could expand for the group even if numbers are cut. In addition, the SunPower deal provides a bull case from a valuation perspective, which has been lacking for solar stocks in recent years. We recommend investors cover short positions and potentially revisit post the run-up."
The Wave, or Ripple of Consolidation?
Has the countdown to mass solar sector consolidation begun?
Stifel's Osborne thinks so, writing that the deal may mark a broader wave of consolidation in the solar space, and pointed to
General Electric's (GE) - Get General Electric Company (GE) Report move
into the cadmium telluride thin film module space.
"As module costs have come in 50-70% in the last 3 years, increasing the cost competitiveness of solar, we believe larger industrial players will begin to view the wind market as a credibly corollary to the solar space, positioning the industry for rapid growth in non-subsidy driven markets," Osborne wrote.
Wells Fargo's Dubinsky holds to an opposing view, arguing that while SunPower is a technology leader (highest efficiency panel on the market) and has a big project pipeline, the company is a high cost producer relative to Chinese manufacturers.
"We believe a strategic stake in a low-cost Chinese producer would have made more sense both from a business model and valuation perspective," the analyst wrote.
Is Big Oil about to gobble up all the solar companies?
"Total gains greater exposure to renewable energy, which not only poses a growing threat to its core fossil fuel business but positions it in an area of high secular growth for years to come," wrote Hapoalim's Chew.
The Long-Term Impact on SunPower
Wall Street seems convinced that SunPower, which has been prey to considerable negative analyst commentary and a high level of short interest, achieved a coup in the Total deal.
It's the most high profile deal in solar to date, and at a high premium.
SunPower received $1 billion from Total in debt financing over the next five years, a global footprint of 130 countries, and ownership stability at a time when module vendors are facing headwinds, SunPower specifically, with its higher costs relative to Chinese companies.
The Total financing support will help SunPower to fund its large scale projects, achieve a lower cost of capital, and use its own balance sheet to fund smaller projects.
SunPower
for the deal in a call with analysts after the market closed on Thursday.
Wedbush Securities raised its price target to $20 from $11, predicated on the view that the remaining 40% of SunPower shares not owned by Total will trade at a slight discount to the $23.25 valuation assigned by Total.
It certainly was not full speed ahead with SunPower shares above the Total premium, in the Wall Street view, and far from every analyst was lining up to applaud SunPower on making the deal.
Mark Bachman of Auriga Securities, who has been among the analysts with SunPower rated a sell, still rates the stock a sell today. Bachman allowed that the Total deal will help SunPower's debt costs and increase its sales channel, but said it also exposes the "same old" problems for SunPower. "Yet another arrangement where SunPower was forced to bring in outside help to continue its business...we prefer to wait for evidence of that larger sales channel before adjusting our model as it is unclear whether this benefits SPWRA in 2012 or later. The core issue for SPWRA is a lagging cost structure, and this arrangement will not fix that issue any sooner than we had previously expected." Auriga maintained its $13 price target.
Bachman also took exception with the Total deal valuing SunPower at $1.3 billion to $1.4 billion, noting that the companies announced SunPower's right to acquire a Total subsidiary in the solar project development business, Tenesol, which is also partially owned by French utility giant EDF. The Tenesol web site lists sales of $300 million euros in 2010, and the Auriga analyst estimates that if SunPower were to pay the same amount for Tenesol as the Total tender offer values SunPower (roughly 1x 2010 sales), SunPower will pay roughly $450 million for Tenesol.
"If this is the correct valuation for Tenesol, it is interesting to note that Total will pay
approximately $950 million cash and the donation of a subsidiary in return for 60% control of SPWRA, compared to today's headline suggesting $1.4 billion."
Even with most analysts agreeing that the Total investment made SunPower a stronger company and competitor in solar, meeting near-term financial goals still requires execution on cost reduction effort, and SunPower's ability to maintain what Stifel estimated at a 30% premium pricing over Chinese peers.
While SunPower will be able to leverage its dealer network and installer base to maintain premium ASPs for their projects, Stifel expects a weakened end market and pricing pressure to affect SunPower despite their strong presence in the non-European project based business. Stifel suspended its rating on the company pending first quarter results and more deal details.
-- Written by Eric Rosenbaum from New York.
RELATED STORIES:
>>Total to Take Majority Stake in SunPower
>>Solar Losers: ReneSola, Evergreen Solar
>To contact the writer of this article, click here:
Eric Rosenbaum
.
>To follow the writer on Twitter, go to
.
>To submit a news tip, send an email to:
.