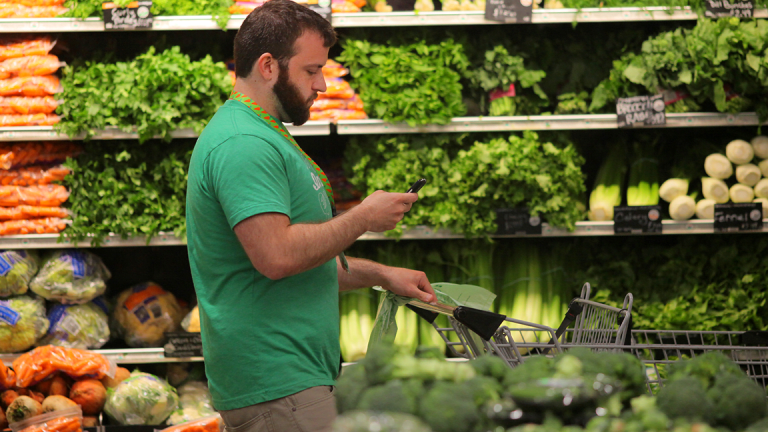 5 Ways Technology Is Transforming the Grocery Industry
It's not just Amazon that's at the forefront of retail tech in the grocery business. From home delivery to analytics, many companies are stepping up.
Innovation is not a word you would apply to the grocery business ... until recently. Thanks to an evolving consumer landscape and the rise of Amazon.com, Inc. (AMZN) - Get Report , expect to see more and more tech advances and conveniences at your grocery store.
Especially on the heels of the $13.7 billion acquisition of Whole Foods by Amazon in June, grocers like Walmart Stores, Inc. (WMT) - Get Report and Kroger Company (KR) - Get Report now have a mandate to invest in technology, whether it's in home delivery or new ways to keep produce fresh.
Home Delivery
In the age of Seamless.com and Amazon Prime, what could be more tempting than convenience? The focus on shopping ease delivers customers fresh produce and other products without their having to leave home.
This summer, Walmart began testing several home delivery services, such as a program that uses the commute of its own employees to drop off packages at customers' doors. More recently, it announced a partnership with smart lock company August Homes in which delivery people will enter a customer's home and stock groceries in the refrigerator.
Costco Wholesale Corporation (COST) - Get Report also began home deliveries this year, in partnership with company Shipt in Tampa. The program will expand to 50 additional markets by the end of 2017. And the European-based Aldi is now partnering with Instacart in its debut home-delivery program in Los Angeles, Atlanta and Dallas.
Customer Analytics
Kroger, the largest grocery chain in the U.S. with nearly 2,800 stores, is using cameras and infrared sensors to improve checkout efficiency and gauge foot traffic. Having acquired several data analytics companies, including 84.51˚ and Market6, Kroger is now the country's largest reservoir of food purchase data. Last year, it offered more than $3 billion worth of personalized offers to customers, the grocer said in its annual investors conference Oct. 11. Through these tech platforms, Kroger is also selling its customer insight products to consumer-packaged goods (CPG) companies.
"We infuse data and science into everything we do," Vice President Stuart Aitken said at the conference. "We also have data on clickstream, feedback, rest of market and demographics. Across this entire data spectrum, we create what we call our data DNA layer. [It] has 2,700 attributes today, growing all the time."
By collecting and analyzing data on customer behavior, Kroger hopes to entice customers to buy more. Its in-store surveillance, according to Chief Information Officer Chris Hjelm, can now alert employees, resulting in  better service to in-store customers.
Kroger is hardly the only grocer to put money into customer analytics. According to an Oct. 10 report by commerce marketing tech firm Criteo CRTO and Forbes Insight, nearly four out of five brands and retailers consider customer data key to their strategy.
Supply Chain Upgrades
Imagine that the bottle of shampoo you grab off the shelf in a Target Corporation  (TGT) - Get Report  store will be replaced with an identical product, transported within hours, on the next delivery truck. This is the supply chain dream that Target CEO Brian Cornell alluded to in a February meeting with analysts, a distribution model called order-to-shelf, in which each store gets individualized replenishment shipping at near-lightening speed.
Target, in fact, is already working with logistics consulting firm MWPVL International to develop a program that uses both fulfillment workers and automation to compile "delivery totes" based on orders placed by particular stores, Supermarket News reported in March.
Pursuing more sophisticated supply chains will also require effort on the CPG end. For instance, to meet the demands of two-day shipping, CPG companies may need to allow retailers to set up camp in its own distribution centers to establish vendor-flex programs, retail consulting BCG wrote in a Oct. 10 report. Procter & Gamble Co. (PG) - Get Report , for instance, has rented space in Amazon warehouses from which its goods are packed and shipped to consumers. 
Mobile Pay
Mobile pay, which has been around for a couple of years through Venmo and PayPal, could reach more than $314 billion by 2020, Retail Dive reported last year. Walmart, for instance, has had its own mobile pay platform for a year in selected stores. Walmart Pay allows customers to pay through their iPhones and Androids with major credit cards and gift cards. At the register, a customer chooses the payment option on the Walmart mobile app and uses the phone's camera to scan a QR code.
So far, customers have yet to be convinced of the advantages of mobile pay. Last year, only $1 of every $148 spent in retail comes from a mobile wallet, according to a Bank of America study. Grocers can encourage customers to embrace mobile pay by touting its ease and financial security benefits and offering incentives, such as points or rebates, according to Kane McCord of Ibotta, a smartphone app that gives customers cash back on retail purchases.
Checkout-Free
When it comes to ease, this will one-up mobile pay: no checkouts. The Amazon Go store in Seattle, for instance, allows customers to leave without having to pay at a register by using a QR code-based app and in-store tech that detects when products are removed from shelves. Amazon isn't the only retailer with this technology. California Fresh Market, in San Luis Obispo, Calif., also boasts a no-checkout process through the store's mobile app.
And Kroger has a front-end-optimized pilot program called Scan, Bag, Go, which it plans to expand to 400 stores in 2018. Only the Cincinnati-area stores have the program now. Just like Amazon Go, the program trims checkout time by allowing customers to bag their products as they shop, account for each item by scanning, and and then scan an additional register code to pay before they leave the store.
"Most likely you'll see innovation [in the grocery business] from outside—acquisitions, partners," Michael McDevitt, the CEO of meal kit company Terra's Kitchen, told TheStreet in September. "It's clear that the direction has been set."
More of What's Trending on TheStreet:
Editors' pick: Originally published Oct. 18.