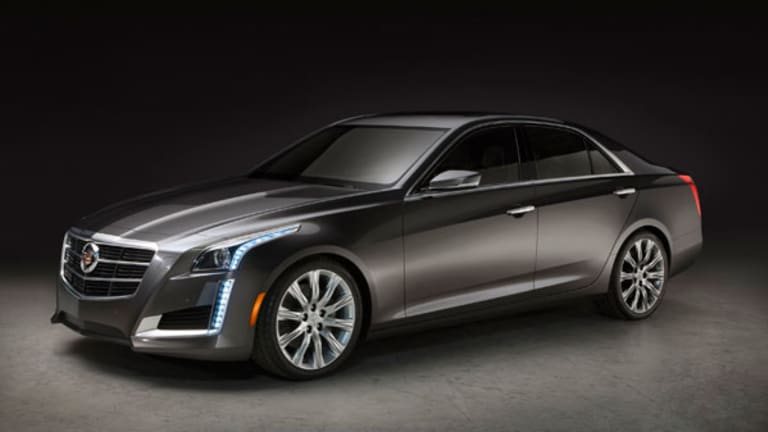 5 Top Cars at the New York Auto Show
It is hard to escape the conclusion that GM is dominating the New York Auto Show, just as it dominated the show in Detroit.
NEW YORK (
) -- The automobile industry is at the start of a big year for new product introductions, making the opening day of the New York Auto Show an important one for the industry.
The Cadillac CTS (pictured), which was unveiled Wednesday, is an early candidate to be car of the year, just one year after its little cousin the Cadillac ATS won the honor for
GM
(GM) - Get General Motors Company Report
. The new Jeep Cherokee represents
Chrysler's
effort to assume what ought to be its rightful place in the compact SUV market, where it really ought to play a bigger role. The new
Toyota
(TM) - Get Toyota Motor Corp. Report
Highlander shows that Toyota has the muscle to maintain a strong position among the mid-sized SUVS.
About 20 new vehicles are being rolled out at the New York Auto Show. It's hard to escape the view that GM is dominating here, just as it did at the Detroit Auto Show, in the midst of a period when it plans to roll out 13 new vehicles over 13 months and to have refreshed or re-introduced 70% of its lineup by the end of 2013.
"The CTS will be a strong product," said Jack Nerad, executive editor and senior analyst at
KBB.com
. "It is one of the vehicles that has launched the Cadillac resurgence, which is leaving Lincoln behind. Cadillac wants to compete-head-to-head with Mercedes and BMS. They've done a good job with the ATS and they want to keep it up with the CTS."
Nerad is a member of the jury, composed of automotive journalists, who select the car of the year. He thinks CTS is an early favorite for the 2014 winner. "It would be unprecedented for Cadillac to win, given that Cadillac won last year, but right now CTS is the frontrunner," he said.
At the same time, he said, "There are a lot of contenders and this is still early in the game. We probably have 20-plus on the car side and 10-plus on the truck and crossover side. This is such a hotly competitive industry and the products keep getting better."
It is also probably wise to remember that even into the late summer of 2012,
Ford
(F) - Get Ford Motor Company Report
Fusion looked like a likely car of the car.
In any case, we are still in the first quarter of 2013, and here are our choices for top five cars being introduced at the New York Auto Show.
Cadillac CTS
Unveiled Tuesday night, the CTS is having a good show.
"Think about how great the ATS has done so far this year, and then shift that to the CTS," said James Bell, GM's head of consumer affairs. "It's a great driving machine, built on the same platform, but a stretched version. It's five inches longer and two inches wider than the outgoing CTS, but it weighs 250 pounds less, because GM has untethered its engineers."
The CTS provides one more indication "of the resurgence of the Cadillac brand," said analyst Rebecca Lindland, owner of Rebel Three Consulting of Greenwich, Conn.
"They need to get this one right, that's for sure," Lindland said. "They need to be cognizant of that very angular design Cadillac has, which some people like, although it can be quite polarizing."
Buick LaCrosse
Like Cadillac, Buick is having a revival this year. The TV advertisements with Shaquille O'Neal are generating buzz and the brand is showing two refreshed vehicles in New York, the LaCrosse and the Regal.
GM's Bell said people questioned why the brand survived the bankruptcy restructuring, when Pontiac and Saturn did not, but the answer, of course, was China. "Buick is a monster in China," he said.
The refreshed LaCrosse was, in fact, "designed with China in mind," Bell said. "It personifies what people there expect in a big sedan."
Nerad said the LaCrosse "is right in the middle of the brand's sweet spot: a large sedan. When people think of the quintessential Buick, they think of that (segment). Launching it here (in New York) shows that Buick has confidence."
Hyundai Equus
Hyundai unveiled a refreshed version of the Equus, its entry in the premium luxury sedan segment. Who would have thought it?
"Hyundai has been making news by going upscale," Nerad said. "The Hyundai Equus is the top of the line Hyundai, big and luxurious.
"You can only stretch a brand so far, but Hyundai has been more successful at that than a lot of us thought they would be," he said. "They've been able to make some inroads there. In terms of prestige cars, if there is going to be a functional luxury sector, they are going to be a player."
The refreshed Equus will have about 30 new features including reworked exterior and interior designs and better dynamics. It is expected to be assembled in Korea.
Jeep Cherokee
The Jeep Cherokee, being unveiled Wednesday, represents Chrysler's effort to use a famous name from the past to replace the Jeep Liberty, which has underperformed in the critical compact crossover segment, where competition in intense.
The segment is the industry's second largest, trailing only the mid-size sedan segment, and is led by Honda's CRV and Ford's Escape. Other entrants include Toyota's Rav4 and GM's Chevrolet Equinox. Are more players needed?
"Jeep Cherokee represents a real opportunity for Jeep and Chrysler to make some inroads a strong, growing segment," Nerad said. "The segment continues to do well, in good economies and bad. Jeep hasn't been a big player in the segment, but it probably should be. It certainly has the brand cachet to capture that segment: it just hasn't had a road-ready product."
Said Lindland, "Jeep Cherokee AKA Liberty is totally different than the Liberty that's out there now. It will be very interesting to see consumer reaction, because it's a much softer crossover. It may not be as Jeep-like as people want it to be: it evokes images of the Rav4." It will be assembled at the Jeep plant in Toledo, Ohio.
Toyota Highlander
The 2014 Highlander mid-sized SUV was unveiled Wednesday morning.
Highlander sold 121,055 units in 2012, making it Toyota's second best-selling SUV after the Rav4, which sold 171,877 units.
"Highlander has been a major success for Toyota and is one of the pillars of their franchise," Nerad said. "They want to maintain their position there." The segment provides stiff competition from Ford Explorer, Honda Pilot and other vehicles.
Toyota said the 2014 Highlander has a new, sleek exterior design, a premium interior, six-speed automatic transmission with sequential shift on V6 models, available advanced safety features and three-row seating for up to eight people. It is assembled in Princeton, Ind.
-- Written by Ted Reed in Charlotte, N.C.
>To contact the writer of this article, click here: