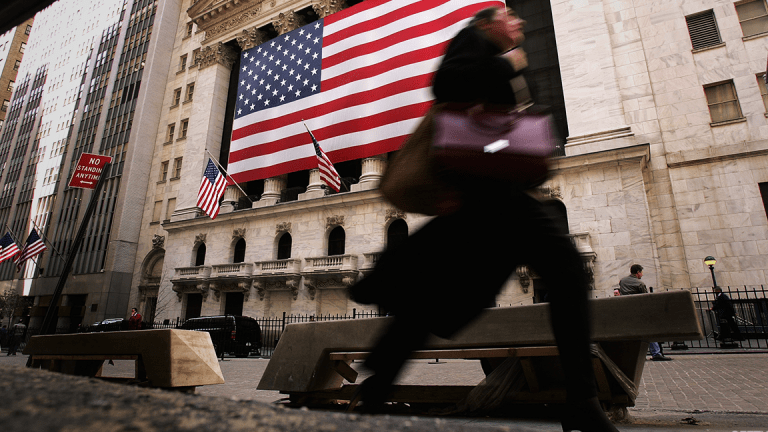 Trade War Fears, March Jobs Report, Facebook's Latest -- 5 Things You Must Know
U.S. stock futures slide Friday as Wall Street's fears of an all-out trade war with China are reignited; investors digest the March jobs report; Facebook COO Sheryl Sandberg admits ad revenue could be hit.
Here are five things you must know for Friday, April 6:
1. -- Stocks Fall as China Trade War Threat Resurfaces
U.S. stock futures burrowed into the red on Friday, April 6, as Wall Street's fears of an all-out trade war with China were reignited. Tensions escalated again overnight as China vowed to respond to President Donald Trump's threat to impose an additional $100 billion in tariffs on imports from the country. 
Contracts tied to the Dow Jones Industrial Average I:DJI fell 195 points, or 0.77%, while those linked to the broader S&P 500 undefined handed over 0.67%. Futures for the Nasdaq dipped 0.76%.
Stocks rose on Thursday, April 5, as investors began to shrug off some uncertainty-related worries following initial trade war fears earlier this week. Many on Wall Street had come to think the tension between the U.S. and China would instigate negotiations, not an all out, tit-for-tat trade war. 
On Thursday, President Trump said, "Rather than remedy its misconduct, China has chosen to harm our farmers and manufacturers. In light of China's unfair retaliation, I have instructed the USTR to consider whether $100 billion of additional tariffs would be appropriate under section 301 and, if so, to identify the products upon which to impose such tariffs."
In response on Friday, China said it would counter Trump's proposed new tariffs "to the end, and at any cost," and that it doesn't "want to fight, but we are not afraid to fight a trade war."
The back-and-forth spooked futures across the world. Asian markets were mostly lower, with Japan's Nikkei down 0.36% and the Topix down 0.31%. South Korea's Kospi lost 0.33%, while Hong Kong's Hang Seng gained 1.11% after it was closed on Thursday for a holiday. Mainland China markets were closed Friday. Europe stocks were broadly lower.
If you'd like to receive the free "5 Things You Must Know" newsletter, please register here.
2. -- March Jobs Report on Tap
The U.S. economic calendar on Friday included the closely-watched U.S. jobs report for March at 8:30 a.m. ET. 
The U.S. economy added 103,000 jobs in March, falling short of FactSet analyst expectations that the economy would add 185,000 jobs last month. March's modest job additions were a significant slowdown from February, when the U.S. added 313,000 jobs, the fastest rate of increase in a month since July 2016.
March unemployment held steady at 4.1%, maintaining a 17-year low. FactSet economists expected the U.S. unemployment rate for March to come in at 4%.
Also on Friday, Federal Reserve Chairman Jerome Powell is expected to speak about the economic outlook at the Economic Club of Chicago at 1:30 p.m. ET. And at 3:00 p.m., the Fed's Consumer Credit report is expected.
Also on the calendar for Friday, earnings are expected from the Greenbrier Cos. (GBX) - Get Greenbrier Companies, Inc. Report .
3. -- Deutsche Bank May Consider JPM Successor for Cryan
Deutsche Bank (DB) - Get Deutsche Bank AG Report shares fell 2.16% in premarket trading Friday following reports that recruiters were exploring candidates to take over for the bank's Chief Executive Officer John Cryan. 
Cryan has said he remains committed to the role atop Deutsche Bank, but Chairman Paul Achleitner has reportedly been holding talks with possible successors.
Former Action Alerts Plus holding JP Morgan Chase & Co.  (JPM) - Get JPMorgan Chase & Co. Report executive Matt Zames is in talks with recruiters about replacing Cryan, Bloomberg reported. People familiar with the situation said that recruiters don't have a formal mandate from the bank, but are considering a handful of candidates including Zames. The former JPMorgan co-chief operating officer was once seen as a possible successor for CEO Jamie Dimon, but Zames left the investment bank in 2012 in the hopes of running another company. 
Cryan, who is 57, took over at the helm of Deutsche Bank in 2015. He has been in the spotlight for the past several months as Deutsche Bank, which is Europe's largest investment bank, cedes market share in some of its most important business units. New York-listed Deutsche Bank shares have shed 24.75% of their value since the start of this year.
4. -- Facebook Sees Pause in Ad Sales
In the wake of the Cambridge Analytica scandal, Facebook Inc. (FB) - Get Meta Platforms Inc. Class A Report Chief Operating Officer Sheryl Sandberg has spoken out about the possible impact to advertising revenue on the company. 
Sandberg told Bloomberg that some advertisers have, in fact, reduced their spending. "We've seen a few advertisers pause with us and they're asking the same questions that other people are asking," Sandberg was reported as saying. "They want to make sure they can use the data and use it safely."
Sandberg added that Action Alerts Plus holding Facebook is engaging in "reassuring conversations with advertisers, just as [it is] with people." It would be an important conversation to have, as Facebook garners nearly all its revenue and profit from advertising. According to FactSet, Facebook had $39.9 billion in advertising revenue for 2017, up 48.6% from the previous year.
Facebook said earlier this week that it believes Cambridge Analytica had access to information from about 87 million users, 37 million more than previously estimated, and that Facebook will make data-sharing controls it's required to roll out in Europe available globally as well.
Sandberg said in an interview with the Financial Times that she personally made mistakes and the company was too slow to respond after discovering the data breach. She added that Facebook still doesn't know exactly what happened to the data affected because it can't conduct its own probe until the UK information commissioner finishes its investigation.
Facebook's stock slipped 1.17% in pre-market trading Friday. Shares had rallied Thursday, meeting the closing bell up 2.73% to $159.34.
5. Trump's Amazon Tirade Continues
Speaking to reporters on Air Force One Thursday, President Trump accused Action Alerts Plus holding Amazon.com Inc. (AMZN) - Get Amazon.com, Inc. Report of not operating on a level playing field and not paying enough in sales tax, Reuters reported. 
When probed on the possibility of his administration enacting policy changes directly aimed at Amazon, Trump said, "We're going to take a very serious look at that." He added that the "sales tax situation" would soon be reviewed by the Supreme Court.
It's the latest in an ongoing feud the president has entered into with Amazon and its CEO, Jeff Bezos. Trump has taken to Twitter to sound off on the e-commerce giant, saying it has unfair business advantages and gets favorable treatment from the United States Postal Service that costs the agency billions of dollars in losses.
Amazon stock dipped 1.29% in pre-market trading Friday after rallying more than 2.9% by the closing bell Thursday. 
Retirement is coming. It's never too early -- or too late -- to plan, save and invest for the retirement you want and deserve. Let TheStreet's new premium subscription newsletter, Retirement Daily, give you the insider's edge on how to maximize and protect your most important investment, your retirement savings. Learn more about Retirement Daily and get a free trial subscription.